When asked about the USMNT (United States Men's National Team) most European football fans reply 'what is the USMNT?' Matt Stein talks to followers of the beautiful game from across the pond about their feelings on the World Cup in Qatar and the involvement of the USA.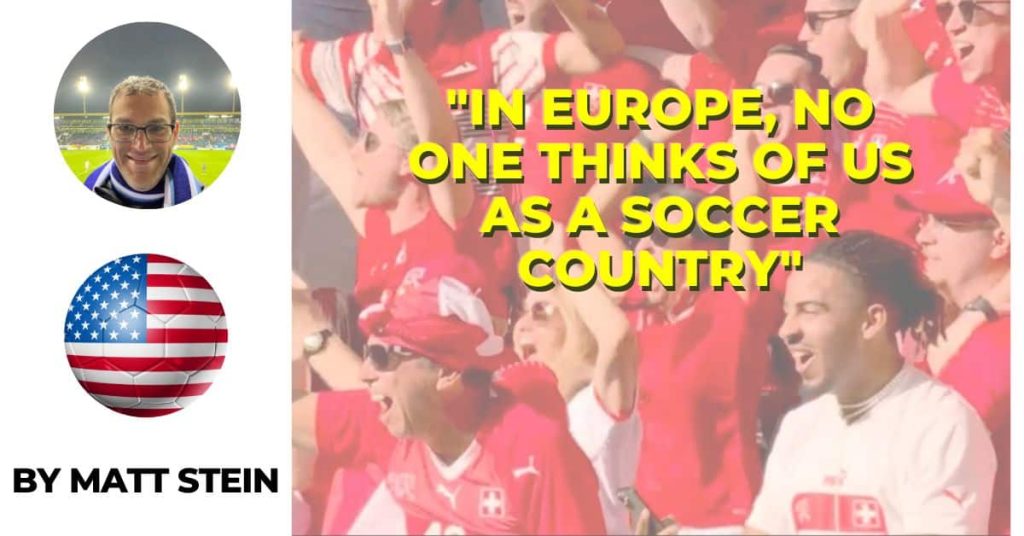 I was never a good student in school. I found a lot of what was being taught boring. But, as I've gotten older, I've realized I have a passion for learning—as long as it's what I'm interested in.
love sports. I love history. And I love art.
My journeys across the world let me experience them all. Being able to learn about my passions is extraordinary.
It's a pretty unique aspect of working as a travel advisor. Sometimes a language barrier makes it difficult but I love talking with the people I meet overseas. I better understand what makes their country special and what they think of the US.
YOUNG AMERICANS IN EUROPE
I spent the two weeks leading up to the 2022 World Cup in Switzerland, Germany, France, Netherlands, and Belgium. All five countries are in the World Cup and I thought it would be interesting to find out what they thought of the young US team.
I quickly learned a few things; even with the success of so many young Americans in Europe, no one thinks of us as a soccer country—maybe it's because we call it soccer instead of football? I also couldn't find anyone excited about the World Cup for various reasons, mainly the tournament being played during winter and in Qatar.
This wasn't the sentiment of a couple of people in one or two destinations; this was dozens of people across more than ten cities in five countries! I wanted to know what they thought of the US team and all they would talk about were the problems with this particular World Cup.
Obviously, the World Cup is traditionally a summer event and that's when people in Europe want it played. I assumed it was because it interrupts the current season and you have to worry about injuries. I was wrong.
FANS BEMOAN LACK OF OUTDOOR WORLD CUP VIEWING OPPORTUNITIES
Soccer is a community event in Europe (despite my game experience in Luzern.) Fans want to enjoy the game together, and when it comes to the World Cup, they want to do it outside. Some people wanted to watch the game on a big screen in a city center but most wanted to fill beer gardens and pull for their country.
As a New Yorker, I go into the bar and watch the game inside when the weather gets cold. If I'm watching a game on TV, I prefer being inside to outside. Fans want to watch the World Cup outside from Bruges in Belgium to Breisach in Germany.
Honestly, I don't care where or how I watch the game as long as it's fun and my team wins. Let's be honest, a heartbreaking loss is never fun.
We've seen the one love armband controversy play out over the first few days of the tournament. Leading up to the games, it's what a lot of people were talking about in Europe. The conversation wasn't necessarily about the armband but LGBTQ rights in Qatar.
I understand we focus on the sporting side of events in the US but people in Europe were much more in tune about the civil rights of all people living in Qatar. Nobody said they weren't going to watch because of it but several people told me it wouldn't be a must watch event like prior tournaments.
WHO IS GREGG BERHALTER?
In reality, I wanted to talk about the American team. What did these soccer giants think of Christian Pulisic, Weston McKennie, Tyler Adams, and Gio Reyna? Or the fact we could bring players like Brendan Aaronson and Cameron Carter-Vickers in as substitutes? The reaction was, "who?"
Sure, some people recognized a few of the names but the fact that Gregg Berhalter has arguably the deepest and most talented team in American history didn't impress anyone. I was shocked. Maybe I've drunk too much off the Kool-Aid? Maybe it's the fact we missed the last World Cup? Or maybe, it's the fact we will never be thought of as a soccer country.
Yes, those are a lot of questions. But, as US fans, we could ask even more questions after this week.
After the opening two World Cup matches, I'm excited about the possibilities in front of this team. I'm extremely eager to see how we move forward leading into 2026. Hopefully, by that time, the rest of the world is excited for another World Cup and maybe they'll even consider the US a contender.
---
Whether you want to travel to see some games or are just looking for a luxury vacation, I will customize your next journey to make it memorable and unique for you. You can email me, or call me at

917-225-1360