Welcome to the First Touch guide to the best soccer bars in NYC. Our guide will match you with the best place to watch your team. Whether it's a Brooklyn soccer bar for an English Premier League match, or a pub in Queens to watch World Cup games, we have all the info you need to watch soccer with other passionate fans in New York bars. Also, check out our State by State guide to all the best soccer bars in the USA. 

The Best Soccer Bars In New York

Best East Village Soccer Bars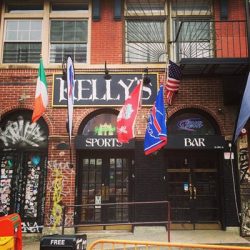 Kelly's has been showing live soccer games in the East Village for many years. This vibrant sports bar is also famous for showing ice hockey and Buffalo Bills games in NYC. You can read all about Kelly's on our featured page!
12 Ave. A (1st St.)    212 388 1464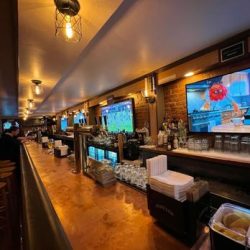 The Long Pour is open for business with state of the art screens and projectors. And yes, they take their soccer seriously. Enjoy live soccer games at Long Pour with some great whiskey or scotch. Read more about The Long Pour
155 2nd Ave (B 9th & 10th.)   646 822 8270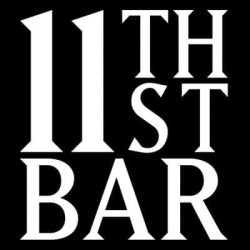 This traditional bar is the best place to watch Liverpool in NYC. 11th St. Bar is the home base of LFCNY, the official Liverpool supporters club of New York. Arrive early to watch Liverpool games at 11th Street Bar because the place fills up quickly. The bar also has a solid reputation as a great live music venue. Read more about 11th Street Bar here.
510 E11th St. (Ave A & B)   212 982 3929

Best Greenwich Village Soccer Bars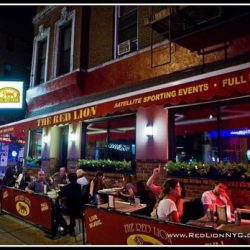 The Red Lion
This is truly one of the original British soccer bars in New York. The Red Lion is proud to fly the flag for soccer and live music in Greenwich Village.
151 Bleecker St.  212 260 9797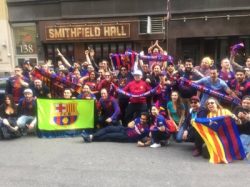 Smithfield Hall is considered by many to be New York's best soccer bar for atmosphere and presentation. This midtown soccer bar is home to a number of supporters groups. See our featured page to find out more.
138 West 25th St.  212 929 9677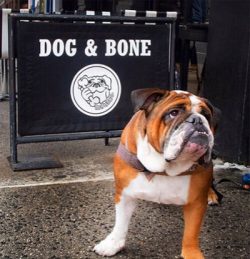 Open air tables and a cosmopolitan crowd make for a special match day atmosphere at this charming Brit-flavored soccer bar in Midtown Manhattan. This is the best place to be in Midtown for England matches.
338 3rd Ave. (btwn 24th &25th). 212 889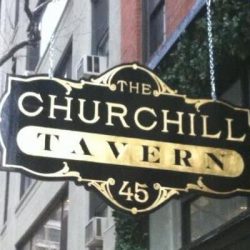 This is simply the best English pub in New York. Where else in the city can you score a late night sausage roll? Traditional decor and the best English menu in New York make the Churchill Tavern a great venue to watch soccer in Midtown Manhattan for locals and visitors alike.
45 E28th St.  646 476 8419

Best Downtown Soccer Bars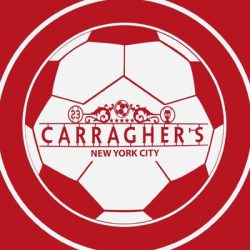 Recently relocated from Times Square, Carragher's is the best place to watch Liverpool in Downtown Manhattan. Firstly, because it's the best soccer pub downtown. Secondly, it's home to The Boot Room – a special room for Liverpool fans on match days. Read more about Carragher's here.
17 John St.   646 414 6223

Best Brooklyn Soccer Bars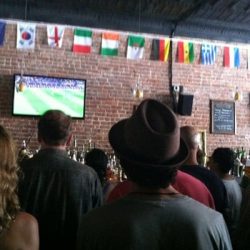 The Black Horse is a strong runner for the best soccer bar in Brooklyn. This Park Slope soccer bar has been a favorite with local fans for over a decade.  You can read more about the Black Horse here.
568 5th Ave. (16th St.)  718 788 1975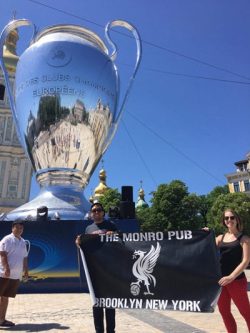 The Monro Pub
This is the bar to watch Liverpool in Brooklyn. Run by dedicated Liverpool fans, this stylish Park Slope bar has become a magnet to Liverpool fans from all around. Renown for its great match day vibe, The Monro now also hosts Brooklyn's own official Liverpool supporters club.
481 5th Ave. 718 499 2005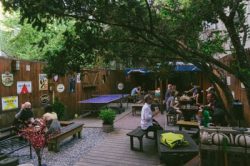 Iona
This long-established Irish pub in Williamsburg has a fabulous garden and shows live soccer all day!
180 Grand St.   718 384 5008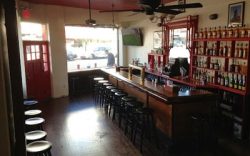 There's an unmistakable Arsenal flavor to this well-established Ditmas Park Soccer bar. It is run by Gooners and is the home of The Brooklyn Gunners. 
1002 Cortelyou Road  347 533 4557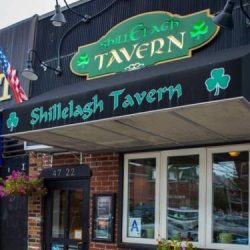 Shillelagh Tavern sports bar is now the official Liverpool bar in Queens. It is the host of the LFCNY Queens chapter, as well as the American Outlaws in Queens. Soccer fans of all stripes are welcome to this home away from home. See some great photos from Shillelagh Tavern here.

47-22 30th Ave, LIC    718 728 9028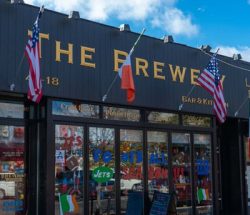 The Brewery Bar
Enjoy the game of your choice with one of 24 craft Beers and a full menu for lunch or dinner. This is also an NYCFC partner bar.
49-18 30th Ave, Woodside   718 728 9028