World Cup 2022 Diary: Day 9. Cameroon 3 Serbia 3, South Korea 2 Ghana 3, Brazil 1 Switzerland 0. Portugal 2 Uruguay 0. Brazil & Portugal advance to the round of 16 as Neymar battles to return to action.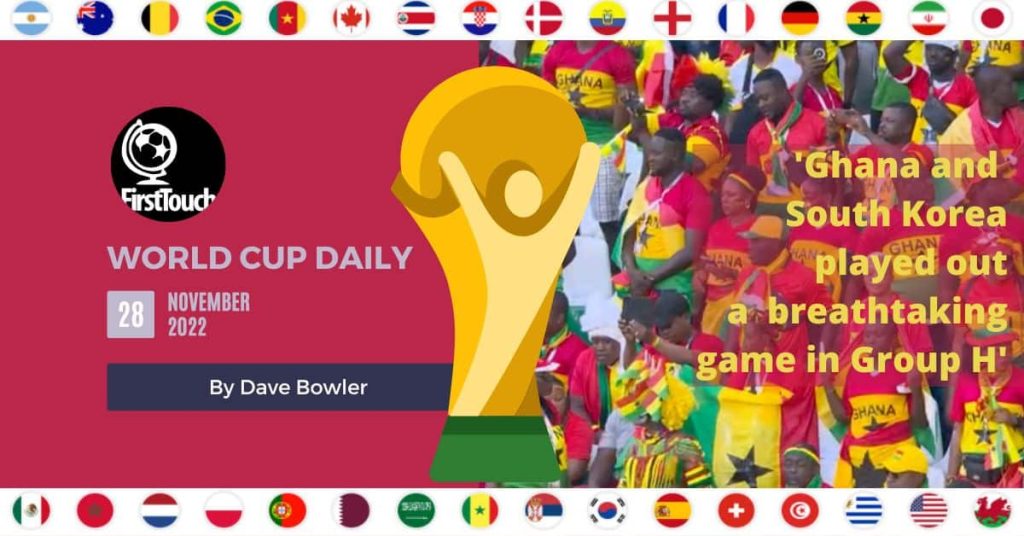 BORING BRAZIL MISS NEYMAR
You could have got pretty long odds on the most boring game of today featuring Brazil but that was pretty much the case as they followed on from two absolute crackers. 
The Brazilians joined France in the last 16 with a 1-0 win over a Swiss side who had clearly come to eke out a goalless draw against the tournament favourites. In a game where the spectacular was conspicuous by its absence, it was somehow appropriate that it was Casemiro who made the difference.
He is a crucial cog in the Brazilian machine, tidying things up in the midfield, giving others licence to play while he offers the insurance policy. It's an undervalued role but today, he got his moment in the sun, galloping into space down the left to receive a pass and finish clinically with a first time drive.
It was a different side of Brazil, lacking inspiration – and the injured Neymar – but finding a way to win a stultifying game will do wonders for their belief. If Neymar is properly fit by the round of 16, then having a couple of games of extra rest will also do them very nicely indeed.
CAMEROON COMEBACK
It leaves the Swiss needing to get at least a draw out of their game with Serbia to advance and that is far from certain after the Serbs played out a brilliantly entertaining 3-3 draw with Cameroon. Serbia will be cursing that they didn't take all three points, for Mitrovic alone could have had three more goals to add to the one he did score. But it's hard to deny Cameroon their point for Aboubakar's scooped finish alone – that one really should have counted double.
It was the kind of barmy game that can ignite a tournament. Cameroon looked set to go in at the break a goal ahead, only to lose two goals in added time. At 3-1 behind, the Indomitable Lions looked down and out, but I don't suppose they're called 'indomitable' for nothing. Two goals in three minutes had them level and that was how it finished.
Only a very unlikely win over Brazil in the final game could see them through now, but who knows, especially if Brazil rest half a team? The more likely scenario is Serbia, having found their attacking rhythm, will see off Switzerland, leapfrogging both them and Cameroon to go from fourth to second.
GHANA BEAT SOUTH KOREA
Ghana and South Korea played out a similarly breathtaking game in Group H, neither side looking as if they'd spent much training time working on their defending. It was Ghana who took the early initiative, two goals to the good and rampant against a South Korea side who had apparently never tried to defend a cross in their lives before. They didn't start today either.
But in the second half, it was a wholly different team who pegged Ghana back and two goals in three minutes from Cho, the second a header that any centre-forward from any era would gladly have claimed as his own, brought things back into balance. But Ghana would not be denied and were back in front almost immediately and, despite South Korea throwing the kitchen sink, and possibly every type of electrical goods known to man at them thereafter, they clung on.
RONALDO DENIED
Like Cameroon, South Korea could benefit from playing a side that has already gone through and might rest a number of players in their final game. Portugal made it two wins out of two with a pretty straightforward dismissal of a now terminally ageing Uruguayan side that could not raise a gallop until it was far too late.
Ronaldo looked to claim the first goal before it became clear that it belonged to Fernandes, who then bagged a second from the penalty spot after Ronaldo had been substituted. Chasing Eusebio's Portuguese record of nine World Cup goals, CR7, currently on eight, was probably not amused…
Read Dave Bowler's World Cup round up every day
---
Sir Alf Ramsey: England 1973 focuses on the final full year of Sir Alf's reign as England boss. The nation that won the World Cup in 1966 failed to even qualify for the 1974 tournament. Ramsey was suddenly a man out of time, both on and off the pitch. The failing fortunes of the England team mirrored those of a post-Empire nation heading for its own a fall.
A must read for all fans. Order your copy in time for the holidays.