World Cup 2022 Diary: Day 10. Ecuador 1 Senegal 2, Netherlands 2 Qatar 0, Iran 0 USA 1, Wales 0 England 3. A first half Christian Pulisic goal earned the win for the US. USMNT play Netherlands in the Round Of 16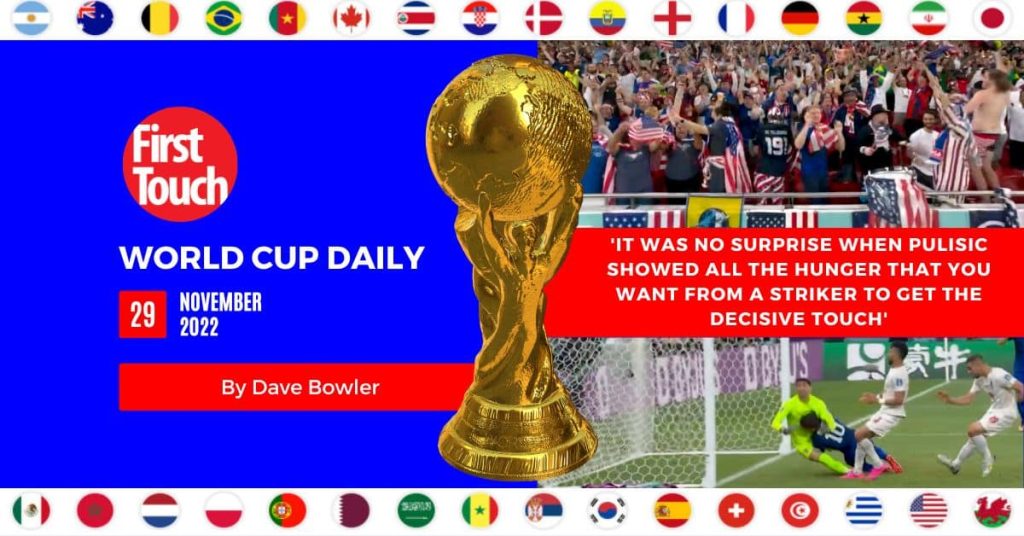 By Dave Bowler
PULISIC INJURY CONCERN FOR USA
The United States made their way into the knockout stages of the World Cup, and deservedly so with a well worked win over Iran to take them to five points from an unbeaten group phase. 
They were by far the better side in the first half, dominating an Iranian side that had none of the enterprise they'd demonstrated against Wales. It was no surprise when Pulisic showed all the hunger that you want from a striker to get the decisive touch to put them in front, even at the risk of injury. Weah might well have put the game out of reach just before the break but was flagged marginally offside. It was a surprise that didn't go to VAR.
Inevitably perhaps, the US dropped deeper in the second half to try to hold what they had. As a consequence, they were less convincing but Iran didn't really threaten the goal, not even with ten added minutes played. The United States worked hard and ground out the result their first half showing had earned.
There are some top of the range young footballers in this US side which bodes well for 2026, but they have shown enough so far to suggest they might yet enjoy an extended stay in Qatar, especially if Pulisic's injury is not serious.
BALE FLOP
Wales' dismal World Cup came to a suitably dreadful end with a 3-0 defeat against England. Their first visit to the finals since 1958 was a horrible anticlimax with one underwhelming performance after another, lifting themselves merely for the second half of the US. That Bale did not emerge for the second half said plenty about the nightmare he's had in Qatar, but none of his teammates can lay claim to having had a better competition.
With nothing to lose and elimination likely, I would have expected Wales to at least go down slinging punches, but this was another lacklustre 90 minutes. The first half was eminently forgettable from both sides, but once England upped it a gear after the break, Wales had no answer. Three goals in 17 minutes, two for Rashford, another for Foden, settled matters quickly enough, putting England top of the group.
Qualification has been routine fare for England, and Southgate's handling of his side in-tournament remains sure-footed. Questions remain about the defence against the best sides but there is plenty to be excited about at the other end of the pitch. Getting the balance right between the two, and deciding when to let his side off the leash a little are the key considerations for the England boss, starting with Senegal.
NETHERLANDS FACE USA
In Group A, the Netherlands topped the group with the minimum of effort necessary in their third and final game. Qatar were never going to be meaningful opposition to the Dutch and once the impressive Gakpo set them on their way for the third time running with a 26th minute goal, the game was little more than a training exercise. They opened the second half with a second goal through de Jong, could probably have had a couple more, but never really exerted themselves as they eased to victory.
On the field of play, the World Cup has been something of a disaster for Qatar, beaten 2-0 in each game by sides that have barely had to break sweat, even in the desert heat. Utterly out of their depth, even a 48 team World Cup next time might not see them qualify because as a football team, beyond their enthusiasm, they brought next to nothing to their own party. That really is not good enough from World Cup hosts.
For the Dutch, it's the United States in the next round and they will pose a more severe test than anything they've faced so far. There are different schools of thought on having such a straightforward group. Certainly it won't have been especially taxing physically, or mentally for that matter, but will that have dulled the edge for them? I would anticipate a very tight game between the two.
SENEGAL TO PLAY ENGLAND
Senegal took second place with a fully deserved win over Ecuador, who had only needed a draw to secure qualification. Ecuador had plenty of the ball but rarely really threatened with it where Senegal were always a threat, with pace and athleticism to spare as they piled forward. They offered real danger throughout the 90 minutes and were well worthy of the 1-0 lead at the break, Sarr producing a sumptuous penalty kick after being mown down by Hincapie.
Statuesque defending at a corner allowed Caicedo to level things up in the second half but within three minutes, a neatly steered volley from Koulibaly at a free-kick saw them home. It was a lovely finish, his first goal for his country. Senegal might have made life easier for themselves by taking one of two or three more very good chances that they created, but they saw the game out. If they can finally have a better day in front of goal, they could prove a muscular second round handful for England.
Read Dave Bowler's World Cup round up every day
---
Sir Alf Ramsey: England 1973 focuses on the final full year of Sir Alf's reign as England boss. The nation that won the World Cup in 1966 failed to even qualify for the 1974 tournament. Ramsey was suddenly a man out of time, both on and off the pitch. The failing fortunes of the England team mirrored those of a post-Empire nation heading for its own a fall.
A must read for all fans. Order your copy in time for the holidays.