The First Touch free mobile app features info on all the best soccer bars in the USA. Also, you'll find schedules for live Soccer broadcasts with our soccer TV guide. Furthermore, you'll discover soccer supporters clubs for all the top teams in the English Premier League!  Read the reviews of our five star soccer bars app below and download it for free today!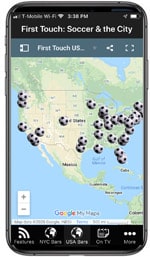 Find all the best soccer bars!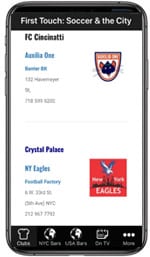 Find other supporters in their home bars!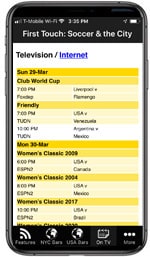 Check today's soccer TV schedule!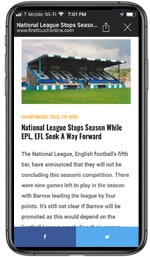 Read great articles and interviews!
Indispensable App!
⭐️⭐️⭐️⭐️⭐️
What a great idea for an app! Gone are the days when football lovers have to wonder where they might catch a game. The enormous benefit of this app is that it allows you to scoot around town and discover new football friendly places. Haven't used the app outside New York yet, but I can't wait to try it on my next trip. Thanks, First Touch!
by CLH-nyc
Orlando Lion fan loves it !
⭐️⭐️⭐️⭐️⭐️
The best soccer (futbal) app going with great usuability. Real time scores, schedules of all major leagues throughout the world. Soccer bar/pub finder to aid you when on the road. News from the futbal capitals of the world and the outposts too. Three cheers for First Touch
by Jwelch6

Essential football App!  
⭐️⭐️⭐️⭐️⭐️
The only football app you need. Lists every game on TV and the internet including time and channel. Writing is always top notch
by pmaca 
Great app !  
⭐️⭐️⭐️⭐️⭐️
Perfect for all my soccer news, and I love the pub finder!
by KirkC_ – Nov 8, 2016Gre