Matt Stein is in Switzerland on a quest to find some decent fondu & football. He stumbles on FC Luzern hosting FC Basel in the Swiss Super League.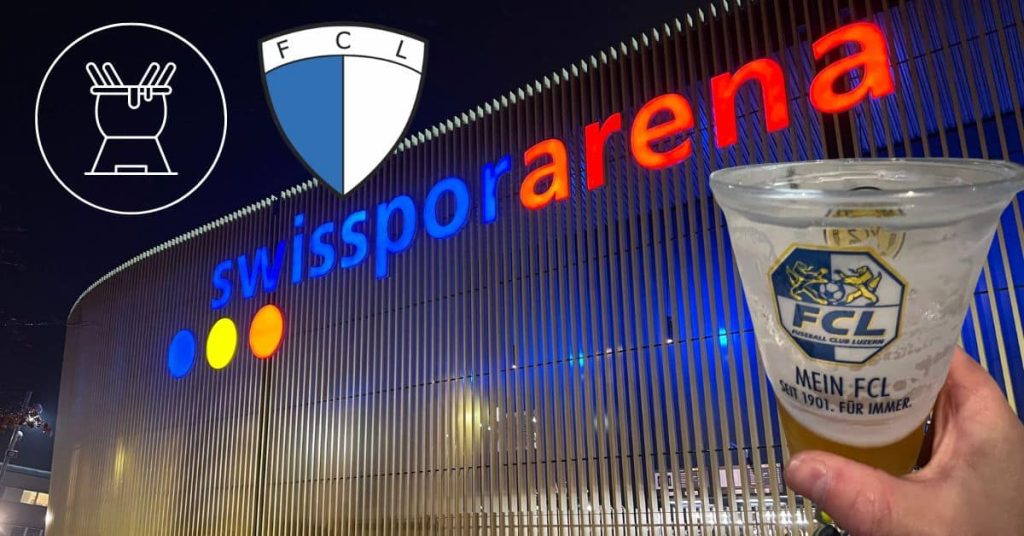 By Matt Stein
Growing up and living in the New York City area, I've always believed soccer is inherently better in Europe. It's where all the big teams are and the top players compete. European soccer is simply the best vs. the best. One of my favorite parts of being a sports travel agent/advisor is I get to travel across the world and watch sports. I've talked before about some of the events I've seen and how a great crowd can make a match memorable, even if your team isn't playing.
As part of a recent cruise, I took advantage of being only an hour away from Luzern, Switzerland, to see a Swiss Super League game between FC Luzern and FC Basel. I assumed it was going to be a good game and a fun game to attend. There was less than a week until the World Cup break and the two cities are about an hour away from each other.
I should've started second-guessing myself as soon as I went to buy my ticket a few days before the game. There were thousands of seats available at Swissporarena; the stadium only holds about 17,000. I didn't think much about it then; I was too excited to see my first soccer game overseas in 975 days.
Extraordinary Experience at Mount Pilatus
Before I talk about the game experience, Luzern (commonly referred to as Lucerne in the US) is a great destination! There are beautiful views across the city. Mount Pilatus is extraordinary. It was foggy and windy the day I was there but when the weather is clear (more than 300 days a year), the panoramic views are breathtaking. Plus, how you get up and down the mountain is unique, with trollies, cable cars, and trams. Words, pictures, and videos don't do it justice; it's really something you want to experience.
After a fantastic fondu dinner, it was time to head to the game. In Europe, I'd been to Premier League, La Liga, Ligue 1, and Champions League games; this was my first lower-league game. What a disappointment!
Welcome To The Swiss Super League
---
The stadium was only about two-thirds full but that seems like a generous guess on my part. I was a bit surprised to see so many empty seats. The traveling fans from Basel were far and away the loudest group. The Luzern ultras only took up about three sections behind one of the goals but even that area wasn't sold out.
The ultras tried to get the home fans going but never had much luck. The environment reminded me of a midseason crowd in the NBA or NHL, where the team isn't a playoff contender. There was no cheering, hissing, singing, or booing by the fans around me the entire game. At times I wondered why they even showed up.
  As for the game itself, the quality wasn't any better than an MLS game and I don't know if it even reached that level. It's not a knock against MLS, but I always assumed that most European soccer is better.
FC Luzern Struggle Against Rivals Basel
---
Of course, there was VAR controversy within the game's first few minutes. A Basel player went down at the edge of the penalty box; I didn't notice it immediately because I was looking around the stadium to find the VAR monitor! There was no immediate call for a penalty from Basel players but the ref was called to the monitor when trainers came out. He looked at it for less than 15 seconds before signaling the penalty.
Luzern keeper Marius Muller guessed one way and Basel's Darian Males easily slotted the ball in the opposite direction for the opening goal. Luzern tried to increase the pressure after falling behind but could never mount any sustained threats. The statistics show Luzern had more possession and shots but Basel carried the play from start to finish.
Almost every time Luzern attempt to push forward was snuffed out by Kasim Nuhu. He really stood out; it was like watching a man verse boys, and it was as if he didn't belong there. At halftime, I looked him up and saw he was on loan from Bundesliga side Hoffenheim. Late in the game, Bradley Fink doubled the lead but at that point, I was more worried about making my train as I still needed to get back to Zurich!
Plan Your Trip to Switzerland
While the game experience isn't what I hoped for, going to games is always fun. I enjoy seeing different stadiums, how fans interact, how they cheer, and the general excitement live sports create. Luzern vs. Basel may not have been the best but it was far from the worst I've seen in person; I am a New York Jets fan.
If it weren't for the game, I wouldn't have visited Luzern and now I'm already trying to figure out when I can go back! I haven't even talked about the fondu, chocolate, or the Alps. As a travel expert, I can honestly say those are the top reasons you want to visit Switzerland!
---
Matt is a travel advisor specializing in sports travel. He will customize your entire trip so you can watch your team anywhere in the world. Visit www.uniqueluxurytravels.com Or e mail Matt directly or call 917-225-1360 .