World Cup 2022 Diary: Day 7. Tunisia 0 Australia 1 Poland 2 Saudi Arabia 0. France 2 Denmark 1, Argentina 2 Mexico 0. World Cup superstars Lionel Messi and Kylian Mbappe shone bright today, delivering crucial goals for Argentina and France.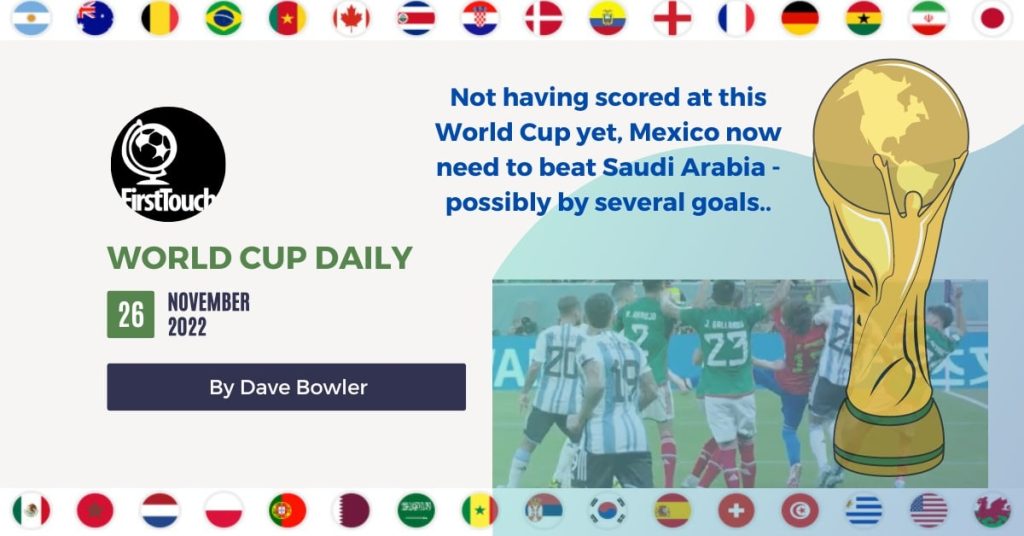 By Dave Bowler
After Qatar became the first team to be dumped out of the competition yesterday, today the French became the first to ensure that they'll be there in the knock-out stages.
FRANCE ADVANCE
That boy Mbappe certainly likes a World Cup doesn't he? He's fast developing a Pele like attachment to the competition, underscored by a match-winning display against Denmark. The first goal in particular was a thing of immense beauty. A lovely pass in behind the defence and then a sprint into space to collect the return while most forwards would have been stood admiring the pass.
With all the injuries that beset them, it was – and remains – hard to see France going all the way. They've certainly started with a will. Perhaps the freshening up of the side and squad has given them new impetus at this competition. They're looking a tasty prospect and can now ease off in their final game against Tunisia.
DUKE OF AUSTRALIA 
Tunisia are technically still in the competition but would need to beat France and see Australian and Denmark grind out a draw to survive. The latter is a possibility. The former seems unlikely, even if the French do rest most of their team.
Tunisia's hopes were dashed by defeat to the Australians. The only goal of the game was a brilliantly manufactured glancing header from Duke, midway through the first half. From there, particularly in the second half, they had to dig in as Tunisia threw everything they had at them. The one thing that Australians don't lack is the competitive instinct and they managed to get the win over the line.
That sets them up for a final game with Denmark. A draw should be enough to see them through on the face of it, but with France having already won the group, a Tunisian win could happen, in which case the Aussies would need to win their game. Denmark will have to go at it all guns blazing because only a win is good enough for them. They will have to go through the gears to get it because thus far, they've disappointed.
MESSI SAVES THE DAY
Argentina went into the game with Mexico knowing that they could be completing an infamous campaign and joining Qatar as a team definitely out of the competition. For a dreary hour of football, that looked a distinct possibility but then, Messi saved the day. Dark rumours swirl about him carrying a calf injury and certainly his was a largely pedestrian display, but when that moment came, his greatness shone through. Receiving the ball in space for once, from 25 yards out he arrowed a shot into the ball's width of room that existed between the diving goalkeeper and the post and Argentina were on their way.
Up until then, Mexico had stifled them to the point of stalemate with a well organised performance but asked to find a goal to get back on terms, it always looked beyond them. The defeat wasn't necessarily the end of the world at 1-0 but Argentina's second goal could prove terminal. Not having scored at this World Cup yet, Mexico now need to beat Saudi Arabia – possibly by several goals..
SAUDIS TESTED
Saudi Arabia will have their own thoughts about that, having impressed again against Poland. They were left to rue a brilliant double save by Szczesny from an Al Dawsari penalty and Al Burayk follow up that would have had them level at 1-1 at the interval. Zielinski had opened the scoring in what was a pretty even game. Lewandowski sealed it late on as the Saudis pushed for that equaliser.
Mexico are a famously resilient outfit but if the Saudi confidence remains intact, I can see them earning a second win and a place in the last 16. As to Argentina v Poland, that is anyone's guess. The Poles do only need a draw and that has to give them a slight advantage. Argentina still did little to impress today but they did come through the fire. They will need to draw belief from that to galvanise them to a better performance against Poland if they are going to come through it again.
Read Dave Bowler's World Cup diary every day
---
Sir Alf Ramsey: England 1973 focuses on the final full year of Sir Alf's reign as England boss. The nation that won the World Cup in 1966 failed to even qualify for the 1974 tournament. Ramsey was suddenly a man out of time, both on and off the pitch. The failing fortunes of the England team mirrored those of a post-Empire nation heading for its own a fall.
A must read for all fans. Order your copy in time for the holidays.