World Cup 2022 Diary: Day 6. Iran 2 Wales 0, Senegal 3 Qatar 1. Netherlands 1 Ecuador 1, England 0 USA 0. Qatar officially became the worst team ever to host a world cup after crashing out on day 6.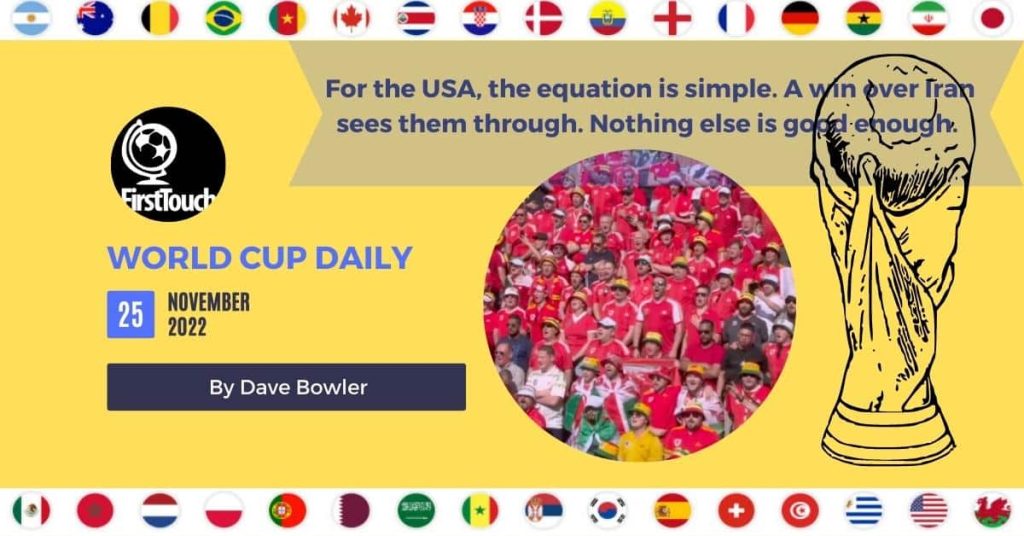 By Dave Bowler
Some of the football thus far may not have been of the greatest standard, but it is making for an intriguing competition, as Group B illustrated today.
After the first pair of games, things looked straightforward. Iran were the whipping boys and second place behind England would probably be decided by who had the biggest win against them, the USA or Wales. Now, Iran are second in the group and may need no more than a draw in that final game to book their passage. Indeed a win over the US might well win them the group. The US meanwhile know that any kind of win over Iran will see them safely through. England, meanwhile are all but through – anything but a four goal defeat is enough – but Wales might yet progress with a win – if the other game ends in a draw.
Wales are lucky to have even that slender hope after a dismal display against a rejuvenated Iran. They repeated the sluggish start to the US game but this time could not raise a gallop in the second half either. Tactically, they got it wrong in the latter stages too, throwing on more and more forwards at 0-0 to try and force a result when, given the way they were playing, they should have been grateful for the small mercy of taking a point.
Instead, they left themselves open, and when Hennessey decided it was the right time to cosplay Harald Schumacher from the 1982 World Cup and got himself sent off – if only France had had recourse to VAR 40 years ago – Wales were in deep trouble. Iran brilliantly exploited the remaining dozen minutes against ten men and were worthy 2-0 winners.
ENGLAND FANS BOO PLAYERS AFTER DRAW WITH USA
That changed the context of the USA – England game. For England in particular, it meant a draw was a very decent result that would all but see them qualify – and they played like it. There was none of the panache they'd brought to the Iran game, looking more than content to keep their clean sheet and hope something would break their way at the other end. It didn't, but they were a little fortunate to get away with the 0-0. The USA quickly realised they had nothing to fear from England and were the more enterprising side, but ill luck and the England – rather than Manchester United – version of Maguire kept them at bay.
For England, the performance will resurrect those concerns that Southgate is more concerned with masking his side's defensive weaknesses than playing to their attacking strengths. There's something in that, though the England boss can quite rightly point to a semi-final and final in the last two tournaments as vindication.
England will progress, but as group winners?
The draw tonight puts that in jeopardy. Surely Wales will turn up at some stage at this World Cup, and the sight of England in that last game must get the blood coursing? The end of the tournament is likely to see the end of Bale and Ramsey among others and they won't want to go out with a whimper. England should still have enough to see them off, but there is danger there.
For the USA, the equation is simple. A win over Iran sees them through. Nothing else is good enough. I think they would have taken that prior to the competition so in that sense, they are in a good place. Defensively they look sound and there is a nice shape to their attack, but there will be worries that the attacking edge isn't sharp enough yet. Only one goal in two games is a concern, but I suspect they will finish alongside England on five points, qualifying second.
QATAR OFFICIALLY THE WORST HOST TEAM IN WORLD CUP HISTORY
In Group A, Qatar became the first side having to pack their bags for home. At least they don't have far to go. Now officially the worst team ever to host the World Cup, their departure after just two games was all too predictable. With a game against the Netherlands to follow, the likelihood is that they will draw a complete blank from their three games.
At least they were a little more sprightly than in their defeat to Ecuador, and they did get on the scoresheet but in truth, it was a relatively straightforward victory for Senegal. That might have been different had Qatar been awarded a penalty with the scores at 0-0, but there was no VAR challenge to the referee's decision and from there, Senegal began to exert real control of the game.
There are players of genuine quality in the Senegal side and the African champions have now given themselves the opportunity of progressing into the knock-out stages. A win over Ecuador in the final game, and they're there.
Again, they will mourn the absence of Mane going into that game, but the body count may have evened itself out with Valencia finishing Ecuador's game with the Dutch on a stretcher, having scored his third goal of the tournament earlier in the game. That was enough to get his side a draw, putting them second, behind the Dutch on goal difference. Ecuador might well have won the game against an insipid Netherlands side but with the Dutch facing Qatar in the final game, it's hard to see them failing to win the group. Without Valencia, Ecuador might find it tough to get the point off Senegal that they need to join them.
Read Dave Bowler's World Cup 2022 diary every day
---
"Sir Alf Ramsey: England 1973" focuses on the final full year of Sir Alf's reign as England boss, as the nation that won the World Cup in 1966 failed to even qualify for the 1974 tournament. It deals with the way Ramsey was suddenly a man out of time, both on and off the pitch, and with how the failing fortunes of the England team mirrored those of a post-Empire nation heading for a fall of its own.' A must read for all fans. Order your copy in time for the holidays. 
---