World Cup 2022 Diary: Day 5. Switzerland 1 Cameroon 0, Uruguay 0 S Korea 0, Portugal 3 Ghana 2, Brazil 2 Serbia 0. Brazil and Portugal were the big winners in Qatar today, but Neymar ankle injury is a concern.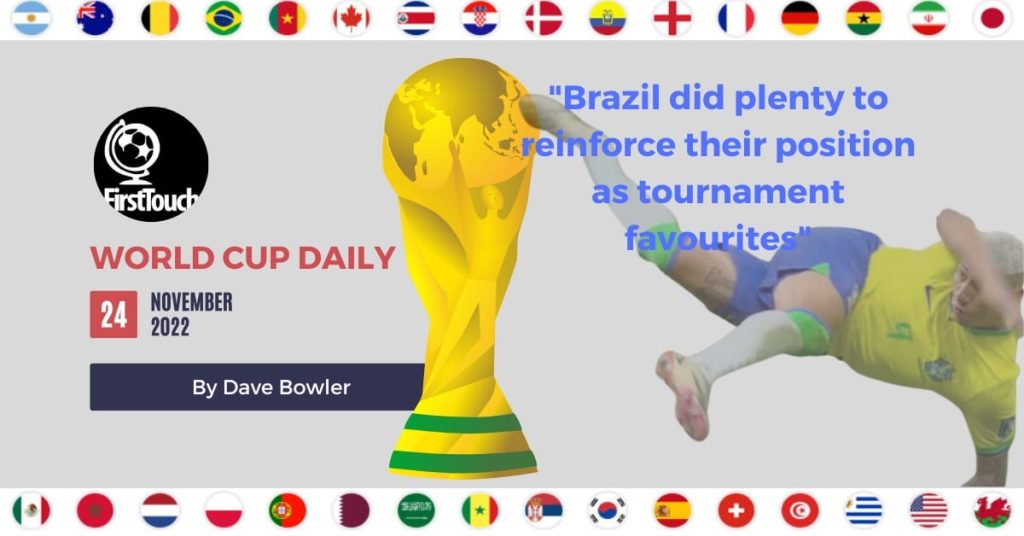 In a World Cup where we've already witnessed a fair few 0-0 draws, it was somehow inevitable that when a goal did come, it still couldn't be celebrated.  
A pity really, because day five was begun with a very nicely worked goal for Switzerland against Cameroon. Embolo scored it just after the break but, having been born in Cameroon before moving as a six-year-old, he understandably chose not to go berserk and run towards the cameras, instead simply raising his arms in recognition.
The goal changed the game for prior to that, Cameroon were by far the more threatening side and really should have had a first half lead. But as Canada underlined yesterday, shots at goal mean nothing if they don't go in. The Swiss went from strength to strength thereafter and perhaps should have had more goals, though that would have been harsh on the African side who gave plenty to the game and were worth a draw.
As it is, with Brazil and Serbia still to come for Cameroon, qualification for them looks pretty tough now, victory over Serbia in their next game pretty much compulsory if they are to have any hope of progress. The Swiss, on the other hand, looked a more than competent outfit in that second half and, if they can maintain that standard in their last two games, should come through.
POOR FINISHING HAUNTS URUGUAY AND S KOREA
It was back to what is becoming the norm in the next game, Uruguay and South Korea playing out a 0-0. It was a slightly better game than the scoreline suggests, but again, the quality of finishing at this level of the game was dreadful. South Korea began well but it was Uruguay who finished the stronger.
They looked infinitely better for the replacement of Suarez, the once quicksilver striker looking as if, at the age of 35, this might be a World Cup too far, the legs no longer as willing as once they were. As to his bite reflex, we had no opportunity to judge. Edison Cavani, at the same age, looked a more sprightly replacement, though of course he only had to get through half an hour.
RONALDO SCORES IN 5TH WORLD CUP
The draw leaves both sides in the qualifying mix, which is of course the main aim from the first game where defeat can so often be terminal. Ghana will be hoping that won't be the case and they can take some comfort from their 3-2 defeat against Portugal, for the lowest ranked side in the competition did enough to make Uruguay and South Korea take notice of them.
A decent game, it really sparked to life when Ronaldo, of course, opened the scoring on 65 minutes. He did celebrate and he was entitled to, becoming the first man to score in five separate World Cups. They pulled a slightly tentative Ghana out of their shell and taking advantage of some poor Portuguese defending – Cancelo had a night to forget – Andre Ayew had them level.
It rather went to their heads and having been commendably solid up to that point, all those defensive verities went out the window over a mad couple of minutes where Portugal twice sliced them open and seemingly put the game beyond them through Felix and Leao.
But there was more dismal Portuguese defending to follow in the final minute of normal time, Bukari reducing the arrears and making for a very uncomfortable nine added minutes. Danilo had to clear off the line in the final seconds after Williams picked the 'keeper's pocket, but Portugal got there in the end – though a late VAR penalty check might have differed on that. If they can't sort out their defending, they could yet miss out on qualification. But if they can, there are enough goals in the side to take them a long way. A fascinating paradox.
RICHARLISON STARS FOR BRAZIL
Brazil finished the day, and the first round of group matches, with victory over a disciplined Serbian side who made them work for it. Patience was the watchword for Brazil who kept moving their opponents around, gradually wearing them down with metronomic possession football. Serbia got to the break all square but once Brazil quickened the pace against a tiring outfit in the second half, they had no answer to them.
Richarlison registered his interest in the Golden Boot by scoring twice as Brazil completed a very satisfactory night's work, the only concern being the early departure of Neymar with an ankle injury. If the golden boy ends up in a moon boot, then Brazil will need to avoid the implosion that came with his injury in 2014. That worry aside, they did plenty to reinforce their position as tournament favourites. Amid a first five days that have been anything but clear, at least that is something we can cling to.
Read Dave Bowler's World Cup diary every day
---
"Sir Alf Ramsey: England 1973" focuses on the final full year of Sir Alf's reign as England boss, as the nation that won the World Cup in 1966 failed to even qualify for the 1974 tournament. It deals with the way Ramsey was suddenly a man out of time, both on and off the pitch, and with how the failing fortunes of the England team mirrored those of a post-Empire nation heading for a fall of its own.' A must read for all fans. Order your copy in time for the holidays.