England have a Wayne Rooney problem. Two managers and three deeply average performances against decidedly ordinary oppositions, all underlining the story that came out from the Icelandic camp recently that ahead of their Euro 2016 meeting, they concluded that they were playing the most overrated side in the tournament. 
England are busy doing something about that because their rating is falling at roughly the same speed as the pound at present but what's to be done about it? In a side that is currently all promise and no delivery, after the Sam Allardyce sideshow was swiftly concluded, now attention moves back to the longer running saga – what's to be done about Wayne Rooney?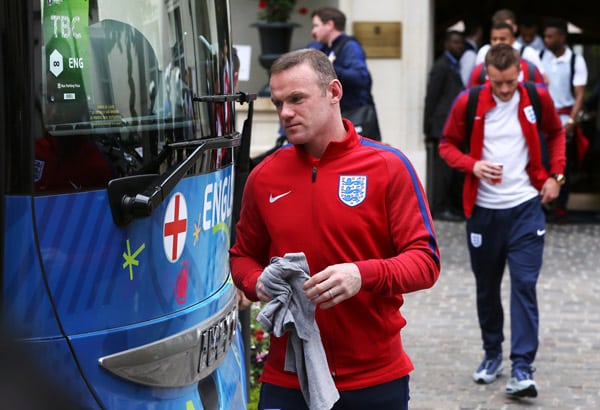 How Do You Solve A Problem Like Wayne Rooney?
By Dave Bowler
The consensus, for both club and country, appears to be that he no longer has the pace to be an out and out striker thanks to the wear and tear of over a dozen years at the top – despite the fact he's only 31 later this month, he's played nigh on 750 competitive games.
So the next move is to play as a number 10, but it appears that Dele Alli is the preferred option in that role, not that he did a lot to aid his cause in Slovenia. So does he drop deeper still into the central midfield role? But that tends, these days, to be the preserve of he holding player and is Rooney really the best man to be protecting the back four when you have the likes of Eric Dier available?
England's Euro Mess
It's readily apparent that England have, once again, got themselves into a mess, and the managerial muddle that has followed Euro 2016 has only added to that. We started with Allardyce telling the world that Rooney could go and play wherever he wanted, it wasn't for the manager to instruct him. That seemed to make Rooney untouchable, an idea reinforced when Gareth Southgate's first act as interim manager was to tell the world that Rooney remained England captain.
The irony of the current situation is, of course, that with two games in his current reign to go, Southgate does not have the authority to finish Rooney's career and yet, precisely because he may not be the long-term choice, he has the freedom to leave him out of the side as he did in Slovenia, much good did it do England.
But for whoever takes on the role in 2017, the Rooney conundrum needs to be resolved. Part of the problem lies in the fact that these are very much changed and infinitely more sensitive / sentimental times than more brutal days of yore. Take the way Bobby Charlton, the man whose records Rooney keeps taking, was finished with England.
The Alf Ramsey Way
On the plane on the way back from the World Cup in Mexico in 1970, Sir Alf Ramsey tapped him on the shoulder, said, "Thank you for all your efforts" and that was that. Charlton knew it was over, there were no histrionics, no front and back page spreads, just a similar acceptance that time waits for nobody, not even the greatest. Contrast that with the uproar when Steve McClaren said he wanted to build a new England without David Beckham before being forced into a humiliating climb down, bringing him back to precious little effect.
The modern world has become far more attached to big name and celebrity and, for all that the press and public spend most of their peak years knocking and mocking them, they seem loath to let them go, such that few exits are graceful these days, players tempted to go on that one year too long because nobody will offer up the brutal truth – you're not as young as you were and you can't do what you did, a truth that is more pertinent now than ever before given that football moves at a faster and faster pace each year.
What Next For Rooney?
So now what for Rooney? It appears that his days as a guaranteed start for England are over, but is that the end? It needn't be, for in Italy, Totti proved for a long time that he could still be an influential presence in the squad and off the bench, for club and country. Certainly his stature and experience working within a young England squad might prove invaluable. Could that be the model for Rooney, perhaps even as a striker once again, late in a game?
Might it even be that two or three months on the sidelines, with a lessened workload for the first time in years might even rejuvenate the body and that perhaps at the turn of the year, the old Rooney will re-emerge – he's younger than club mate Zlatan Ibrahimovic after all.
Or perhaps he will take matters into his own hands and head for the hills and a lucrative contract in the MLS or in China. There wouldn't be any shortage of suitors if that was the case and you cant help but think that there's at least one of his managers who would be only too happy to have that decision made for him…