This week Scotland served up one of those rare, but cherished upsets  – beating the mighty Spain in Euro Qualifying. Yet we've still found plenty to be miserable about here at the Full Scottish.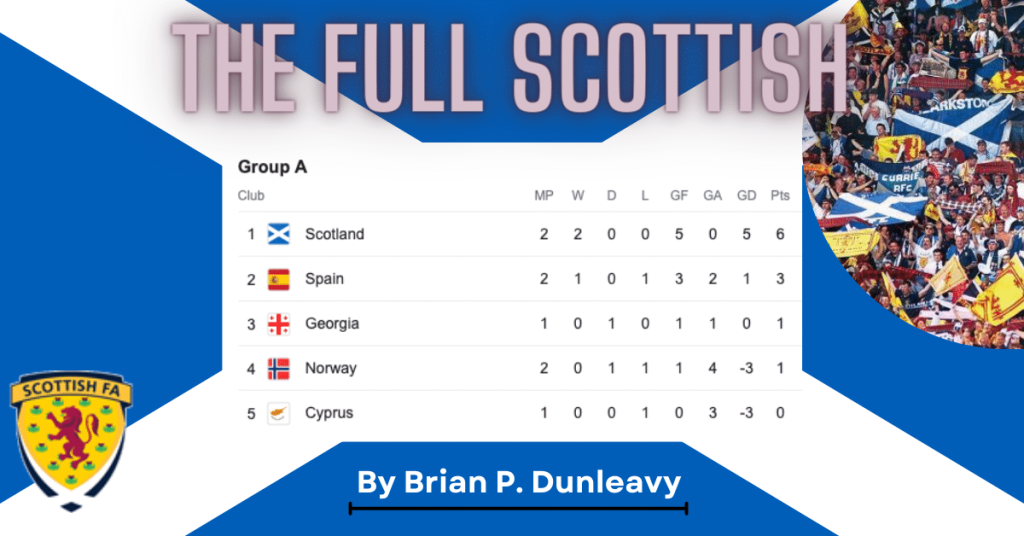 The Full Scottish
In a week that saw the Scottish national team secure its most noteworthy result in recent history against Spain, we hate playing the role of wet blanket on the raging inferno. However, two recent stories caught our attention.
In the first, Herald Scotland alleged in a report last week that the SPFL "left money on the table" by simply re-upping its broadcast deal for the Premiership with Sky Sports for £29.2 million last summer, rather than sending the contract out for bids. The paper believes league honchos undervalued the Scottish game—frankly, they're hardly alone—by not recognizing the market for Celtic-Rangers derby clashes domestically and internationally.
Those matches, which occur four times per season given the 12-team top flight, are obviously the league's signature offering. But would neutrals truly tune in to watch in such numbers as to boost broadcast revenues? Although supporters on both sides of the divide never tire of the fixtures, others might see them as old hat, particularly without the spice added by away supporters in the terraces, as we reported recently.
In fact, as important and unique as these derby clashes are, we would argue that the league has a lot more to offer as well—the Edinburgh derby, for example, just for starters. All of which is saying that the Herald is right that Scottish football may be worth more than it's currently getting as an "entertainment product," but we're just not sure that the sales job needs to—and should—stop with Celtic-Rangers.
Broomhill Get The Brush Off
In other news that raised eyebrows, at least here at Full Scottish HQ, the Scottish Sun recently reported that Lowland League club Broomhill and football streaming show Open Goal were ending their partnership effective at the end of this season.
The decision means that former Celt Simon Ferry, whom we had the pleasure of interviewing in this space a few years ago, will be departing the club as well. The unique partnership brought welcome attention to Broomhill, giving supporters behind-the-scenes access to the club. However, apparently both parties believe the arrangement had run its course, with Ferry reportedly interested in moving to this year's Scottish Cup Cinderella story Darvel to serve on the backroom team there.
As admirers of Ferry, Open Goal and Broomhill, we hope the change works for all parties.
Scotland Top Euro Group After Spain Upset
When we wrote about Callum McGregor's 50th cap for Scotland last week, little did we know the midfielder would play a key role in the national team's biggest victory in recent memory, a 2-0 win over Spain at Hampden in Euro 2024 qualifying, in his 51st, on Tuesday.
Spain certainly appeared disorganized under a new manager and with a new set of players, compared with its roster in Qatar. However, Scotland definitely deserved the result. There's still a lot of work to be done in qualifying, but if the Tartan Army can make it to the finals a little more than a year from now, we'll be looking forward to seeing McGregor on the world stage, a platform he richly deserves.
---
Looking to watch the Celtic game on TV this weekend?
Don't forget to check our schedule for all upcoming Scottish games on US TV
---