NJ/NY Gotham FC and Algorand, an industry-leading blockchain company, are coming together to create the #WHATWEDO NFT collection. The set will represent the club's commitment to five social impact partners. All proceeds will be donated directly to those partners, kicking off with a Pride NFT with funds going directly to Athlete Ally, a nonprofit LGBTQI+ athletic advocacy group.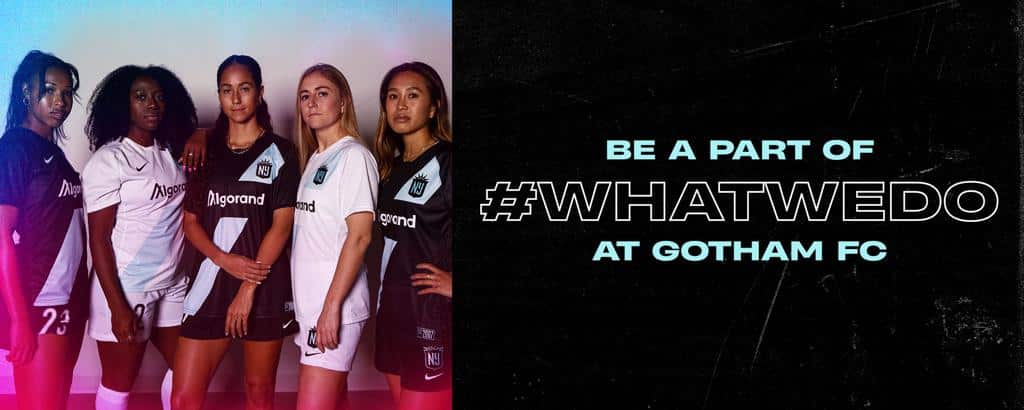 Gotham FC's first NFT will be available on the club's Pride Night match at Red Bull Arena on Saturday, June 4 for $10. Additionally, Gotham FC will match proceeds for the first 200 NFTs sold.
As part of the NFT Pride release, 10 randomly selected fans will receive a unique Pride NFT and merchandise signed by Athlete Ally Ambassador and Gotham FC vice-captain Imani Dorsey.
Gotham FC will release two sets of NFTs in July to spotlight women's empowerment and sustainability. In August, the club will collaborate with its Players Community Council to unveil a signature Gotham FC celebration NFT for the benefit of a player-selected community partner.
Gotham FC's final drop will be crowdsourced via the Gotham FC and Algorand community. Fans will be invited to submit NFT designs and the club will post selected designs on its social media channels for a fan vote. More information on how ­to enter and vote will be forthcoming.
Prizes
Each drop will include unique experiences and prizes that will be awarded to select participants. Fans who collect all five NFTs while be entered into an exclusive VIP experience sweepstakes that will take place at the beginning of the 2023 season.
"This collection serves as an illustration of how community inclusion can influence change both locally and internationally," said Chief Business Officer Andrea Pagnanelli. "We're always looking for ways to support our community partners by using our platform to bring visibility to the initiatives that mean most to our fans. We're so excited to continue our journey of building an inclusive and supportive Gotham FC family."
To ensure that all fans have an opportunity to participate and contribute, Gotham FC has teamed up with Eterno Sports, an organization dedicated to innovating the world game while supporting fans through the user experience.
For more information on purchasing Gotham FC's NFTs and general FAQs, please visit GothamFC.com/NFT.