NJ/NY Gotham FC of the National Women's Soccer League announced today that defender Imani Dorsey will return to the club on a two-year contract. Dorsey was drafted fifth overall by Gotham FC (then Sky Blue FC) out of Duke University in the 2018 NWSL Draft. During that season, she scored four goals and added one assist and went on to be named Rookie of the Year.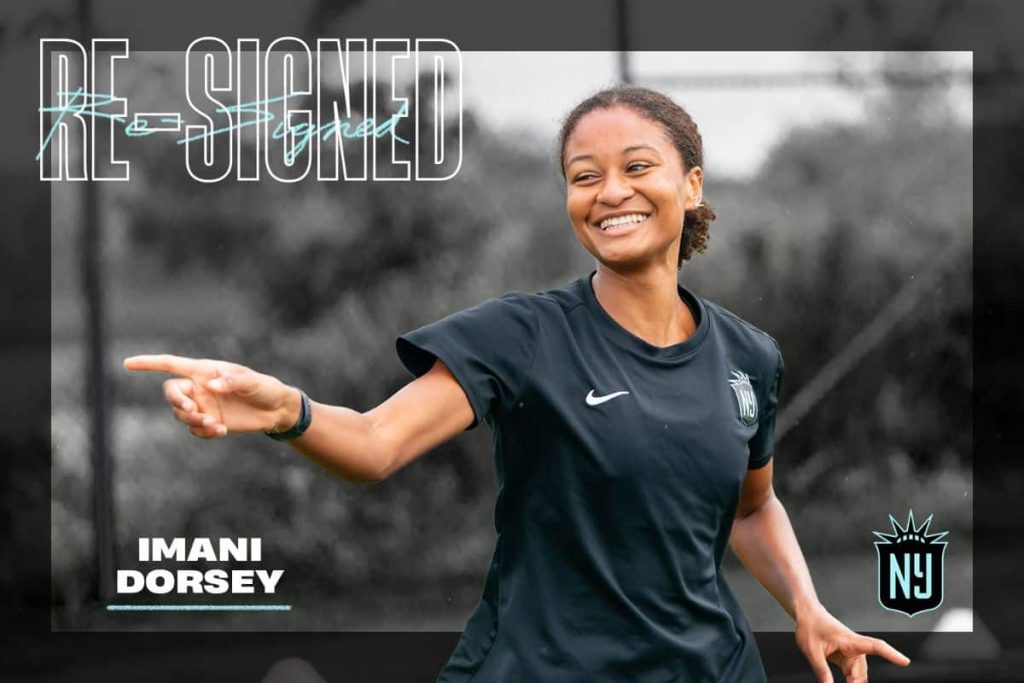 Defender Imani Dorsey Re-signs For NJ/NY Gotham
"Imani is the heartbeat of our team – our moral compass and a fantastic footballer," said Head Coach Scott Parkinson. "Being able to work with Imani every day is an absolute honor. Her growth over the past couple of years has been amazing and we believe there is plenty more development to go."
Dorsey returns for her fifth year in the NWSL following a 2021 season that saw positives both on and off the pitch. The 25-year-old made 14 starts in 16 total appearances and logged 1,270 playing minutes. She won 61.5% of tackles, 63.6% duels in the air, and was part of a back line that conceded the second fewest goals in the league.
In November, the defender was called up to the U.S. Women's National Team for two international friendlies in Australia where she earned her first cap. Dorsey was recently named to Vlatko Andonovski's 25 player roster for the BioSteel Training Camp in Austin, Texas in January, but has since been ruled out due to injury.
Black Women's Player Collective
Just as active off the pitch as on, Dorsey is one of the founding board members of the Black Women's Player Collective (BWPC), a non-profit organization seeking to elevate the image, value, and representation of Black women as athletes and leaders in business, industry, and public and private institutions.
Last month she was awarded U.S. Soccer's first ever One Nation. Social Impact Award for her work with the BWPC and was recently the focus of a Game Changers episode, a series devoted to showcasing the diverse group of athletes competing in the NWSL.
During the 2021 season, Dorsey also served as the club's ambassador for the Nationwide Community Impact Program. Along with members of Gotham FC's Player Community Outreach Committee, she worked with a CareSparc, a Newark-based consulting firm, to participate in a Health and Wellness Festival that featured a soccer clinic among other things for local youth.
"I am so happy to be re-signing with Gotham FC," said Dorsey. "This club has become my home and I'm ready to win a title with this group."