Eventually, the season has come to its close for Liverpool and bizarre as it sounds, the double winners end up disappointed, missing out to EPL challengers Manchester City on arguably the two biggest prizes – traditionalists might well claim the FA Cup is still better than the EPL of course.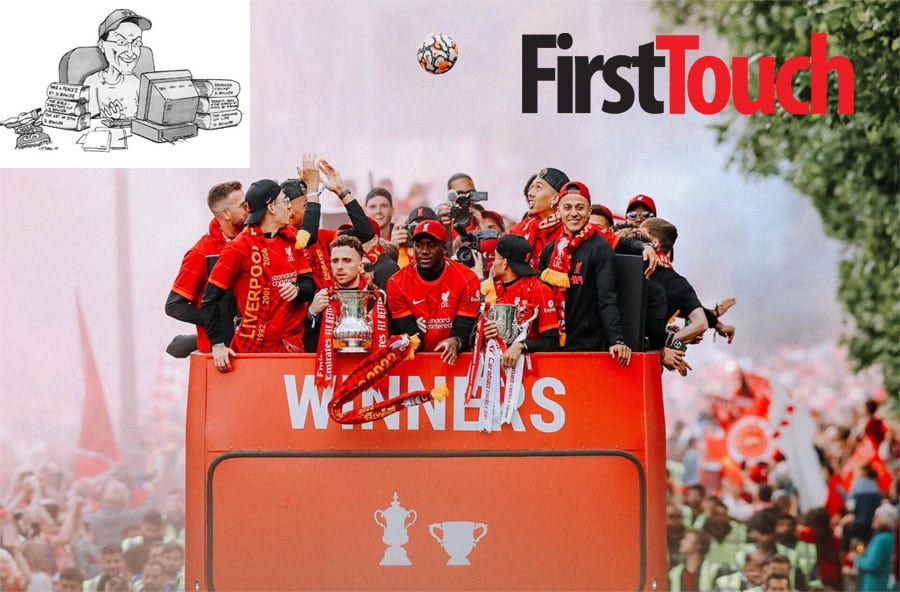 By Dave Bowler

Such is the nature of football at the sharp end, had a couple of Chelsea penalty kicks gone the other way, they might have ended up with nothing. Equally, had Mo Salah been just a little more precise or Thibault Courtois not been so inspired or had Sadio Mane's shot come back off the post and hit the goalkeeper and gone in, and then had Ilkay Gundogan not gone berserk for five minutes against Aston Villa, Jurgen Klopp would have had to spend his entire season's bonus on silver polish. Wafer thin margins.
When it comes to the Premier League, and with no disrespect to Manchester City, but choosing between Liverpool and City was really the toss of a coin this season, there was nothing between them. Both would have been worthy champions. But in the Champions League, I think you have to say that Real Madrid were the team of the competition – if you come past PSG, Chelsea, Manchester City and Liverpool, it's very hard to make an argument that says otherwise.
CHAMPIONS LEAGUE
As noted in the preview to the final, Liverpool have run just a little short of the sparkle that so characteriZed their decimation of the opposition, pretty much through to that first leg of the Champions League semi-final. From there, they haven't quite been at their best and that was costly against Real Madrid. Certainly they dominated the first 30 minutes in particular, but they were a fraction away from the razor sharp attacking brilliance that has blown so many teams away this term.
With Courtois in the kind of form that you would expect from a world class goalkeeper, and with Carvajal and Casemiro both playing beautifully, that slight drop in level was enough to see the Spanish club weather the storm. From there, Real grew into the game more and more and they were probably a bit unfortunate not to be 1-0 up at the break because the decision over whether Benzema's "goal" should have stood was a hairline one that could easily have gone either way.
They came out the better side at the start of the second half, illustrated that if you are good enough to get in behind Liverpool, you can get some joy and, once they were in front, they looked depressingly secure from a Liverpool perspective. For the neutral, that was perhaps the most intriguing element of the final for it was an old school meeting of two different footballing cultures. Liverpool will always attract the neutral – as would City or prime time Barcelona of old – because their game is geared to attacking, to scoring goals.
ANCELOTTI
Under Ancelotti, Real Madrid are a more tactical beast in the sense that their game is built on being highly organised at the back, conceding little and counter-punching from there, while having options on the bench to switch to a higher energy game against tiring opponents.
As you might expect from Ancelotti, Real Madrid adopted an old fashioned Italian mentality in many ways, accepting that they couldn't go toe to toe with an individually more talented Liverpool team. Stifling them – and, admittedly, riding their luck a little in that early period – Liverpool's frustration became apparent in the second half and they could not quite raise the gallop they needed to find a way through.
The better team won? I guess it depends on whether you judge the game on aesthetics or on results. But there might be a moment in the summer when Klopp and his staff have a little rethink because, while at their best they are an irresistible force, if they drop just below that, against the very best teams in Europe, they need another way of winning games and, on occasion, they might need to be a little more pragmatic.
EPL CHALLENGERS
There is a problem for Liverpool and Manchester City though, and it comes from the domestic game. They are so far ahead of the rest that for something like 30 games a season, a performance at 80% will most likely yield three points. They need more ferocious competition at home to give them that edge they need against the might of Europe.
Perhaps the coming sale of Chelsea might see the Londoners catapult themselves back into the title race, Spurs will be tougher opponents next term under Conte, but the top two also need Arsenal, Manchester United – and ultimately, in a year or two perhaps, Newcastle – to push them harder, at least in individual games if not right across the season. That would be good for the English game both at home and in Europe.
One former European Cup winning team had a rather better weekend of it, Nottingham Forest ending their exile from the Premier League by getting the better of Huddersfield Town at Wembley, back for the first time since 1999 when they were relegated in a miserable season.
They've even dropped as low as League One in that period but now, they're back. All Steve Cooper has to do is win the Premier League next season and the Champions League the year after, and he'll be able to walk on the Trent alongside the ghost of Brian Clough…