And another EPL manager bites the dust, Southampton showing Mauricio Pellegrino the door and then shoving him through it, prior to hunting down the quick fix change in Mark Hughes whom they hope will bring them Premier League salvation.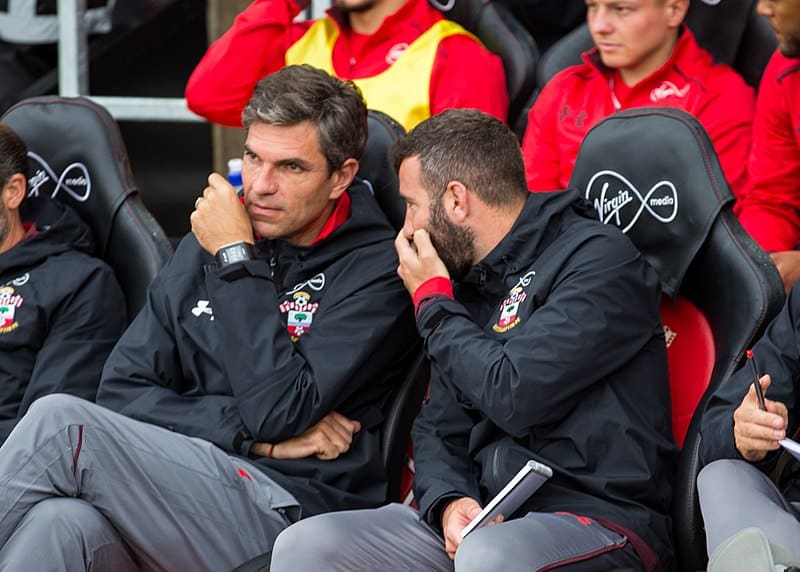 Yet Another EPL Manager, Mauricio Pellegrino, Is Shown The Door


That means all the bottom five have now changed – much good has it done them. When you take out the hermetically sealed top six and the three newly promoted sides – all of them over performing under comparatively long term mangers – it means nine out of the 11 other clubs are under new leadership compared with the season's start, some of whom were starting out with new managers even then. Only Eddie Howe at Bournemouth and Sean Dyche at Burnley have survived.
What are we left to conclude from this? That there are a lot of bad managers about? That's at least a partial explanation. Are clubs spectacularly bad at choosing the men to whom they entrust their future? Equally true in part. Are expectations far too high at many clubs, the stakes commensurately ridiculous when it comes to the financial difference between the Premier League and the Championship? Again, nods in agreement with that one.
But is there another issue that contributes to the constant culling, one the clubs aren't so quick to admit to. Have the changes over the last 15 or 20 years, the movement towards technical directors and head coaches and away from the responsibility for whole club leadership that was the way of the greats such as Clough, Shankly, Busby, Ferguson, meant that the guy ostensibly "in charge" and the one who ultimately carries the can, is no longer fully in charge of his team nor his destiny.
Vidic Quotes
On that front, it was intriguing to read some quotes last week from former Manchester United skipper Nemanja Vidic, currently completing his coaching badges with the Football Association. Contrasting the state of play today with when he played under Fergie's fiefdom, he was very clear that were he to get the chance of a management career, he would want to be just that, a manager, not a coach. His idea of doing the job properly is to buy the players, coach the team, pick the side on Saturday and run anything and everything that's connected with playing matters.
That is, of course, harder now than it was 20 or 30 years ago as English football has become much more globalised in its outlook and in its recruitment. It used to be that the furthest a manager might go to scout a footballer would be Aberdeen, Plymouth or Scunthorpe. Now it's anywhere from Rio to Riga, Tokyo to Turin. Managers clearly need help covering that kind of ground.
Manager Power
But internally, it's hard to escape the impression that managers are no longer the lord of all they survey. There seem to be more layers between them and the board where in the past, the only relationship that really mattered was between manager and chairman, the two in regular contact unless the chairman was avoiding taking a call about buying a player or the manager avoiding a call about selling one. It could make for some combustible relationships at times, but at least it tended to avoid misunderstandings, confusion and conspiracy theories.
It tended to weld the two together in, if not quite a suicide pact, at least one where each knew that the best interests of one were, for the most part, also those of the other. That closeness also tended to give managers a better understanding of who they were working for, what their goals were, what kind of club it was and what represented success along the way.
Perhaps more important, it gave the chairman greater insight into the stresses and strains that the manager was operating under, insights that today's remoter owners can struggle to capture. Rather than seeing the manager as an irritation, someone always asking for money, refusing to sell players for profit and the like, they get a better idea of just why this fans' favourite is actually disrupting the efficiency of the team, why that player is presently out of sorts and if it can be addressed, why this one is being picked ahead of that one.
Chairman Power
There will always be differences in opinion and, ultimately, the chairman always calls the hiring and firing shots, but there was often less of a hair trigger approach with a manager who a chairman could see was working all the hours, sweating blood and doing everything possible to make it work.
But then for those at the top, whatever the industry, it's always easier by far to get shot of someone who just represents another layer of middle management than it is to actually go and understand the root cause of the problem isn't it?