This March marked the 20th celebration of the annual Craic Fest.  Once again, founder Terence Mulligan achieved his mission to deliver fantastic works of new Irish cinema and music to New York City with a George Best documentary among the highlights.
George Best Documentary Highlights Craic Fest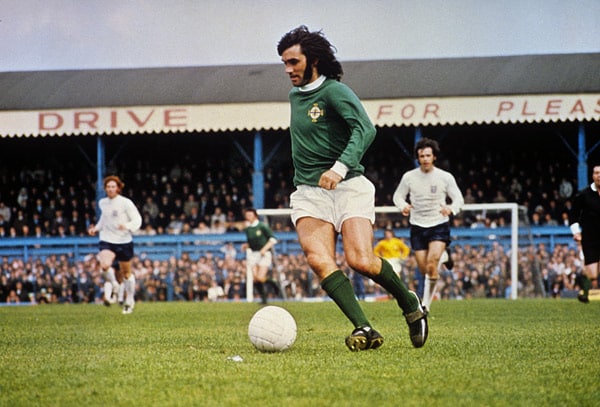 By L.C. Canivan
Legendary greats like filmmaker Jim Sheridan, came out for a spirited discussion of his inspirational documentary "Shelter Me: Apollo House" just as indie film stars like Love/Hate's John Connors showed up to give us the real deal behind his powerful new film "Cardboard Gangsters."  Craic Fest provided a rare opportunity for audience members to mingle and chat with such accomplished, and wonderfully approachable stars.
For football fans, Craic Fest really kicked off with the documentary –  "George Best-All By Himself." – a winning, expertly crafted film which documents the triumphant trajectory and tragic tumble of football legend, George Best. With awe inspiring archival footage and thoughtful interviews, the film provides a far more endearing picture of Best the man than his autobiography, "Blessed."
"George Best was simply one of the most talented players of all time." Franz Beckenbauer
The film introduces us to Best and his start as a shy slight young boy scouted in Belfast and scooped up to Manchester to soar to soccer stardom.  It was a career at Manchester United that almost didn't happen—for shortly into his trial at Manchester United, a homesick Best returns to his family in Belfast.
"It seemed like it was never going to end…it was just getting better and better."
That's where George Best's story begins, but perhaps that's where it ends, too.  The film portrays a man, who is at the top of his game, an international star, but who nevertheless may have never grown emotionally beyond that lost, shy, homesick teenage boy.
"Possibly everything had gone too smoothly, I'd achieved everything before I was 22."
Best joined a shattered Manchester United shortly after the Munich Air disaster of 1958.  That crash haunted the club, but as Best himself says, no one really wanted to talk about it. The young soccer phenom breathed new life into the club and brought talent like no one had ever seen before.
The film shows dramatic footage of Best's amazing feats on the pitch. We get to watch the drama of Best and United winning the European Cup.  Still to this day, one can only watch in wonder.  He was a sports star who rose to popularity on par with the Beatles.  At the age of 22, the world was at Best's golden feet.
"You get the feeling that nothing can go wrong…even if you make a little mistake, you know they're going to forgive you."
---
By his mid-twenties, we see things are going wrong more and more and the people around Best are no longer so forgiving.  In an era, before the well-managed David Beckhams of the world, his life of excess and abundance of opportunities must have been surreal for the boy from Belfast.  Away from his family, he was all by himself, left alone to succeed or as was becoming more frequent, to fail.
"I started looking for things to replace the excitement I got from football."
Although the film is called "George Best-All By Himself," much of the documentary is focussed on George Best's relationships. For a man who famously quipped, "I used to go missing a lot… Miss Canada, Miss United Kingdom, Miss World," I am not just referring to his romantic relationships.
Former Manchester United and Northern Ireland teammate, Harry Gregg is interviewed, as well as friend and Manchester City opponent, Mike Summerbee.  From them, we not only hear firsthand accounts of Best's pitch prowess, but we get a glimpse of the boy Best before he scaled to the top and before he sunk so low from the drink.
Much has been made of Best's prowess off the pitch with the ladies, so it's refreshing that this film gives a voice to some of the important women in George Best's life. His first wife, Angie Best, very frankly and candidly discusses the great love she had for George, a love that was tested time and time again until enough was enough.
She recalls driving in her car with their baby in the pouring rain spying what she thinks is a homeless "tramp"  walking aimlessly down the middle of the road, only to realize that "tramp" is her husband. With that, the relationship came to a screeching halt.  That wouldn't be the only relationship, Best derailed, however.
"George was gifted with more individual ability than I had ever seen in a player."-Sir Matt Busby
Even Sir Matt Busby, the fatherly force who nurtured Best when he first reached Old Trafford, could no longer tolerate Best's misdeeds.  The film devotes a good amount of time poignantly showing the importance of this father-son dynamic and how Sir Matt's departure from managing Manchester United may have marked the beginning of Best's decline.  Best is once again, separated from a significant parental figure.
The distance between Belfast and Manchester, is not a great one, but the distance it put between Best and his mother when he left Northern Ireland to play for Manchester United weighed heavily on him. At age 15, he most certainly still needed his mother and when his mother succumbed to her own bout of alcoholism, he feared it was she who had needed him.
In the end, the documentary lets Best's friends and family as well as the audience draw their own conclusion as to whether Best's alcoholism was a disease or a decision.  Whichever side they or we fall on, we all come out as supporters on George's side.
"They'll forget all the rubbish when I've gone and they'll remember the football. If only one person thinks I'm the best player in the world, that's good enough for me."