While I'm digging into a slice of humble pie, allow me to commend Manchester United on finding an answer to the age old riddle, "how do you play your way out of a slump?" The answer being that you try and arrange your next game against a team even worse than you are. Surprisingly, at the moment Liverpool are one of about three or four sides to whom that applies and obligingly, Jurgen Klopp and his team turned up at Old Trafford on Monday.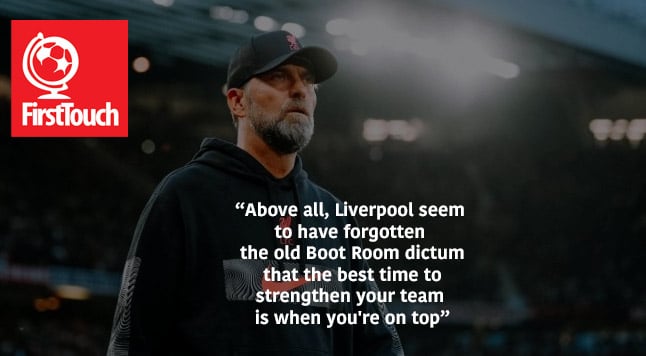 Depleted Liverpool Found Wanting At Old Trafford
By Dave Bowler 
As far as United go, they were vastly improved in terms of attitude above all, and there was certainly the impression that Erik ten Hag had made it a very long week for some of his charges since Brentford. Home truths had clearly been dispensed in large measures. Leaving Maguire, Ronaldo and Fred on the bench did no harm either, and that may well be the way forward for the rest of the season.
I think across the season – and again depending on what transpires in the transfer market over the next week – United have many more problems to solve than Liverpool, and sixth place will still be some achievement this term, but this has been a big week for them and especially their manager. Ten Hag is clearly not going to be a soft touch and that's what United need – that and the wisdom to give him three years to sort the mess out.
For Liverpool, it's a crisis of a different kind. Across the season, it's still hard to see them finishing outside the top three once they get in gear, but already they must be looking at Manchester City and Tottenham, maybe even a rejuvenated Arsenal, and beginning to worry.
Injury Problem At Anfield
Liverpool's big problem at the moment is injuries, which have taken a heavy toll so early on – not helped by Nunez's stupid sending off – and as that crisis recedes, so they should start to find themselves again. That said, for a team who were so lauded for their "mentality monsters" last term, they have looked surprisingly flat thus far this season. In part, they look a team that's still brooding over coming up short in the Premier League and Champions League last term and while that might be understandable, it's not acceptable if they're going to push for those trophies again.
More than that – and yes, injuries played a big part – how can they be in a position to line up at Old Trafford with a midfield that includes Henderson and Milner, with a combined age of 68? There's no way the two can both play from the start given the athletic demands of the modern game, and Milner at least must now surely be employed in playing just the last 20 minutes of matches when they need an old head to see a game out.
Boot Room
Above all, Liverpool seem to have forgotten the old Boot Room dictum that the best time to strengthen your team is when you're on top. Nunez will doubtless come good in the end, but who else have Liverpool bought this summer to go straight into the first team? A couple of new faces ready to step straight into the first XI would certainly have stopped players feeling sorry for themselves after last season, if nothing else.
The United game underlined that the midfield is creaking and that Firmino is beginning to look like someone whose brain might be willing but whose legs are weak when it comes to playing 90 minutes up top. At the back, the previously peerless Van Dijk is currently less Virgil, more Dick.
Liverpool need refreshing, they need three big players and, if they're going to salvage this season in terms of hunting down the title, they've got about a week to get them.