I know two games in is a bit early to be revising predictions, especially with the transfer window still open. But Manchester United. Bloody hell, eh?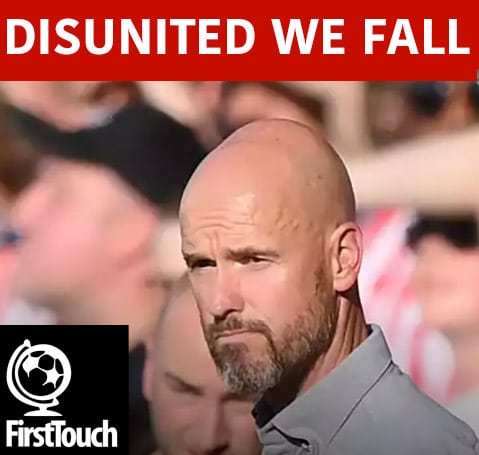 By Dave Bowler
All that follows is said with all due respect to Brighton and Brentford, the teams that have comprehensively beaten United in the first two games. In many respects, those two are everything that Manchester United should aspire to be at the moment. They're well run, they are clubs that clearly have short, medium and long-term plans in place, they have a real identity, both on and off the pitch. Manchester United seemingly have none of these things any longer. Nor, it appears, do they have any footballers.
David de Gea, once a contender for the world's best goalkeeper now appears to get the nod in goal only because of what he can add to the end of season bloopers reel. But you can hardly blame him for having a nervous breakdown. If you were playing behind that defence, they'd be hiding your belt and shoelaces too.
Harry Maguire, God help us. A complete and utter collapse of this kind is pretty rare and probably hasn't happened since David de Gea. Oh. Letting him keep the captaincy was perhaps a laudable attempt by Erik ten Haag to try and instil confidence in him and to quell the rumblings in the support. It's not going to work. Once supporters have made up their mind on somebody, right or wrong, it almost never changes.
Midfield Woes
A central midfield of Fred and Scott McTominay? There's nothing wrong with either of them, IF they were playing for Crystal Palace. You could say much the same about Marcus Rashford and Anthony Martial – Ruud van Nistelrooy, Robin van Persie or Wayne Rooney they ain't.
Bruno Fernandes, seen as the bright spark at Old Trafford in his first season there, has scored five goals since last Christmas.  There is not a single United player who would get in the current Manchester City, Liverpool, Tottenham or Chelsea teams. I doubt even Brendan Rodgers would want any of them.
United are a shambles. Christian Eriksen, two games into his career there, has already played as both a false nine and then the deepest lying midfielder, which is about as false a nine as you can get without going in goal. Nobody seems to have a clue what's happening with Cristiano Ronaldo. All that we can seemingly be sure of is that at some point this season, Phil Jones will be wheeled out of a hospital wing somewhere and be installed as centre-forward.
Ten Hag
Such is the way that United have twice been dismantled this term, by teams who would both quite happily sign up now for finishing somewhere between 10th and 15th, that there are legitimate fears for just how badly this season might finish. Ten Hag looked like he'd just wandered in from No Man's Land on the Somme in his post-match interviews after Brentford, so completely shellshocked was he. He tells us that he was aware of the scale of the job awaiting him when he signed up for it, but honestly, I'm not sure anyone was thinking things were quite this bad.
Indeed, if I was on the Newcastle board, I'd be looking very carefully at Old Trafford and wondering if this wasn't the time to seize the moment. Sixth place is there for the taking this season and if Newcastle could grab it, and perhaps have a Wembley cup final too, if they could find the right couple of big players that they could persuade to head for Tyneside, they could transform themselves into that next really big club a couple of years ahead of schedule.
Glazers
Manchester United is in its worst state for 50 years, a point where they ended up getting relegated to the Second Division. They won't go down to the Championship this time, things have changed far too much in the game for that to happen, but when you look at the current disarray, you can't see any way they qualify for Europe.
And now, with Sir Jim Ratcliffe of Ineos apparently serious in his desire to buy the club from a Glazer family that has no obvious desire to sell anything but a minority stake, off the pitch wrangling could yet make things much, much worse. Yes, even worse than being the butt of an Elon Musk joke, and who thought that was possible?
Dave Bowler is the author of "The Magic of the Cup 1973/74", telling the story of Liverpool's FA Cup win in 1974. Available here: https://www.curtis-sport.com/books – 
Follow the magic of the cup on Twitter:  @MagicOfFACup