We've reached the point where it seems only the spread of the Coronavirus can prevent the coronation of Liverpool as the earliest ever EPL champions.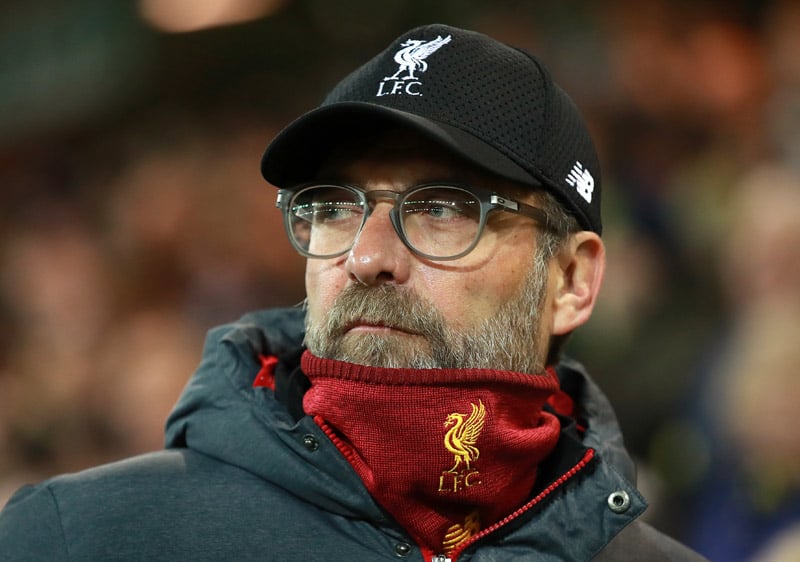 By Dave Bowler
Manchester United hold the record in terms of date – April 14 in 2001 – while that season they also posted the record for fewest games needed, 33, a record since equalled by Manchester City in 2017/18. Both of those landmarks look set to be obliterated by Jurgen Klopp and his side who, at the time of writing, need just two more wins to finish the job.
The postponement of Manchester City's game against Arsenal because of health concerns on Wednesday could make for mathematical delay, but if City lose to Burnley at the weekend, Liverpool would turn up at Goodison Park on Monday knowing that victory would seal the title there and then, in game 30. Evertonians will rarely have prayed so hard for Manchester City to do well.
Perhaps Liverpool might have to take it to game 31 or 32, for not even Klopp's team are invincible – that's a tag still reserved for Arsenal alone in the modern era after the Reds succumbed to Watford a couple of weeks back, a reminder of just what an extraordinary feat going through a league season unbeaten was by Arsene Wenger's team.
That result will have stung Liverpool fans who would have fancied collecting every bit of history on offer while the going was good, but ultimately that will be a minor irritation for them once they end a 30 year title drought, reclaiming a supremacy that seemed all but automatic through the 1970s and 1980s.
The Boot Room
Those were the golden times of Shankly, Paisley, Dalglish, Rush, Keegan, Hughes and Hansen, when Liverpool redefined the way English teams could play and what they could win. They were a supremely efficient machine, at home and in Europe, making it all seem so effortless and automatic.
Who knows how long Liverpool would have stayed on their perch had it not been for the two traumas of Heysel and Hillsborough?
Yes, Manchester United under Alex Ferguson were always going to prove a bigger and more sustained threat through the '90s and beyond than any other opponent prior to that, but had Hillsborough in particular not ripped through the club, exhausting fans, players, staff, Liverpool would surely have been better equipped to compete.
It wasn't simply that they lost Dalglish, shattered by carrying the burden, it was that they also lost the manic focus they'd had in the glory years. They had other, more important battles to fight, a fight for the truth, for justice. It was the right fight, but it came at a cost in purely footballing terms, never mind human ones.
It's too glib to say that a whole football club was in the grip of PTSD, but it's not so far from the truth either. How could it be any other way, when 96 members of your family were taken away in such horrific circumstances, in full view of the public, images which were then systematically distorted by the establishment for its own ends?
Fake news isn't new.
Recovery takes time and the Liverpool cause was not helped over the years by changes in ownership, questionable managerial appointments, poor transfer dealings. But great institutions rarely stay down forever and, eventually, things began to align themselves again, on and off the pitch.
As Liverpool celebrate the title, whenever it comes, one toast should be addressed to Brendan Rodgers, for he did much to put the team back on the right path, even if ultimate victory was just out of his grasp. But he did crucial work that should not be underestimated, clearing the way for Klopp.
However much longer his reign at Anfield, whatever else he achieves there, Klopp has already done enough to ensure he can be rightly mentioned in the same breath as Shankly and Paisley.
It's not simply a matter of trophies, not just that he has delivered the title that long seemed unwinnable, even cursed, although that's crucial. It's also because Klopp understands the football club, the city, the support in the same way they did.
He has taken the age old Liverpool verities from the days of their prime, that relentless red wave that floods down upon opponents, and added to them for the modern age, injecting even more pace and athleticism, made them more irresistible yet on their best days, a Red Sea that engulfs rather than divides.
STRENGTHEN WHILE YOU'RE AHEAD
Ferociously competitive though they unquestionably are, there's also a smile about this Liverpool, a team of Salah, Milner, Alexander-Arnold more likeable, for the neutral anyway, than the snarling rage of Souness, Thompson and Aldridge.
Though if they keep winning titles, the attraction for the neutrals will perhaps fall away. That's how it goes in England – nothing fails to impress like sustained success.
Football's strength is its unpredictability and doubtless, the teams below will steel themselves to strengthen in the summer, ready to mount a better challenge next time around. Liverpool must do likewise and remember the Shankly maxim that the best time to strengthen is when you're on top. Climbing the mountain again, staying at the peak, that is the biggest test, that is what defines greatness, that is why Paisley and Ferguson are at the managerial pinnacle.
That is the examination that awaits.