Sunday's Manchester Derby featured two teams that looked decidedly mediocre. For both Manchester clubs, their frailties start in defense.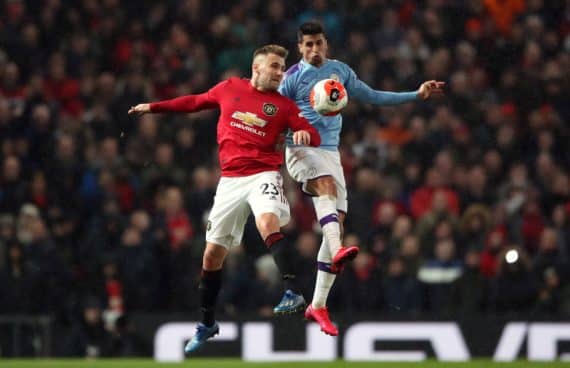 By Greg McKay
As Liverpool look all but certain to wrap up their first English Premier League title in the coming weeks, attention has turned to who are the likely contenders for winning the title next season. ESPN FC Senior Writer Mark Ogden argued recently that Liverpool's biggest rivals for the title next season will be Manchester United and Manchester City.
If last weekend's derby match was anything to go by, however, Ogden couldn't be further from the mark. The twenty-five point gap between Liverpool and Manchester City does not even scratch the surface in showing how far behind their one-time rivals the Manchester clubs have fallen.
Where once there were exciting tactical battles and end-to-end football, Sunday's match featured two teams that looked decidedly mediocre. For both Manchester clubs, their frailties start in defense. Manchester City have yet to find a real replacement for the solidity and leadership provided by former captain Vincent Kompany or a real solution at left back.
In the offseason, Guardiola must come to terms with the fact that it is near impossible to compete for a Premier League crown without a spine of the team featuring at least one world class center back.  Unfortunately for the Spanish manager, the Kompany's and van Dijk's of the world do no grow on trees. 
Luke Shaw
For Manchester United, Luke Shaw is a liability at left back and the jury remains out on whether Harry Maguire is a player capable of anchoring a title contending back line. While a capable defender and adequate passer, Maguire hasn't shown the ability to dominate in the same way as some of the best at the position.
Manchester City also face serious questions in midfield. Without Silva pulling the strings, the team is entirely reliant on de Bruyne, and his questionable fitness record, to run the show. When he is out of the squad, as he was Sunday, the team lack direction and imagination going forward.
Manchester United, on the other hand, look to have gotten a gem in Bruno Fernandes but have a host of attacking options yet to show they can produce on anything approaching a consistent manner.
At this stage in their careers, Martial and Rashford should be coming into their own as regularly striking fear into opposing defenses. Instead, they are exceptional talents yet to become world class professionals able to perform week-in, week-out. 
Wildcards
Fortunately for both clubs, there are wildcards like Pogba and Laporte which if healthy and performing next season could change the equation. But, even with squads fully healthy there are serious needs on both ends of Manchester to return to title contention.
Rather than the two Manchester clubs, Chelsea look even better positioned to compete for a title next season. After a string of good results early in the campaign, the Blues have slowed in recent months but still have the pieces in place to mount a serious challenge next season.
First, Chelsea have the best and most balanced central midfield outside of Liverpool when Kante, Kovacic and Jorginho are in the side. Kante provides the energy and defensive cover with Jorginho always the eager outlet.
Kovacic is underrated but fits the mold of the modern midfielder able to play box-to-box on both sides of the ball at a world class level.
In addition, a host of young attacking talent looked incredibly dangerous before succumbing to injuries early in the season. Tammy Abraham was bagging goals on a regular basis, while Mason Mount and Christian Pulisic look to have the ability to play the creative force for seasons to come.
Importantly, Chelsea have not been particularly active for the past several transfer windows, aside from the high-priced acquisition of Pulisic.
This will leave club with a large stash of "dry powder" with which to address Lampard's needs in defense or finding a true talisman to replace the departed Eden Hazard. Even without further signings, however, Lampard's team are well positioned to mount a serious challenge on the title next season.