See part one of Dave Bowler's Nwankwo Kanu of Nigeria Interview here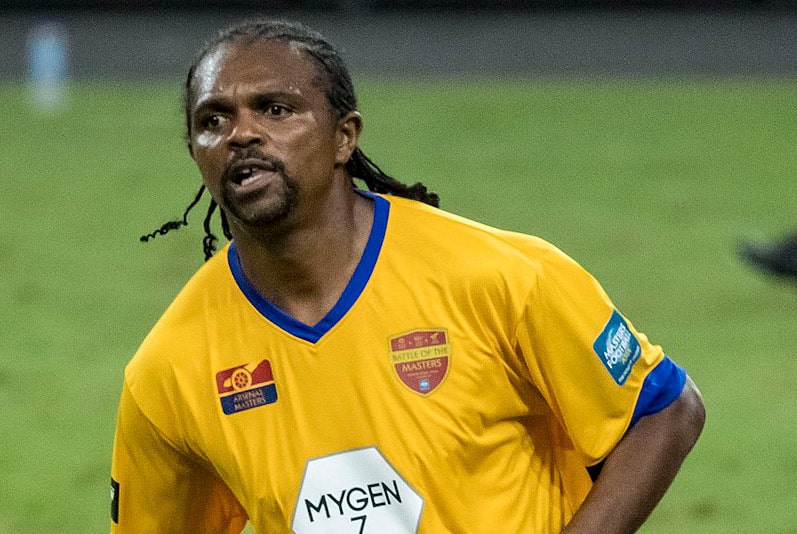 After collecting a gold medal as captain of Nigeria's victorious team at the Atlanta Olympics, Kanu returned to Europe to embark on a new chapter of his career, beginning his first season at the San Siro as part of a new Inter Milan outfit, his transfer from Ajax having been sealed just prior to him jetting off for the States to earn Olympic glory…
Serie A
Having won everything there was to win during the course of his three seasons with Ajax, Kanu was offered a fresh challenge in Serie A as the Ajax side that had reached consecutive European Cup Finals began to break up. Italy was the ultimate destination for the likes of Seedorf and Davids and Kanu was no different, accepting an offer to join Internazionale of Milan, then managed by Englishman Roy Hodgson.
Without a Serie A title since 1989, and having ended the 1995/95 season in an ignominious seventh place, 19 points behind the champions, deadly rivals AC Milan, Inter were desperate to turn their fortunes around.
Kanu was seen as an integral part of a renewed push for the Scudetto, so much so that the deal was signed, sealed and delivered without the Nigerian undergoing the normal medical examinations.
Inter Milan
At just turned 20, with two European Cup medals of different hues to his credit and with him ready to take part in the Olympics, Inter must have felt that that was just a formality in case, something that could comfortably be waived if it meant getting Kanu's signature on the contract as some measure of appeasement for their restive fans.
By the time Kanu returned to Milan, his reputation was greater yet after single handedly turning the semi-final against Brazil, then featuring heavily as Nigeria came from behind to snatch the gold medals from Argentina. But life has a habit of administering a quick rap to the ribs when things are going well, and so it was when Kanu pitched up at the San Siro.
"When the tournament was over, I went back to join up with my new team, Inter Milan, and I played a few games there. Then there was a call for me from the medical team, I could not travel with the team to a game and the doctors told me that I had a problem with my heart and that I could not play.
It was a big, big shock to me. When you have been a professional player, or just when you are playing sport anyhow, for many years and you don't ever feel any problem, it was unbelievable to get that news. I had just come back from playing in Atlanta where it was very hot, the conditions were difficult, but I had played easily without any difficulties."
Heart Surgery
The news from the medics was about as serious as it could get, so serious that the doctors initially thought that the problem was not with Kanu but with their equipment. It transpired that he was suffering from a major weakness in the aortic heart valve, a condition that didn't just place his career in jeopardy, but one which threatened his very life. Having survived the shock that came with the news, Kanu immediately began to seek advice on the best course of action.
"I am a Christian, I have a strong belief in God and I believed that God would take care of me through those problems and that I was having these difficult things to deal with for a good reason. SurgeryWith the advice of the doctors, I started to find out what was the best way to get fit again, what treatment was best and in the end, I went to America and had an operation, because I was advised that if I wanted to play again, I needed to have this operation while I was young, that I should not try to play without it."
Kanu underwent open heart surgery in Cleveland in November 1996, the heart valve being repaired rather than replaced, giving him a better chance at playing the game again. By April 1997, he was pronounced fit to play football once more, a prodigious recovery. Having survived such a scare, Kanu had fresh perspective on football and on life.
"Normally in life, some times we do not think about what it is really about, what it is that is important. Life is not about football. It is not just about your everyday job.
Kanu Heart Foundation
There is much more about life than that. And when you go through things such as this, then it makes you strong. You learn many things about yourself and about life too, you understand the things that are really important. For me, after going through everything, I believe I know more about me and about life, about how to live properly, than I did before.
"The troubles that I went through, I was lucky that I had good people to help me and I had he opportunity from my standard of living to be able to get well again and carry on with my career. Not so many people, especially in my country, are so lucky to be able to do that.
So it was important that I tried to help them from my experiences and I set up the Kanu Heart Foundation to do that. Since I started the foundation, we can boast of having cured 100 kids of heart problems and this is a thing that I will be continuing for as long as I can.
"I still try to raise money and so on, and if people want to make a contribution to help, then they can go to the website – www.kanuheartfoundation.com – and see the work we do. We take the sick kids out to other countries where they can get the very best treatment and it is so good to be able to do that, it is a great feeling for me.
Fundraising
"I would also like to organize a special benefit match in this country again to try to raise money like the game we had a few years ago, because there are so many kids that need our help. These are the things that matter most in life, to help others. My problems helped me to see that more clearly."
Kanu also realised that his celebrity as a footballer was perhaps the best weapon he had as he tried to help others in a less fortunate position, but by the time he came to resume his career, Inter had moved on. He had missed a full season and new players had been recruited to fill the gap he left in the team.
He finally returned to active duty in the 1997/98 season, but he was an intermittent starter for the team and, by the end of the middle of the following season, it was becoming obvious that he needed to move from Inter to reignite his career at the top level.
London Calling
"When Arsenal arrived in Italy bearing a cheque for £4.5million, everybody was happy enough to close the book on that chapter and Kanu headed for a new life in London, and perhaps the greatest sustained success of his career.
"Arsenal is a very great club and it was a place that I was able to fit into very quickly because I think that Arsene Wenger wanted players to express themselves as players. It was a very different pattern to playing in Italy where it is very tactical.
"Here, the tactics are strong, but it is also a place where you have freedom to play because that is how English football is. It is much faster here. But Arsenal also play the way they do in Europe, it is important to keep the ball all the time. You learn a lot from Arsene Wenger, he is a very clever man, and he is a good manager of people as well.
Arsenal Invincible
"We kept the same team together for a lot of years with not too many changes so that means that you get a good team spirit and you fight a lot for one another even if things aren't going so good. That played a very big part in winning lots of trophies while I was there, it was a good time for me again."
Above all, Kanu established himself in the public mind as a player who plays the game with a smile on his face, in exuberant fashion, enjoying the game for what it is – a game, the beautiful game. It's a mindset rather different to the prevailing one in this country.
"In Africa, I think we look at football as being something different. In Europe, people see it as the most important thing in the world, winning and losing are big stories where at home, football is for enjoyment, it s a way to get away from life which is hard sometimes. It is about entertaining the crowd and yourself.
"In Nigeria, it is a great thing to play football, we smile when we play the game and we like to enjoy it. To play football as a job, how can life be better?
West Brom
"So when you become a professional in other countries, then you have to change a little bit what you do and how you are because you have to respect the people you play for and the country where you play. Here, you have to treat it as business. You have to win first of all.
"But you can't lose the things that you did when you were younger. I have made changes but I have kept my love of the game and I mix them together. Even if you want to win, you can still enjoy it, you can still express what talents you have, you can still make people smile.
"If you have skills, you must show them to the people because this is what they want to see, they want to see players with an exciting attitude."
That attitude made Kanu a huge success at Arsenal, but after collecting a host of medals with the Gunners including the Premiership as part of the invincible team that went through the whole season unbeaten, it was time for Kanu to take up yet another new challenge – helping establish West Brom in the top flight.
As he freely admits, the acclimatization to life at the other end of the table hasn't been without its difficulties.
"It has been a different thing for me to come to a team like Albion because at Ajax, Inter Milan and Arsenal, they have been at the other end of the competitions, trying to win trophies.
So it is an adjustment and it is difficult. When you come to a different club, everything is new. You have to adapt, life is different with the team, and it took a lot of time for us to understand each other.
World Cup Qualification
"And with the games at the end of last season being so important, it wasn't always easy to express what you can do. But this year, I know everybody here now, the manager has had time to tell us about the kind of football he wants us to play, so I hope it will be better this year, but for me, I have had some injuries and that has been difficult.
"So you change, but you still have to keep what made you a good player first of all, you have to mix it up."
Kanu has also continued to keep strong ties with Nigeria, playing in the side that fell at the final hurdle of World Cup qualification, Angola snatching a late win in their final game against Rwanda to turf Nigeria out of the competition, a bitter blow.
"We were just ten minutes away and not to make it made all the players very sad. It's a big blow for our country. Everyone was down wherever you went afterwards – it was like someone had died Football has been so important in Nigeria and it is perhaps the biggest thing we have in the country.
Sometimes you have these internal problems in Nigeria, but when the country is playing a game, a competition, everybody is together, wanting to help the team. There is peace. Then people go back to their usual way of life and then the next game, peace comes once more! So football is so important in Nigeria. It brings unity."
More To Give
More immediately though, Kanu's eyes are fixed on life at West Bromwich Albion and his magnificent performance in the recent win over Arsenal shows that he is ready to take on a key role within Bryan Robson's side.
"I have many more things to give to the team, I know that I can do more, and when I get the chance to do it, I hope I can prove that. I am trying to show that in training.
But I am a person who is always trying to put the team first, before myself. When I came to Albion, my intention, my dream, was that we do not go down, we have to stay up in the Premier League. And on the final day, it comes true and that was a great thing. But now we have to do better than what we did last season, we have to finish higher.
"Football is unpredictable, you can never really say what will happen. We have to work hard together and try to get better results. I want the club to progress and to grow and not be every year fighting in the bottom of the table. We set high targets and we need to work towards them. That is my goal."