You probably think you know a lot about John Hartson. We all do. After all, he's been a larger than life character – a larger than life footballer – for the last dozen years or so, performing at the top of the game, scoring goals, frightening defenders, upsetting opposition fans.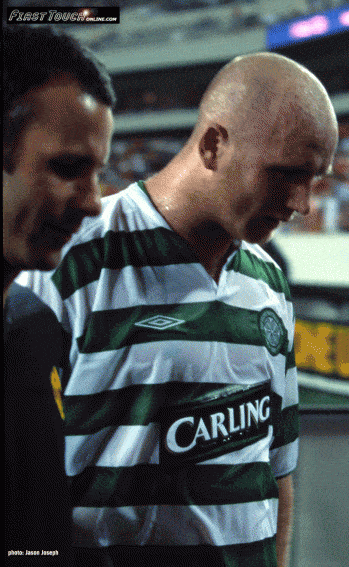 By Dave Bowler
You probably think that "Big Bad John" is as you see him on the field. Brash, aggressive, in your face. A fully paid up member of the awkward squad.
If you though that, then you don't know much about the real John Hartson. Neither did I.
When you encounter John Hartson away from the football field, you can't help but be taken in by the reputation that he's earned over the course of 530 senior games, over 200 goals and a few appearances in front of various disciplinary committees.
Big Bad John?
Yet in fact, the "Big Bad John" moniker that's stuck with him over the years is some way off the mark, even on the field of play. Hartson's disciplinary record is nowhere near the way it's been caricatured over the years, but mud sticks. You can't help but feel that the big man has been the victim of that reputation, something that perpetuates itself.
When you actually meet the man, you couldn't ask for better company, particularly as an interviewee. Articulate, engaging and always willing to accommodate any question, John is as far removed as you can get from the cartoon image that's been created around him.
Hence the recently published autobiography, which looks to set he record straight by giving his own view of his life and career to date. So let's have a look at the edited highlights before you nip out and buy the thing.
It was because of John's physique as a youngster that he turned to football rather than the more obvious Welshman's choice, rugby union. But not for the reasons you'd imagine.
"Funny enough given the way I eventually developed, I was always very small when I was at school. When you look at pictures of me as a kid, I was one of the smallest in my class. There are some big lads in Wales when you're playing rugby, so I didn't fancy getting bashed about too much.
Watching Swansea City
"Football was always my game because my dad played and I used to go and watch him play. On top of that, from an early age I used to go and watch Swansea City play as well, they were my team. So although rugby is obviously very popular in Wales, for kids growing up, football is just as big and that was what I latched on to. I followed rugby a bit as well and I still love the big international games especially, but there was never any doubt I'd be playing football.
"My dad was a good player, he played to a high standard in the Welsh League, played for Merthyr Tydfil, Harverfordwest, he was on Swansea's books though he never made it to the first team as a kid, so he did the non-league scene and as a teenager, I used to travel round the country with him.
"I'd get on the bus with the players, I remember watching him playing cards with the rest of the players at the back of the bus, I was always watching him, so he was a big influence. Then when I started getting selected for local teams, you need your dad to take you all over the place to get to games and he was very supportive of me as a kid. I owe him a lot."
With just the two teams to choose from in south Wales, you'd think it would have been easy for John to get a trial at Swansea. Another misconception.
Signing For Luton Town
"I didn't get a chance to have trials with Swansea as a kid. I had trials with Cardiff City, Leeds, Manchester City, but it was always Luton that gave me the best feeling. They were always very good to me, they put me in the best digs, I liked the coaches, the set up was good, so I decided to go with them and I joined at 16.
"I thought they'd give me a chance to break into the first team at a younger age than I would have if I'd gone to a bigger club, somewhere like Leeds, who were in the top division then. And it worked out, I made my debut at 17, I was in the first team regularly from there. That's so important, that's when you really learn how to be a player.
"David Pleat was a good manager to work for at that stage of my career, especially at Luton where he was a legend. I was in the youth team to start and you'd see the manager but you wouldn't dare talk to him, you were in awe of him, so to be called up at 17 was an amazing experience. When you get into the side as a kid, you need looking after. It's the same here now with the likes of Stuart Nicholson and Jared Hodgkiss, when they break through, they need a bit of protection, nursing through.
Arsenal Move
"It was the same with me and there was nobody better for that than David Pleat. In the end, I didn't stay there too long, but that was partly because the club helped me develop pretty quickly. I had 50 or so games in two years and then George Graham took me to Arsenal at the age of 19.
"That was a huge thing at the time. I was Britain's most expensive teenager, £2.5million, it stood for a few years until Lee Bowyer went to Leeds from Charlton.
"So there's pressure that goes with that, but it was a great place to be. In the same dressing room as all these great internationals like Tony Adams, David Seaman, Ian Wright, the England centre-half, the England goalkeeper, the England centre-forward. You couldn't want for anything better than that, it was an incredible experience.
"People ask me if it was hard going into that dressing room at that age, but it wasn't that hard because I was so young. I think it would have been more difficult at 28, 29. When you're that young, you take things in your stride, nothing really worries you. I get more nervous now than I did when I was 19. People think because you're 31, played so many games, cup finals, internationals, it's easy.
"The older you get, you feel like you've still got something to prove, you have to keep showing people you can still play.
Playing In Europe
"The highlight at Arsenal was playing against Real Zaragoza in the Cup Winners' Cup Final when we lost to that long range goal, Nayim from the halfway line. I'd scored earlier, pulled it back to 1-1, and there were just a few seconds to go.
"We'd beaten Sampdoria on penalties in the semi-final, I'd scored mine, so I was getting prepared to do the same again but that goal just flew in, and that was out the window."
Although John enjoyed a brief spell working under Arsene Wenger, with Arsenal being recast in a Gallic light, when West Ham came in to secure Hartson's services in exchange for a handsome cheque, Wenger allowed him to move on to Upton Park, beginning a golden period in his career.
West Ham United
"I had a great time there. I've always had a good relationship with Harry Redknapp, and he said they were in trouble, they needed some goals and I was happy to go there and play.
"Paul Kitson joined about the same time as well and we scored lots of goals in the last 10, 11 games of the season, only lost a couple and that kept us up. It's a terrific club to be at, they've got great support, there's a real atmosphere at Upton Park when things are going well and I loved it there. I scored 25 goals in my first full season and it was brilliant. Now, with hindsight, I probably left there too soon.
Bust Up With Berkovic
"Looking back, moving to Wimbledon was probably the only wrong move I feel I've made. When I was at West Ham, we had a good side and then coming through were this group of great young boys like Joe Cole, Frank Lampard, Michael Carrick, Rio Ferdinand, there could have been a great side there a couple of years on.
"You could always see the talent of those boys. On a Friday when Harry would finish training with a five-a-side, he'd always call Frank or Joe or Rio over to play and you could see the quality then, you could tell those boys had big futures ahead of them. Saying that, they've exceeded all expectations, all England regulars at massive clubs and I'm really pleased for them because they're very nice lads as well."
Typical of the way in which he's viewed, memories of Hartson's time with the Hammers tend to focus on 15 seconds on the training pitch and a bust up with one of his colleagues, something which has unfairly obscured a lot of the good work he did there.
"The Eyal Berkovic incident is something that shouldn't have happened, I regret that, but at the same time, the reporting of it wasn't right. Me and Eyal got on well, he set up a lot of goals for me and he was a nice lad.
"But on the training pitch, every day, up and down the country, there are bust ups going on, people squaring up to each other because we live in a very competitive environment, we're all pushing ourselves as hard as we can to try and get the best possible results for our team. That's what football is, it's competition, it's about winning.
Wimbledon Move
"It doesn't make it right that people have arguments like that and I'm really sorry it happened, I really regret it. But I think if you ask any footballer, he'll tell you it's not unusual. Had it not been caught on camera, things might have been different, but it was blown up and that's given me a reputation that's gone before me a little bit I think, and you can't shake that off.
"People who know me know that's not what I'm about, but it's hard to change people's opinions when they don't know you.
"But the Berkovic thing wasn't the reason I left. West Ham got offered £7.5million by Wimbledon and after they'd paid £2.5million for me and with the financial position they were in, they couldn't turn down a £5million profit.
"As it turned out, it was the wrong move but that's nothing against Wimbledon. They were good people, great set of lads, I enjoyed my football there. But it was at a time when things were starting to go wrong for them.
"Not having a ground was making life very difficult, and in my second season, we eventually went down – Bradford stayed up instead on the last day of the season. I was a big earner and because of that, I was moved on again.
Coventry Bound
"I failed a medical at a couple of clubs because I had a knee injury at that time, but in the end, once I was over that, I joined Coventry, mainly because Gordon Strachan was so persistent in wanting me to go there.
"Coventry were right down the bottom of the table, I scored 6 goals in a dozen games, but it was too late really and we couldn't save ourselves, so it was the Wimbledon scenario again, they couldn't afford to keep me in the First Division.
"A few clubs showed an interest again, Middlesbrough were one of them, but once I heard that Celtic were after me, there was only one club that I wanted to join. It's like joining an institution more than a football club, the size of it, what it means to people, it's incredible.
Celtic Calling
"It's not quite as big as Manchester United, but Celtic ain't far behind. I had five great years under Martin O'Neill and then Gordon Strachan, playing in Europe, playing in Old Firm games, cup finals, winning the league, it was a fantastic time."
Which brings us to the latest chapter in the Hartson story, a typically tumultuous one with plenty to report about his start to life at West Bromwich Albion. It's not been dull. Has it?
West Brom
"I came to West Brom to do a job for the club, to help us get promoted. That was what Bryan Robson asked me to do when I came here, and it was what he said to us all on the day he left, "Go and prove you are the best squad in the division and get promoted", which was a great gesture from him.
" I couldn't have had a better start really. Two goals on my debut, the first three or four games I was getting chances, saw the keepers make some great saves, but through September, I ended up carrying a really nasty ankle injury.\
Injury
"To be honest, I should have come out of the team a month before I did, but when you join a new club, you want to show what you can do.
"Since then, I've had an injection in my ankle which has helped, then I asked to play in the reserves against Birmingham to get 90 minutes under my belt and it's starting to turn around again. Hopefully, I can get back to the top of my game quickly now.

" But that doesn't mean walking into the team. I've always been a big believer that whoever is playing the best, he should play. Reputation means nothing. If Stuart Nicholson is playing best of the forwards, he should play, never mind that I'm here, Kevin Phillips is here, Nathan Ellington's here.
I've always felt that if you're the best at the club, you play, you pick teams on merit, and that's what brings out the best in players. If I want to play, I have to be the best player in my position, because with a new manager coming in, we all have to show him what we can do and prove ourselves again.
"That's what you have to do every day of your career."