Ahead of the upcoming MLS play-offs, First Touch chatted with soon-to-be 18-year old Red Bulls striker Jozy Altidore. He struck us as an engaging, articulate young man with a bright future.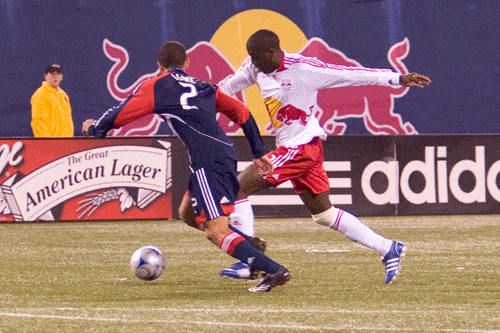 By Jason Joseph
FT: Thanks for taking some time out to talk to us. Obviously your current commitment is to MLS and to the Red Bulls in particular, but at any point do you envision yourself playing in Europe?
Jozy: Maybe at some point….But it's a process, not entirely up to me. If at some point in the future the opportunity comes along, I'll take a look at it.
FT: Should things eventually go in that direction – in a perfect world, would you have a preference for any specific European league?
Jozy: It's not too much about the league. I just want to go to a club that's known for developing players, and that's probably what would influence my decision. There're a lot of clubs out there developing players….That's more my interest.
FT: Which of those clubs have piqued your interest, in terms of giving younger players a chance and developing them?
Jozy: Arsenal. I think they've shown a strong interest in developing players and seem to give younger players an opportunity….I think they've been the best at that recently.
FT: Do you follow the European leagues much?
Jozy: Oh yeah, yeah.
FT: Do you have any specific players that you enjoy watching in particular?
Jozy: Thierry Henry. By far the best player in the world…for me – he's been my favorite player since I was young (sic.). I love watching him.
FT: Do you try to pattern your game after Henry at all?
Jozy: No…Henry has his style – you try to make your own style, and play according to your style.
FT: Which veterans of MLS have helped your development and helped you acclimate to the pro game?
Jozy: I'd have to say Juan Pablo [Angel]…Claudio Reyna…Clint Mathis…those guys. I rely on them a lot, you know, throughout the year — teaching me little things that'll be successful on and off the field.
FT: What have been some of the examples of ways in which they've helped you develop?
Jozy: Well Juan Pablo, you know, just shows me simple movements, to get open. He's one of the top strikers in the world, so he knows – he knows his movements, where he can just find a little space and get open. Just little things like that I think have helped me a lot.
FT: What are your impressions of Bruce Arena, in terms of how he compares with other managers and coaches you've had at this stage of your budding career?
Jozy: He's very smart – in terms of the way he picks players and how he coaches. People may not understand his decisions at first, but long-term they tend to pay off. I think he's a very smart guy. He's knows a lot about the game and all the players.
FT: Do you think having a former international manager helps integrate so many different international players and personalities?
Jozy: Oh definitely. Those guys look for that – they look for experienced, tough managers, not the mickey mouse ones (smile). Those kinds of managers can attract [experienced international] players like a Juan Pablo, a Claudio….
FT: Are there any areas you think the Red Bulls can improve this season?
Jozy: I think we need to focus on team defense. If we can address that, I think our team can definitely improve.
FT: You seem to have taken quite a few hard knocks throughout the season. Do you think you've been targeted by defenses, or is it a league-wide issue?
Jozy: I don't know. It's just how they play me, and there're a lot of hard-nosed defenders in the league. I think it's a league-wide thing. So we just have to be aware of that.
FT: Do you think the referees and officials should intervene?
Jozy: Officiating can always be better. I think there's always room for improvement. You know, they're doing their best.
FT: Which teams do you particularly enjoy playing against, or are more apprehensive about playing against?
Jozy: I like playing against the Galaxy. Galaxy's a team that plays, you know? They're not too worried about their signings; they just let their play do the talking….That's always a fun game….
FT: Can you tell us a bit about your experiences in Haiti working with Wyclef Jean's charitable organization, Yele Haiti?
Jozy: That was amazing – I hope to go back and do it again. It's great for Haiti. The organization has put a lot toward helping the less fortunate down there. I think he's doing the right thing.
FT: Where'd the nickname "Oatmeal" come from?
Jozy: (Smiles, shrugs shoulders, shakes head) I have no idea….