The success of Nwankwo Kanu and his colleagues in the Nigerian "Super Eagles" has put his country on the world map.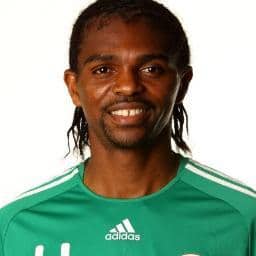 By Dave Bowler
"Form is temporary, class is permanent." One of football's great truisms. In the hour of need, it's to players of genuine class that you must turn, for they are the players who can do the unlikely, create the improbable, perform the impossible.
Kanu is one such a man, a player of impeccable pedigree, a footballer of genuine international class who has won medals on the world stage and in club football too, a man who's been there, done that. He's also a man of quiet intensity, a man who is desperately keen to show the Albion faithful just what he can do on a sustained basis, and a man who wants more from himself and from his club. He's a man on a mission.
Kanu has always been a figure on whom many people have hung their hopes. Perhaps it's always the same for any player who emerges from the continent of Africa – a man who hails from Owerri and enters the world game on the world stage carries very different expectations from those he has left behind to a man who comes from Birmingham.
For African stars such as Kanu and colleagues such as Celestine Babayaro and Jay Jay Okocha shine a light on a part of the world that has long been neglected by popular culture, which is still a mystery to many and which is still shamelessly exploited by the developed world.
Super Eagles
The success of Kanu and his colleagues in the Nigerian "Super Eagles" has put his country on the world map, has made it more than just some former colonial outpost, but instead has made people think of it as vibrant nation that has a part to play in the new world order that politicians are so fond of espousing.
Nigeria is still a young country, having only gained independence from the UK back in 1960, following which it barely merited mention, a forgotten nation on a continent the west tried to keep in the dark as it busily pillaged the country's natural resources, notably oil.
Just as the nations of South America have claimed the world's spotlight through sport, so too have some African countries, most notably Nigeria. Kanu, widely acknowledged as the most successful Nigerian footballer in history, has played a full part in that development, taking his place amid a magnificent generation of footballing talent.
Those players have changed the way we think about African football and even Africa itself, but as Kanu recalls, it's been a change that started in a very humble fashion.
"In Nigeria, we do not have any structure like there is in Europe for football, no big club teams that train young players. You just start to play when you are a kid, like you do anywhere in the world, but there you are playing in the streets and in your local area, the neighbourhood.
Iwuanyanwu Nationale
We have school football of course, so I played for my school, and then I played for a local team, Iwuanyanwu Nationale, but once people saw that I could play well, I always had to think that I would have to go and leave Nigeria to become successful in the game. You have to go to Europe to make a career, because you cannot do that at home.
It is everybody's dream to do that as a young boy, because that is how you become a better player, by being in the best competitions. And it means that you can secure a better standard of living which is important when you come from a country like Nigeria. You can help your family if you are successful and that is a great thing to be able to do."
Nigeria U17s
Kanu's big break came in the summer of 1993 when Fanny Amun, the coach of Nigeria's under-17 side, spotted him and brought him into the squad for the Under-17 World Championships. Few could have expected just what a far reaching decision that would prove to be, least of all the players in the Nigerian squad.
"Playing for Nigeria's under-17 side in the world tournament was so exciting. When we went to take part, we didn't have any idea about what was going to happen, or if we would be able to do well. We knew we were a good team and we had good players but we were going to play against many nations who we know have great talent, who had won tournaments in the past, so it was very new. But all the way along, we saw ourselves progressing and progressing."
Kanu progressed perhaps quickest of all, lighting up the tournament with some virtuoso football that carried his side further and further on through the competition.
"Suddenly, we are in the final and we won the competition, beating Ghana. This was a big step for Nigerian football and for the players in the team too. Everybody knows about us from then, about the country and about the players too.
We knew then that we could do it, that we were good footballers, we had a lot of belief in ourselves from there. We had achieved something and we were free to move on with our lives after that. And because we had done that, a lot of big teams had come to see us there and they were knocking on the doors for us, the market was open to us after that and many of the players went on to play in Europe, like myself.
African Youth Success
"Before that, African football was not so well known in the world then, although at junior level, African nations had done well through the 1980s. In youth football, we were very strong. But at senior level, it was much harder because we didn't have so many players in Europe and without that, players did not progress so much as they got older.
But then, as African countries did well in youth competitions every time, the European clubs started to take notice and started to take the players out of the country. They had the pick of the boys and then those boys started to become big players in men's football too, and this is why African nations began to do well in the last 15 years at senior level too."
For Kanu, that Under-17 World Cup win was a turning point in his life. While English clubs showed a spectacular lack of vision, virtually ignoring the tournament and its eventual winners, clubs on mainland Europe could see that a footballing revolution was taking place in Africa, that there was a whole generation of incredible talent just waiting to be recruited and ready to join clubs that they'd previously only read about.
"We knew about the big clubs back in Nigeria, teams like Milan, Manchester United, Ajax, but I didn't ever believe that I was going to be playing for Ajax in the future!
All I did was to go to the under-17 tournament with Nigeria and the only thing in mind is to win the competition, to do as well as we can as a team. But then suddenly, a lot of clubs from Belgium, from France, come knocking for me, but I was waiting to make up my mind, then Ajax come along.
Ajax Of Amsterdam
I already knew a lot about them, I knew that they were a very good club for kids, for their youth team, that they produce many good players. It was a place where you can learn, where you can get educated well in football, they have good technical programmes and so it was easy for me to choose to go to Ajax.
"It is a big change to leave home when you are 17 and go to live in another country, another continent. So it was not easy at the beginning because so many things are different from home.
It was the first time I'd traveled away for any time, I missed my family, the language was different, the culture was strange to me, even the food. So it was difficult, but I loved the football and the chance to play there, I was quick to make friends, the club really did help and the players did as well and after a little time, it was much easier, I was very happy there."
Record Fee
Having moved for a Nigerian record of $250,000, Kanu was given time to settle into the Dutch way of life and of football, and it wasn't until the following February that he made his first team debut, that lack of regular football explaining his failure to break into the senior squad in time for the 1994 World Cup Finals in the United States.
But he was quick to put that disappointment behind him the following season as he played a full part in helping Ajax retain the Dutch title. But there was an even bigger prize waiting for them at the end of that 1994/95 season.
"There were so many great players at Ajax and we became a team very quickly and we started to do well in Europe too. The Champions League is a big thing, and as a very young team, that was a great dream for us, but like with Nigeria, we did not really know how good we were, or whether we could win.
Champions League Winner
But we got through round by round and suddenly we were in the final to play against Milan after beating Bayern Munich. When we got there, we believed in ourselves, we were not frightened and we thought we would win the game, and we did.
"That is the biggest achievement in club football, to win the Champions League, but to come back the following year and to get through to the final once again and to only lose to Juventus on penalty kicks, that was a big thing to do because it proved we were a great team and that we were hungry to be successful, even though we only got the silver medal that time! I am very proud of what we managed to do at Ajax."
Success on the domestic level meant that Kanu had put himself back in the thoughts of the Nigerian national selectors and, when the time came to select the team to contest the Olympic Games in Atlanta in 1996, not only was Kanu in the squad, he was its captain.
At the time, this country was swept up in the euphoria of Euro '96 and, given our refusal to field a Great Britain team, we did not take part in the football competition in those Olympics. But for the rest of the world, this was a tournament that ranked only a little short of the World Cup itself, and one that was treated very seriously, not least by the South Americans who sent very powerful sides to contest the competition.
Olympic Golden Goal Against Brazil
After sweeping aside both Hungary and Japan, Nigeria found themselves pitted against Brazil in the semi-final. If you doubt the quality of the competition, just look at some of the names in that Brazilian side – Roberto Carlos, Ze Maria, Aldair, Conceicao, Rivaldo, Juninho, Bebeto, Ronaldinho.
As you'd expect from a side like that, Brazil started quickly, Conceicao putting them a goal up in the first minute, and even though Roberto Carlos gifted Nigeria an own goal, Bebeto and Conceicao had then 3-1 to the good inside 38 minutes, a lead that was still intact going into the final quarter of an hour.
That was the cue for Kanu to turn on the style, tormenting the Brazilian defence, helping create a goal from Ikpeba after 78 minutes. With time running out, with virtually the last kick of the game, Kanu struck to send matters into sudden death extra-time. Four minutes later, Kanu came away with the golden goal and a place in the Olympic Final. It's a memory he still treasures.
Olympic Gold Medal
"In the semi-final against Brazil, we knew we were a very good team by then, we thought we could have success and then I scored the golden goal that won the game in sudden death. If I stop football tomorrow, all my life I will be able to remember that moment, I will never forget it. It's something that doesn't come often in your life, just a few minutes to go, we were losing 3-1, so to turn it upside down and go and win 4-3, it is a great thing in my career."
Argentina were the final opposition – Crespo, Zanetti, Sensini, Almeyda, Simeone, Ortega. Again, the courage and resolve of the Nigerians was tested to the full as Argentina held a 2-1 lead going into the last 20 minutes. But Nigeria were happy on American soil as they'd shown in the World Cup two years earlier.
They were fluent, attack minded but disciplined too, belying the sub-racist nonsense that African sides are "tactically naïve". Amokachi grabbed an equalizer and, a minute before time, Amunike won the game, leaving Kanu to lead his team to the presentation ceremony.
"I had two great years because we were in the Champions League Final two times, in 1995 and 1996, I started to play for my country at senior level and then in 1996, we went to the Olympic Games in America and we won the gold medal.
Captain
I was the captain of the team so it was even more special to win the Olympics, but it was just like winning when I was an under 17s player. We just went to the competition to do well, not thinking we would win it. But in football, when you keep on progressing, you get more confident in what you can do, and it goes on from game to game, just as it can be the other way. If you win games, it gives you courage to believe in your ability and to try new things."
That courage would be tested to the full as Kanu embarked on the next chapter of a career following the end of the Olympics, a chapter that for a time promised to be the final one…
Read Part Two of our Kanu interview.