Central defender Gareth McAuley has been a key figure for the Northern Irish side at both ends of the pitch.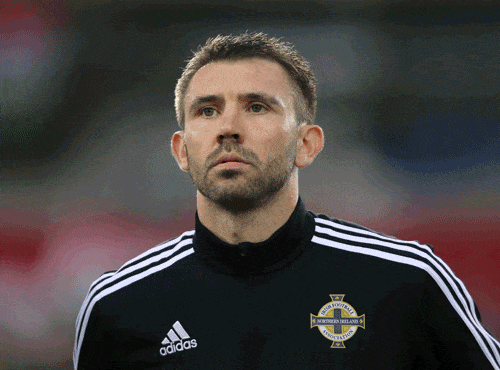 By Dave Bowler
Another international break is almost upon us and for Northern Ireland, history beckons as they stand on the brink of a first ever qualification for the European Championships.
With 17 points from eight games, they head their group but they remain well aware that if they don't take three points from their last two, they might yet end up in third and a play-off spot instead. That would be a travesty of justice after a brilliant campaign that recalls the halcyon qualification days of the 1980s with Pat Jennings, Jimmy Nicholl, Martin O'Neill, Gerry Armstrong and Sammy McIlroy.
Central defender Gareth McAuley has been a key figure for the Northern Irish side at both ends of the pitch and he is well aware of just how important the next two weeks are for the country.
Euro Campaign
"The Euro campaign that we've had so far has been beyond expectations but in saying that, in the World Cup qualifiers for 2014, we weren't getting results but the performances were still pretty decent. We lacked goals but this time around, big Kyle Lafferty has come up with seven in eight so far and that is a massive change for us, a big boost for the team.
"If we can get over the line now and get this done in these next couple of games, then that will make all the lows over the years worthwhile. And there's been a few of those! Saying that, there have been some great highs too and it's always special to be able to go and represent your country.
"But to actually achieve something with Northern Ireland, to qualify for a major championships, that would really be worth all the effort over the last 12 years or whatever it is I've been involved in playing for the country".
Goals
Gareth has helped out in the goalscoring stakes too, his three goals making him the group's second top scorer behind Lafferty. It's brought his Northern Irish total to seven – George Best is only a couple ahead of that…
"It was nice to get on the scoresheet in the last round of games, and with Northern Ireland, I often get on the end of the ball from Chris Brunt. It's been five goals in the last 11 games at international level which is great, but I wish somebody could tell me why so that we could start doing it at club level too!
"It's important to chip in because although big Laff is doing so well, you can't rely on him all the time, we need to share the goals out, especially at set pieces. I've been lucky enough that a few things have fallen for me at the right times and I've managed to put them away. It's nice scoring goals but they only matter if it counts towards getting a point or three points, because that means I'll have done my job at the other end as well".
Luck
There's been a lot of debate about the wisdom or otherwise of extending the European Championships to 24 teams this summer, but the granting of additional places has led to a qualification round more absorbing, and more surprising, than for many a year with more teams setting off on the process with genuine hope in their hearts.
"Having a chance to qualify from finishing third gave teams who generally get seeded lower a bit of hope I think. We were in Pot 5 in the draw but for the first time in a while, we also got a bit of luck with the draw and that's no disrespect to anybody in our group at all.
"Looking at the teams we had to play though, they are very good teams but there wasn't a Germany or a Spain, Italy, France, England which we've tended to get in the past, nobody where you thought, "They're going to give us a doing!" So when we very first looked at the draw, especially with third place getting in the play-offs, we thought from the start that we had half a chance there.
Hungary
"We went to Hungary and won the first game out there and that gave us a lot of confidence right from the start and so the next group of games against the Faroes and away to Greece, that was massive for us. To win those two and have maximum points from the first three games, that set us on our way and from there, we've just managed to keep it going.
"Those games gave us a massive buzz and you can tell the difference because there had been a little bit of a lull when people weren't bombarding me for tickets, but everybody has come out in force again now! It's just a pity that Windsor Park isn't at capacity just now but hopefully they will be able to get a few more seats in for next month because the atmosphere there really does make a big, big difference to us. The crowd is great for those big games and it creates a real sense of togetherness, which is important to us".
In such small groups with so few games, there's very little chance to recover from any mistakes and in the last game, against Hungary in Belfast, it looked as if things might be going against them as they found themselves a goal down going into injury time. But you must always play to the final whistle…
Top
"It was slipping away a little but big Laff turned up to score again in injury time and got us a draw and that has made such a difference to everything going into the last two games. Psychologically, it's great to still be top of the group with Romania drawing with Greece as well in the last games.
"It was such a lift for us to come off the pitch having rescued a point. The reaction of the Hungarian players, a lot of them were on the ground at the end of the game, they were devastated. Hopefully that has taken the wind out of their sails and take a bit of belief away from them, and that is always good to see in the opposition.
"Laff has done brilliantly for us, especially when you think he hasn't played at all this season and the gaffer said that he was going to take him off towards the end, but with Chris Baird getting sent off, he stayed on and he did the job for us in the end. We had a right go at it in the last 10 or 15 minutes and we got our rewards for it".
One win to go. The pressure – and the rewards – are immense.
"Getting to the Euros would be the crowning achievement, there's no doubt about that. The desire to do that is very strong. It's within touching distance now and if for any reason we didn't make it, I think I'd be in a pretty dark place for a while!
"The positive thing is that it's in our hands, we know what we need to do, one win at home to Greece or away to Finland secures qualification. But when you've been at the top of the group from day one, it would be nice to finish up there as well. That would be a massive achievement in itself and that would give us a lot of confidence going to the tournament.
"Getting there is the key, it would mean so much to so many people, we would probably take half the country to France! It would be something to experience, it would be amazing".