The changing of the seasons is usually heralded by a shift in the temperature but this year, Fall has already been ushered in by the resounding thud of managerial leaves falling from the trees.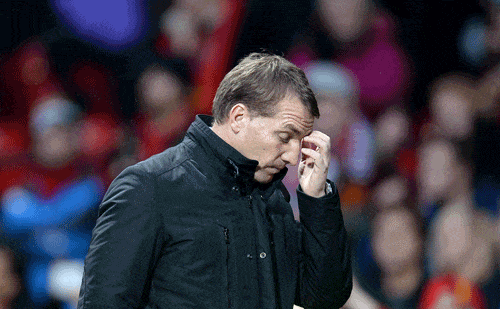 https://twitter.com/MagicOfFACup
Revolving Doors: Sunderland & Liverpool Sack Managers
By Dave Bowler
Last weekend, at different ends of the table – and of the expectation scale – both Sunderland and Liverpool dispensed with their managers in what were moves premeditated, decisions taken before their respective games and impervious to their outcomes.
For Liverpool, it is the lure and the lucre of the Champions League that matters most and, in spite of a season that has yielded just two defeats thus far, too many draws have ultimately done for Brendan Rodgers. It's a personal tragedy for the man and a cultural tragedy for the rest of us now that "Being Liverpool 2" looks to be off the agenda.
Brendan Rodgers Departs Liverpool
It's not hard to picture Brendan going back home and having a chat to the painting of himself above the mantelpiece, revealing the contents of those three envelopes before checking himself into a dental surgery for a month. A period of reflection is required for him now but I think he'll be back and better for this reverse when he returns.
Will Liverpool prosper in his wake? Good question because they are a team that seem to be suffering from the same malady as Sunderland, a team that has been flirting with relegation for years now but which looks increasingly ready to take the plunge and get married to it this year.
High Stakes For Sunderland
For the Black Cats, such a scenario is unthinkable given that next season is the one where, just for turning up, you get presented with a large box with £100million in it. It's for that reason that they blinked so early, but don't think they will be the last.
With the stakes so high, there's every prospect that this season could break all records for the number of managerial casualties because any team which looks as if it could be on the slippery slope is liable to react with blind panic and a desperate lurch towards a new manager – Tim Sherwood must be feeling especially uncomfortable right about now.
But a change of manager is no simple cure-all and Sunderland and Liverpool are two cases in particular that might just prove it because they have what are looking increasingly like systemic weaknesses at their heart. At Liverpool they call it the transfer committee, at Sunderland it's the sporting director scenario.
Either way, it amounts to much the same. The manager is not in control of the buying and selling of players and, while in an increasingly global market, it's understandable that more and more help needs to be given to sort the barely affordable wheat from the ruinous chaff, if the gaffer isn't in control of the comings and goings, a club is in trouble.
After all, why would a manager pick a player unwillingly foisted upon him? Admittedly Rodgers has been part of the committee at Anfield, but was he the main party? The Balotelli saga of last year suggests not.
Sam Allardyce To Sunderland?
At Sunderland, they've made a fetish out of buying wagonloads of poor players, poor attitudes or both. There's been the occasional hit but far, far too many misses among it all. For years, their long suffering supporters have had some dreadful football foisted on them before a late burst gets them to safety and the dawn of fresh hope, hope normally extinguished by October.
Manager after manager has bemoaned the quality of players there, yet nothing changes. Surely, this time around, change must come from within first. And here's how we tell. If Sam Allardyce takes the job, control has passed to the gaffer. If he doesn't, there's ever chance Sunderland are still going to be stuck in the revolving door…