One of the more pleasing aspects of the first week of Euro 2016 has been that, by and large, positive football has tended to come out on top. It was a trend that continued with England's victory over Wales when bold half-time changes produced a comeback that did not owe a huge amount to finesse but plenty to a willingness to get forward in numbers and simply force something to happen.
Euro 2016 Diary: Hodgson Figures It Out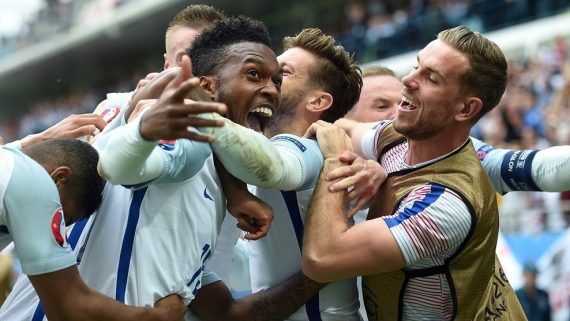 By Dave Bowler
England found themselves in another fine mess as they got booed off at the break, trailing the Welsh by a single goal. Bale knocked in his second free-kick of the competition, this one from about 35 yards after receiving even more help from the goalkeeper than he did in scoring against Slovakia. Hart made a complete shambles of his attempted save and can think himself lucky that Butland is missing the Euros through injury.
With Sterling and Kane disappointing again, Vardy and Sturridge were summoned from the bench and, within minutes, their renewed sense of adventure paid dividends with a slice of luck, Williams getting the last touch to therefore play Vardy onside and, from a couple of yards out, he simply couldn't miss.
To their credit, England carried on going from there and in the end, their momentum found another of the late goals that Euro 2016 is specialising in, Sturridge stabbing past Hennessey at the near post, another moment when a goalkeeper didn't cover himself in glory.
Wales' problem, as it was always going to be, is that while they can defend decently enough, even at this exalted level, going the other way is all about Bale. There's not a lot else that really gets the pulses racing in a red shirt and that is an issue for them but at least they will be grateful that a final game against the woeful Russians still gives them a good chance of achieving automatic qualification.
NORTHERN IRELAND
Northern Ireland have also given themselves a chance of making it into the knock-out stages following a fine win over Ukraine, one which was due reward for a much more ambitious display than they put in against Poland in their first fixture. This time they went on the hunt right from the kick-off and put their opponents on the back foot. Ukraine never really looked comfortable in the game, that German defeat seemingly knocking the stuffing out of them.
It took until early in the second half for Northern Ireland to break the deadlock, McAuley taking full advantage of some confused defending to get himself free at the back post and power in a fine header and, from there, though Ukraine improved a little, there never seemed any real danger of them getting back on terms. Not even a temporary halt in proceedings for a violent hailstorm could throw Northern Ireland off their stride and, six minutes into added time, they deservedly made the game safe with McGinn picking up the scraps in the penalty area and drilling into the net.
POOR GERMANY
Whether their qualification hopes were helped by Gemany drawing with Poland is a moot point. Had Germany won that game, they might have rested players for the last match but now, they probably need to win that final fixture to win the group. On the other hand, a point shy of Germany and Poland, the Northern Irish could yet finish top themselves.
It's not as fanciful as it sounds for in a drab 0-0 with the Poles, Germany were every bit as poor as they were impressive in the first game. It was a strangely lacklustre affair, very much against the grain of the competition so far, neither side really wanting to risk much, a side effect of the small group format, both nations well aware that having won their first game, avoiding defeat in the second would all but guarantee a place in the knock-outs. Effective it may have been, but you wouldn't want to watch that very often…