Danny Szetela's headed goal in the 88th minute was the difference as the New York Cosmos defeated New York City FC in the Fourth Round of the U.S. Open Cup for a second straight year, prevailing 1-0 at Fordham University's Coffey Field Wednesday night.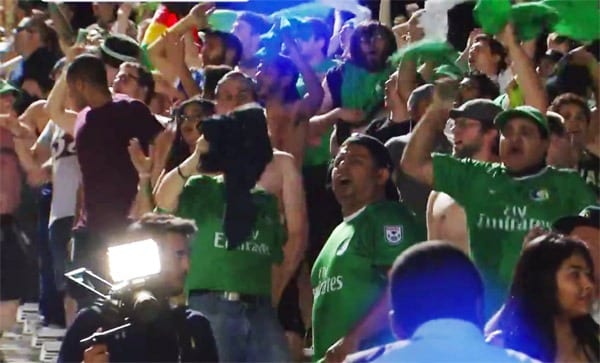 NY Cosmos Eliminate NYCFC From US Open Cup…Again
Adam Moffat started the quick counter and slipped a pass to the left. Szetela made a strong run into the box and nodded the winner in from just inside the six-yard box. The Cosmos had the better scoring chances of a scoreless first half.
In the sixth minute, Juan Arango intercepted a bad clearance by goalkeeper Eirik Johansen and put a shot from 14 yards out on frame. But Johansen did well to push the attempt away.
In the 15th minute, Yohandry Orozco cut inside of a defender to create space, but Johansen again parried away. Later in the first half, Jairo Arrieta played Danny Szetela behind the NYCFC defense, but Johansen pounced off his line to corral the ball. Jimmy Maurer was pressed into action after halftime, knocking aside a dipping shot from distance by Diego Martinez in the 54th minute.
In the 68th minute, Maurer pushed away a bouncing shot by Patrick Mullins, who also beat Maurer to a ball over the top before Hunter Freeman bravely cleared off the near post five minutes later.
With the victory the Cosmos advance to the Open Cup's Round of 16 for the third consecutive season. Their next opponent will be decided via a draw beginning at 12 p.m. ET on Thursday, June 16.