FC Schalke 04 will be the official soccer club of "Kick It 3v3", the largest and longest running grassroots soccer tournament tour in the United States. With this partnership Schalke will reach over 30,000 youth players across the country this year through more than 65 Kick It events.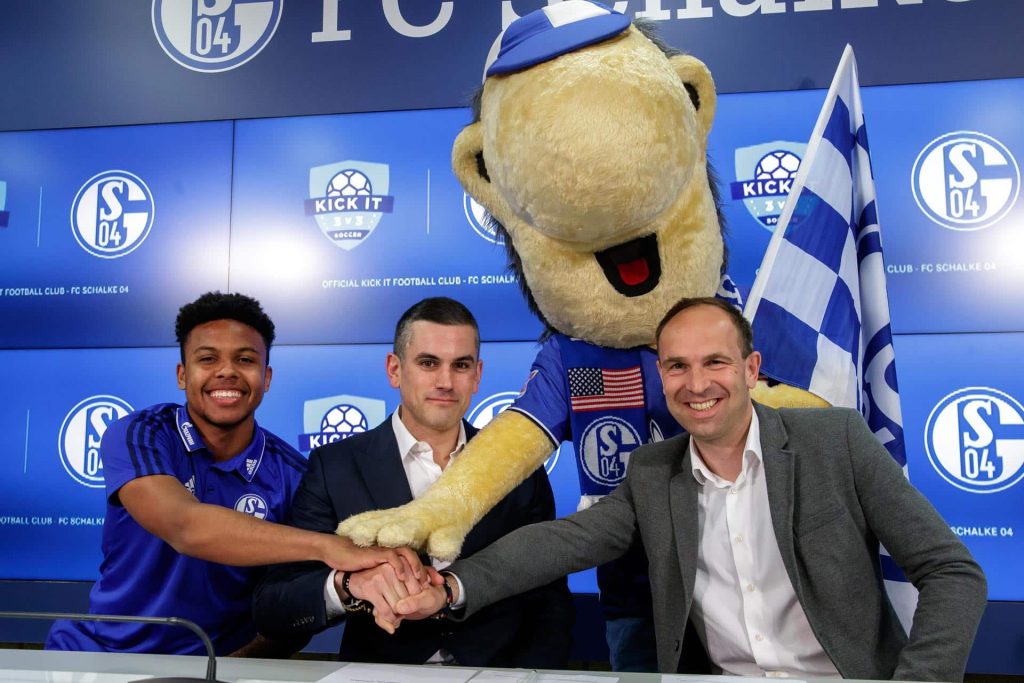 Kick It
To make a lasting impact with young soccer players throughout America, Schalke will put significant resources behind the cooperation. In addition to providing each participant with a special Schalke inspired jersey, the club will have a strong presence at every Kick It event. The Royalblues will also look for opportunities to bring their "Knappenschmiede" youth coaches to top tournaments to provide fun and informative soccer clinics.
With one of the clubs main focuses on youth development, the Kick It tournaments could also become a great platform for scouting new and promising talents. With more than 30,000 youth players participating in the tournaments and more than 200,000 spectators, Schalke 04 will be able to reach a vast amount of people and force even more awareness for the club.
"We're thrilled about taking this major step with Kick It to bring the power and tradition of Schalke to America," said Alexander Jobst, Member of the Managing Board for FC Schalke 04. "We've had much success this past year introducing Schalke to select cities like St. Louis, Pittsburgh and Columbus, and we're excited to be able to reach youth players on a national scale over the next three years with Kick It. We hope that from now on these kids and their families will support FC Schalke 04 as their favorite team from the Bundesliga."
Weston McKennie
"I remember those fun weekends playing in Kick It tournaments as a kid in Dallas," said Weston McKennie, Schalke midfielder and US Men's National Team star. "Small sided games are such a cool way to develop skills and have a blast with your friends. I'm excited that Schalke will be a big part of Kick It in America."
"We are excited to partner with Schalke and share their incredible story to the thousands of athletes and spectators that attend Kick It events each year," said Matt Novogratz, CEO of Kick It. "Schalke has a rich tradition of developing some of the greatest soccer players in the world. Having their youth coaches attend some of our regional and national events will enhance the memorable experience of a Kick It tournament, while continuing to reinforce the importance of small-sided training in the development of a young soccer player. We are also excited to introduce Kick It to Germany and the Schalke fanbase while we collectively build towards a truly global 3v3 soccer world championship."
For 28 years, Kick It has built a reputation for being the leader in managing and executing grassroots soccer tournaments. Kick It has helped grow the sport of soccer and has provided an exciting way for kids to improve while having fun.
---