A great night for the French as Croatia had to go to a third straight extra-time in the knockout section before overcoming an England that was punch drunk and hanging on for dear life long before Mario Mandzukic strolled behind a static back three to win an historic victory for a tiny nation that is now looking forward to its first ever World Cup final.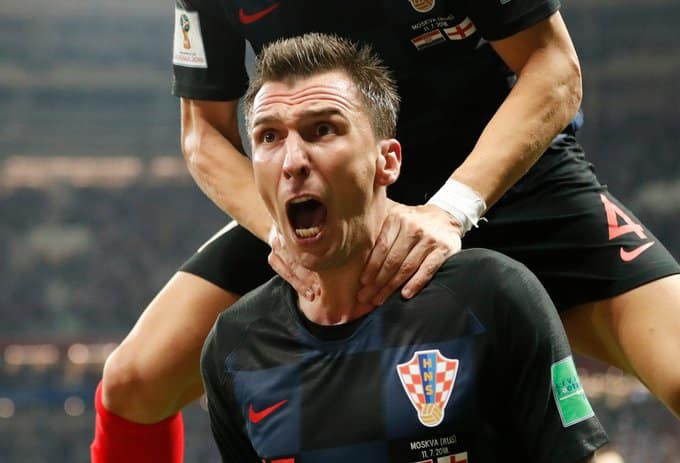 World Cup 2018 Diary: Croatia Beat England In Semi Final
By Dave Bowler
Well deserved it is too for the class act of the bottom half of the draw, not just the team but, in particular, the tournament's shining light, Luka Modric. It's a shame that, magnificent as both are, Messi and Ronaldo have so monopolised the Ballon D'Or for nobody deserves that accolade more than Modric.
There has been no greater adornment to the European game for a decade now and, may any French sympathisers forgive me, there would be no better end to this World Cup than Modric lifting the trophy on behalf of the 128th biggest country in the world. Now that's a story.
The story of the night was in two parts for England. There was the stunning start through Trippier's terrific free-kick and the momentum that that created and for 25 minutes or so, England were in the ascendant and could have put the game away. But faced by a better defence than they'd met hitherto, and a defence that could compete at corners to boot, the belief went out of the side dispiritingly quickly. Tat was crucial for as England went into their shell, Croatia blossomed.
Modric Dictates
From 30 minutes in, Modric and Rakitic started to dictate and all the old failings came out in depressingly familiar and predictable ways. Dropping deeper and deeper, trying to hold what they had – for 60 minutes? – becoming incapable of keeping possession, and increasingly smashing it long in hope as much as expectation of creating anything.
Proof of progress comes when you are under pressure but all too often England reverted to type, underlining Gareth Southgate's pre-match comments that this team was not the finished article. As they chased shadows through the second half, they looked a long, long way from it.
Perisic's equaliser midway through the second half was inevitable but it says much for England's character that they somehow took the game over the line and into extra time. Because they were never in the game, especially in that last quarter. The continually impressive Pickford kept them in it and once they did get to the extra 30 minutes, the game should have been England's given the extra exertions Croatia have been through.
Mandzukic
Despite a brief rally in the first period, Croatia's greater invention and willingness to take risks against a backline that was visibly creaking proved crucial. They seized their moment and Mandzukic won the game, sharp contrast to England's failure to seal the game when they were on top.
And that is the cruel, hard reality of professional, top-line sport. You win or you fail. There are no other options. England must not fall into the trap of becoming sentimental about this World Cup, of seeing it as some kind of Dunkirk triumph, for it was not. In the end, with the favourable draw they had, one they can hardly hope to get again, this was failure. Do Germany celebrate semi-finals? Brazil? Italy? Argentina? No.
Encouraging England
But England has a self-defeating tendency – in all walk of life – to do just that, to elevate mediocrity to a pedestal. Not this time. England supporters have every right to be encouraged by what they have seen from a young side. But to see it as anything other than a huge opportunity carelessly tossed away merely condemns them to more of the same. Accept it as failure, hate the failure, refuse to have another one. That's how you win in the end, not by kidding yourselves.
Croatia, on the other hand, have an epic moment awaiting them, the greatest in their footballing history, when they take on France on Sunday. In a just world, it would be Modric's moment. But that extra 30 minutes and that day fewer rest? That might be telling.