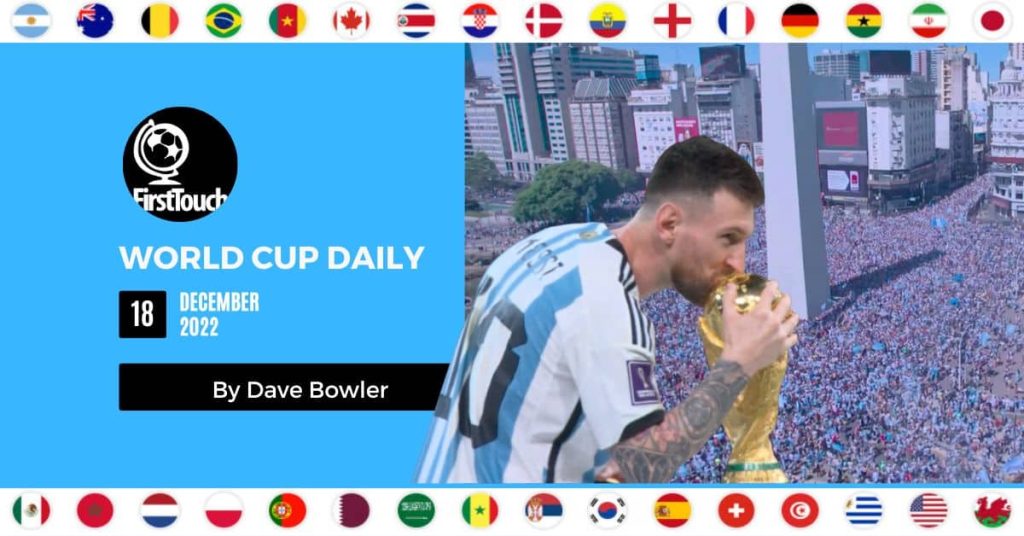 World Cup 2022 Diary: Final, Argentina 3 France 3 AET. (Argentina win on penalties). A Kylian Mbappe hat-trick wasn't enough to see off a determined Lionel Messi and Argentina in one of the most dramatic World Cup finals of all time.
Argentina & Lionel Messi Win Best World Cup Final Ever
By Dave Bowler
Football is the strangest game. For 79 minutes of the World Cup final, this looked like being one of the most anti-climactic. Argentina gently strolled towards victory against a French side that could not raise a gallop. And then we had 50 of the most exciting minutes any World Cup final has ever seen, before lapsing back into the unsatisfactory conclusion that penalties always bring, especially when they are used to decide a final.
The truth is that football is so often at its best when character supersedes the game itself. That is what we had in those latter stages. The refusal of the reigning champions to go quietly to their end. The determination of the street fighters not to be denied. That salvaged this final and put it up among the best ones that have been played since 1970's pinnacle of the beautiful game.
This one was rarely beautiful, though it did have its moments of magnificence, notably in the second goals for each side. One a beautifully worked team goal for Argentina, and a volley of unimpeachable genius for France. Instead, it was a game about human nature, in all its facets, and intriguing it was too.
Virus-hit France struggle with fitness
Obvious from the first whistle was the fact that rumours of a virus sweeping through the French camp had been very much downplayed, because a string of their players quite clearly had legs of lead. Too many of them were clearly suffering and Argentina scented that from the outset and went for the kill. They overpowered and overran France in midfield. Di Maria was outstanding on the left and France were left chasing shadows. Except they couldn't do much chasing because half the side clearly hadn't got the energy.
Here was Deschamps' mistake and one I'm sure he would love to go back and correct. When you play an opponent of Argentina's quality, you cannot hope to compete with players at 70%. You can understand why he wanted to field his strongest team in terms of the players' ability, but in gambling, he actually fielded a weakened team, for they simply weren't up to the physical task.
Argentina Sweep France Aside In Impressive First Half
You do not make two substitutions before half-time in a World Cup final, not of players of the substance of Giroud and Dembele, unless they are physically ailing. Griezmann was everywhere against Morocco. Today, he was nowhere. Again, you do not take him off in a World Cup final unless he is incapable of continuing.
The obvious physical distress that caught up with Varane as he was substituted made it very apparent that he was not recovered either. The improvement in France's overall performance that came with each change made it clear that a player of lesser quality who is at 90% fitness is miles ahead of a better one at 70%. Had Deschamps taken that view ahead of the game, who knows?
Late Mbappe rally for France
As it was, Argentina blew them away in that first half with some excellent football to which they had no answer. But in the second half, right from the start, they stopped harrying the French, changed their aggressive approach for something more containing and tried to run down the clock, wasting time from the outset.
So many teams do this when the have their foot on the opposition's windpipe, and it never makes any sense. Argentina would surely have scored that third goal with the same approach as the first half, and thereby buried the game, but they chose not to play that way.
For a long spell, it seemed like it wouldn't matter, but then Mbappe turned the game on its head. Once the penalty went in for 2-1, an equaliser was inevitable as you could see Argentina crumple as the ball hit the net. With a fuller complement of fit players now on the field, France finally roused themselves and showed the character of champions to force the game into extra-time.
Mbappe & Messi Fight Epic Battle To The End
To their credit, in turn Argentina regrouped and showed their fight and resilience by recapturing the lead through Messi before the French came again, Mbappe emulating Geoff Hurst with a World Cup final hat-trick to take us to penalties.
The final was contested by the two best teams in the competition by some distance, and in itself, that rarely happens. Either side would have been worthy champions but few could begrudge Messi his moment with the trophy at last, the rightful conclusion to a glittering career that has so illuminated the game.
But in victory, the baton of the best player in the world, certainly in international football, irrevocably passed to Mbappe, because more than anyone, by the sheer force of his will, he turned this final from procession into something more memorable. I don't think any footballer has made the World Cup competition so much his own since Pele. And like Pele, he will be back. My money is on him collecting a third straight medal in 2026, and it will be another golden one.
Thanks for reading Dave Bowler's World Cup round up every day
---
Sir Alf Ramsey: England 1973 focuses on the final full year of Sir Alf's reign as England boss. The nation that won the World Cup in 1966 failed to even qualify for the 1974 tournament. Ramsey was suddenly a man out of time, both on and off the pitch. The failing fortunes of the England team mirrored those of a post-Empire nation heading for its own a fall.
A must read for all fans. Order your copy in time for the holidays.