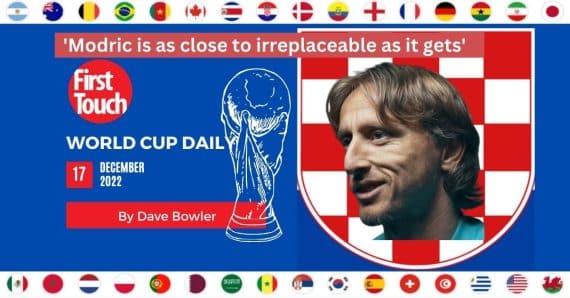 World Cup 2022 Diary: Third place game, Croatia 2 Morocco 1. Croatia were the deserved winners in an unusually entertaining 3rd place match at the World Cup finals in Qatar. 
What Next For Croatia And Modric?
By Dave Bowler
The third place play-off match at the World Cup is a pretty weird concept but on occasion, it brings forth a decent game, as was the case with Croatia defeating Morocco 2-1. With the real pressure off and, in all honesty, with both sides having gone further in the competition than anybody would have expected, they approached the game not as an anti-climax, but something to be embraced.
Croatia were deserving winners, cementing a third place finish having been runners up four years ago. That is a remarkable achievement for such a comparatively small nation, but they leave Qatar wondering where the future will take them. There is little doubt that they will remain competitive for this is a country with a real gift for producing talented footballers on a regular basis.
But with Luca Modric 37, and surely never to grace the World Cup again, he leaves a giant hole for them to fill. No team this good is ever a one man band, but Modric is as close to irreplaceable as it gets, for there are few midfielders around who can dictate the direction of a game as he can. With his impending departure, will we see a change in style and emphasis from the Croatians? That will be one of the more intriguing stories to unfold over the next few years.
Morocco Look To Build On World Cup Legacy
Meanwhile, what of Morocco, the greatest African side ever at a World Cup? They continued to impress and enchant to the very end and football fans all across the globe will be sad that they will now disappear from our screens for a while to come. What is essential now is that they build on the success for next time around.
That will be easier said than done for many if their players have now gone from being respected within the game to suddenly being in real demand by bigger and bigger clubs with deeper and deeper pockets. Keeping your focus amid that takes some doing, One of the greatest elements of their success has been their unity, that 'all for one' spirit. Retaining that is central to them repeating this success in 2026. Croatia should be their inspiration there, for time and again, they have shown it can be done.
Read Dave Bowler's World Cup round up every day
---
Sir Alf Ramsey: England 1973 focuses on the final full year of Sir Alf's reign as England boss. The nation that won the World Cup in 1966 failed to even qualify for the 1974 tournament. Ramsey was suddenly a man out of time, both on and off the pitch. The failing fortunes of the England team mirrored those of a post-Empire nation heading for its own a fall.
A must read for all fans. Order your copy in time for the holidays.