And so the crisis has passed, at least for the moment. For that is how it is with Jose Mourinho – and post-Ferguson Manchester United – these days it seems, life lived perpetually on the edge of a nervous breakdown.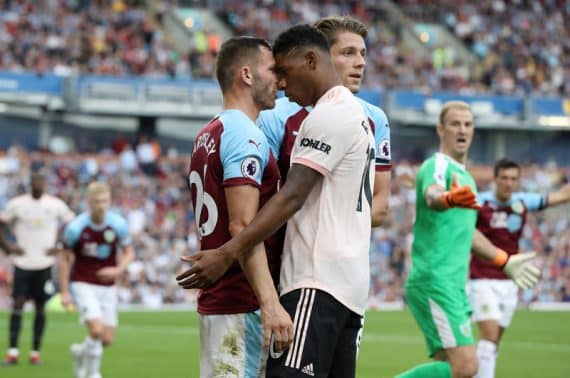 By Dave Bowler
Victory at Turf Moor will quieten the critics who were scenting blood. But if we know anything of the modern age, it is that the critics will not go away, but will only look to intensify their fire from another angle. To escape this one, and to go into an unprecedented fourth season at the club, will rank among Mourinho's greatest achievements, for everyone seems out to get him and to fulfil the three year prophecy.
With him or without him, there would still be many questions to answer at Old Trafford for even at this early stage, United do not look able to compete with Liverpool, City and Chelsea in the chase for the title. Much can, of course change over a long, hard winter but United still look desperately short. That Liverpool are looking better defensively than United would have been thought impossible just a year ago, but is now a statement of fact, and when you add to that Liverpool's attacking thrust, how can United compete?
Shift
Instead, amid the most staid of summers, United have essentially stood still, Fred the only notable acquisition. Contrast that with Jurgen Klopp's haul of Alisson, Naby Keita, Shaqiri and Fabinho – as well as Van Dijk last January – and you can see a huge shift in power there. Manchester City, meanwhile, have added Mahrez to a squad that was already light years ahead of the rest and Chelsea have undergone their seemingly biannual purge, getting rid of one title winning manager to get a new lease of life, as well as adding Jorginho and Kepa.
It's clearly all getting under Jose's skin, hence his repeated demands for "respect" at one press conference after another. Certainly he deserves that. He also deserves to be taken seriously when he says that coming second in last season's Premier League was one of his greatest achievements.

Mourinho
Not everybody will agree with that opinion of course, but if it is anywhere near the mark, then surely Manchester United as a club have at least as many questions to answer as Mourinho. Post-Ferguson recruitment has, by and large, been average at best and yes, Mourinho must take some of the blame for that, as must Van Gaal, Moyes rather less so given that Fellaini continues to take centre stage at United.
But following all those years when United operated as a well oiled, ruthless machine under Ferguson and the likes of Martin Edwards and David Gill, they look rudderless, no closer to reclaiming the title that seemed to belong to them than they ever have in the last five years. Would that change overnight with the departure of Mourinho? It seems unlikely.
The fault lines at Old Trafford seemingly go deeper, for all of the Special One's propensity for fracturing football clubs wherever he goes. For him and for United, the discovery of some hitherto unmined reserves of patience might well be the best answer. Yes, I know…
Trophies
Of course, the cliché that has long surrounded Mourinho is that, given his sides tend to be functional, he has to win trophies or suffer the consequences, a cliché that gathers pace year on year as the game turns ever more towards the PlayStation rather than the coaching manual for inspiration. But in the battle of form and function, is form enough to keep people happy?
Understandably, Liverpool fans are thrilled with the way they are playing, but should Klopp go through another trophyless season, will all those goals and thrills be enough to soften the blow? At Chelsea, Sarri can score as many goals as he likes but the record shows that if he doesn't score enough points, the emperor Roman won't waste time in giving him the thumbs down. And if Guardiola doesn't get close to carrying off the Champions League this term, will all the style points save him?
With the title racing already showing every sign of being a three horse race, who will blink first? Who will play the pragmatic card earliest? Or will they all be willing to go down in flames, in a blaze of glory?
Botttom
Elsewhere, the table seems to have taken on its expected form especially early this term. Look at it after four games and the bottom half already looks as if it's made up of what will be the bottom half come next May, albeit in different positions.
The joker in the pack thus far has been Watford, four wins out of four and in the top three. While it would be asking rather too much for them to stay there, there's precious little reason why they can't be this year's Burnley, riding the vital wave of momentum into the top half through the season.
Equally, might Burnley not end up being this year's West Brom, for exactly the same reasons? The truth is, like Formula 1 racing, the really competitive stuff is going on in the midfield and beneath, away from the glitz at the top where it's money that makes the real difference. Sadly though, you don't get a trophy for finishing 11th.