This week, Clint Dempsey, stalwart for the United States Men's National Team, abruptly announced his retirement from both club and international football. There was no cheering crowd, no crying spouse, no farewell tour.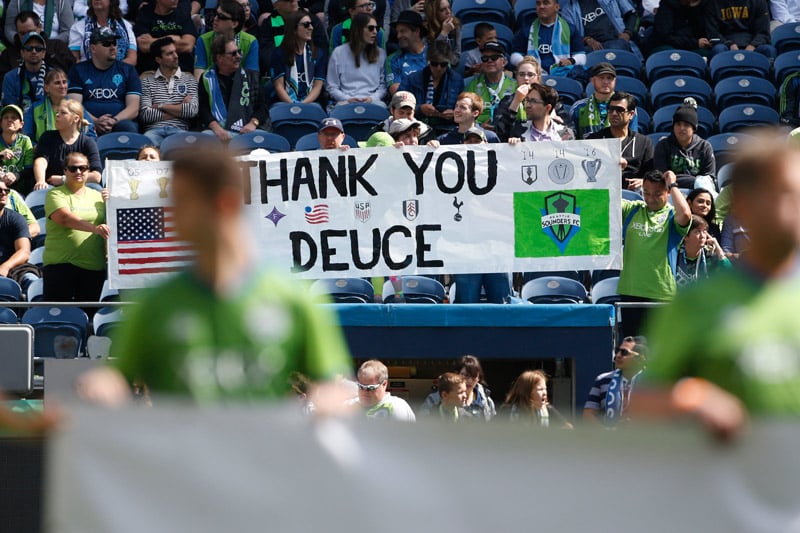 It was a simple statement, released out of the blue, thanking the appropriate people and saying that it was time. "Thank you, it's been real." And that, itself, was very on brand for Dempsey, a guy that does things his way.
Tim Hall's View From 101
Dempsey leaves the game tied with Landon Donovan for the most goals scored for the United States at 57. It is fitting that those two should sit side-by-side in the record books, for they are the biggest stars of their generation of American talent, and, with due respect to Walter Bahr and a handful of others, arguably the nation's greatest players.
But Clint Dempsey's story of how he got to that point is more emblematic of all that is right and wrong and good and bad and wonderous and problematic about where the sport has been and where it is going in the United States.
Texas
Clint Dempsey was born in the small east Texas city of Nacogdoches, where he and his siblings would grow up playing soccer alongside the neighborhood's largely Hispanic population. That, just in itself, is the story of the sport in the US: the immigrants' game.
Clint's brother Ryan received a tryout for the Dallas Texans, a youth club three hours away. Clint tagged along, passed the time dribbling on the sidelines, and was recruited then and there.  So the Dempseys would make the six hour round trip to get Clint time and attention at a higher level. That's something that doesn't happen elsewhere in the world, but due to the sheer size of America, it does here.
Clint excelled in Dallas, but eventually had to drop out because his sister Jennifer was rising through the ranks as a tennis player, and the family had to make a tough decision. Families of his Texans teammates pooled together money to help Clint rejoin the team.
New England
Unfortunately, Jennifer passed away from a brain aneurism at sixteen, and it is in her memory Clint was motivated to work harder on pursuing his soccer career.
The New England Revolution drafted Dempsey out of Furman University in 2004, and all Clint did out of the gates was score seven goals, earn Rookie of the Year honors and lead the Revs to the MLS Cup semifinals.
For an encore, Clint would be a part of the New England teams that went to the finals each of the next two seasons, although coming up short both times. 2004 also saw Clint Dempsey earn his first cap for the US Men's National Team, with his first goal coming against England in 2005.
Fulham
His early success for both club and country at the senior level attracted interest from Fulham in the Premier League, and in December 2006 Clint Dempsey joined countrymen Carlos Bocanegra and Brian McBride as part of the "Fulhamerica" side that became for many Americans their de facto first or second favorite team in England.
Dempsey was, at the time, the most expensive MLS-to-EPL transfer ever at two million pounds. Dempsey's first goal for Fulham came in a 1-0 win over Liverpool, which saved his new club from relegation in 2007.
World Cup
Internationally, Clint was named to the 2006 World Cup squad and was the only American to score in what was a dreadful tournament for the Stars and Stripes. Dempsey followed that up with a successful defense of the CONCACAF Gold Cup in 2007.
Dempsey would be Fulham's top scorer the following season, although with six goals so let's not dwell on that a great deal, as Fulham again left it to the very end of the season to stay in the top flight. 2008-09 saw Clint again finish as Fulham's top EPL goalscorer with seven, but this time the Cottagers finished in seventh place, qualifying them for the Europa League.
In that following campaign, Dempsey scored the game winner on an audacious chip from outside the box to defeat Juventus in the round of sixteen, eventually getting Fulham to the final before succumbing to Atletico Madrid in extra time.
Confederations Cup Final
2009 also saw Dempsey lead the United States to their first ever international final in the Confederations Cup. Dempsey scored in the semifinals against Spain as well as in the final before coming up short against Brazil.
2010 saw Deuce beat Robert Green in an absolute horror show for the England goalkeeper in the World Cup that year, and scored a controversially disallowed goal against Algeria that would be far more remembered had Landon Donovan not scored the most famous goal in USMNT history. That goal was coincidentally off of a Clint Dempsey rebound, to advance the US out of the group stage.
EPL Hat-Trick
2010-11 saw Dempsey finally become a regular starter for Fulham, as well as the first American to score double-digit goals in the Premier League. The following season he would become the first American to score a hat trick in the Prem, and the first to reach fifty goals in his career.
That offseason saw Clint transfer to Tottenham, and become the highest-paid American in England. After a year for Spurs, MLS came swooping back in and Dempsey returned to American shores for Seattle Sounders.
Seattle
2014 saw Clint Dempsey, now as captain of the USMNT, score the fast goal in US World Cup history, just 29 seconds in against Ghana, becoming the first American to score in three consecutive World Cups.
Now, all of these facts and figures tell the story of a player that has had a nice professional career for clubs and country, and that's fine, there's nothing wrong with that, one can be a good player and nothing else. But that was not Clint Dempsey, nor do simple statistics tell the whole story of Deuce.
There was the errant, possibly intentional, elbow that broke John Terry's cheekbone. There was the rather legendary "Dempsey face" in a dustup against Jamaica in 2014. And there was tearing up a referee's notebook in a Seattle US Open Cup game. There were some attempts at rapping.
Dos a Cero
And then there was Columbus. In the US-Mexico rivalry, the 2-0 scoreline has become famous, leading to the mocking "Dos a Cero" chant and the cottage industry is has thus spawned. In 2013 in a World Cup qualifier in Columbus, the US was awarded a penalty on what would ultimately turn out to be the last kick of the game.
Already up 2-0, Clint Dempsey stepped up to the spot and took what is objectively a terrible penalty. Had it been anyone else, they might have brushed it off as an unimportant kick in an already-won game, but the conspiratorially minded among us would say Clint Dempsey intentionally missed to keep the scoreline "Dos a Cero".
Clint Dempsey went down with an irregular heartbeat in 2016, and many thought that would be that, but he came back the following season. That, too, is the story of Dempsey: one heck of a player and a fighter as well, somebody who embodied the sort of work ethic we wish to project about America.
Thank you, Deuce. It's been real.