Last week we took a quick look around MLS to try to determine which teams were in with a serious chance of finishing the regular season with the top spot and Supporters' Shield, and who could then parlay that into a run at the ultimate glory of MLS Cup.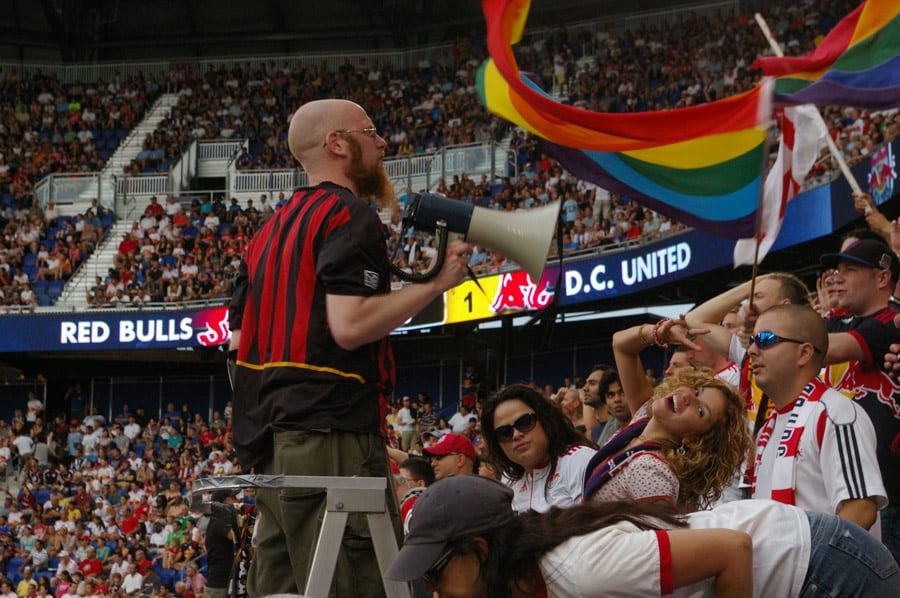 Tim Hall's View From 101
There is, however, another race that's been going on. It doesn't make the stats page of the local papers because it's hard to quantify, yet it's been every bit as intriguing and thrilling as the home stretch of the MLS season itself. This year, maybe more than any other, front offices around the league are in a mad dash to see who can treat their most ardent supporters – and most frequent paying customers – the worst.
Let's start with a consistent contender for the top spot who, due to the hard work of teams around the league, is currently languishing in the middle of the table: New England Revolution. For the twelfth year running, rumors continue to swirl about the Revs getting their own stadium somewhere in Boston that would get them out of the cavernous confines of the Patriots stadium in Foxborough.
Revs
Somehow flying in the face of all this, the team on the field got off to a great start at home, and is currently still in the playoff mix based on that. But they have been absolutely dreadful on the road, winning one away game this year, and only four in the last three seasons. This futility has led to some changes in the coaching ranks, but the office staff of general manager Mike Burns and team president Brian Bilello remain nice and safe.
So the Revs are a good baseline, a model of consistency for other teams, but to be in the hunt for top honors in the MLS Supporter Hospitality, Integration and Treatment rankings, it's going to take some work.
Red Bulls
We should then look at a franchise that seemingly loves to kick their fans in the teeth on an annual basis: the New York Red Bulls. Do they constantly find new and embarrassing ways to end the season without the championship? You know it. Do they do this while being owned and named after a giant soft drink concern, making any sort of love of the badge impossible?
Indeed. But 2018 has seen the Metros step their game up to a new level. First, they stripped the privileges of one of the supporter clubs, the Garden State Ultras, with no sign that they might be reinstated ever. Then the club, or the league, or the security company, or some combination of all three, took it upon themselves to photograph anyone in the supporters' end wearing a shirt or waving a flag in protest of the current American political situation.
Season tickets are going up next year, and the season ticket gift is a pair of shoes that only come in men's sizes. It is 2018, women like sports now, it's been going on for a little while. Please plan accordingly.
Toronto
Speaking of supporter groups getting banned, let's turn our attention northward to Toronto. During Toronto FC's Canadian Championship semifinal clash in Ottawa (there are only four teams in the Canadian Championship as presently constructed), TFC supporters the Inebriatti lit off flares and smoke bombs that appeared to cause banners and seats to go up in flames, as well as one reported small explosive device going off.

---
Toronto's front office initially brought the hammer down on all of their supporters until Inebriatti confessed that it was their members involved, calling the actions "unplanned" but "not acceptable." For taking the bullet for all TFC support, Inebriatti were handed a permanent and immediate ban from supporter actions as a club, as well as stadium bans for individual members.
But at least in Inebriatti's case, even if you think that the punishment doesn't fit the crime, you can say there was at least a crime. To be top of the table in treating fans like trash, you've got to attack people who've done no wrong. And the runaway leader in 2018 has been Columbus Crew.
Columbus Crew
To bring you up to speed, Crew owner-operator Anthony Precourt bought the club with the written understanding he wouldn't try to move the team, unless it was to Austin, Texas. And wouldn't you know who won the pony?! Talks have been ongoing all year to uproot one of MLS's original franchises, and within the last few weeks, Austin city officials voted to allow the city to begin negotiating with Benedict Precourt for construction of a stadium on city land.
Following that, Precourt and his minions announced that the team would be called Austin FC and feature a predominantly black-and-green crest. The green is for Precourt's love of money above all else, and the black is the color of his cold and lonely heart.
Actually, art majors tell us that the logo, which features intertwined trees, represents in part "roots" for a "powerful foundation for our Club" which is even more laughable. The next time Anthony Precourt has roots in a place, it'll be the first. Meanwhile Crew fans, who've done nothing wrong in all this, are left holding their, let's say "tickets", in their hands.
Why would you go support a team that's moving? Why would you renew season tickets? This, of course, creates the self-fulfilling prophecy Precourt wanted, as he points to an empty Crew Stadium as proof of his need to move the team. Before it's too late: Mr. Precourt, rethink this logo. Play it simple. Instead of black-and-green, why not try scarlet? And instead of a tree as a logo, go for a nice big "A". You know, for Austin!
Chicago Fire
But just like MLS itself, it's not over until it's over, and we've got a team making a late charge for worst fan relations, and it's Chicago Fire coming on strong!
To summarize, someone unaffiliated with Chicago's support apparently lit a smoke bomb in section 101, which is occupied by Sector Latino. This was the last straw according to the front office, who banned Sector Latino from the stadium and cancelled their season tickets (for something they didn't do). The Fire FO also, rather than trying to resell those tickets, just left section 101 empty, which is not only bad business, but also just led to people rushing into that section as a means of protest.
Now, all of the disparate Chicago supporters, under the common flag of Section 8, are up in arms. The team, meanwhile, is in the middle of a nine-game winless streak in league play, but now had three weeks off so they could fly to Europe and play a testimonial for Bastian Schweinsteiger. Not to say Basti doesn't deserve a testimonial, but, maybe not midseason? Maybe not when you're in tenth place yet somehow still in the playoff hunt? Read the room!
All apologies to the other MLS teams trying to treat their fans like trash we couldn't get to. We know you're giving it your all, but maybe this will inspire you to try harder, because to get anyone's attention when treating your own fans like second-class citizens, you've got to bring your A game.