I think it has reached that point where we can pretty much all agree that it's all over for Arsene Wenger at Arsenal, certainly in his current role as manager.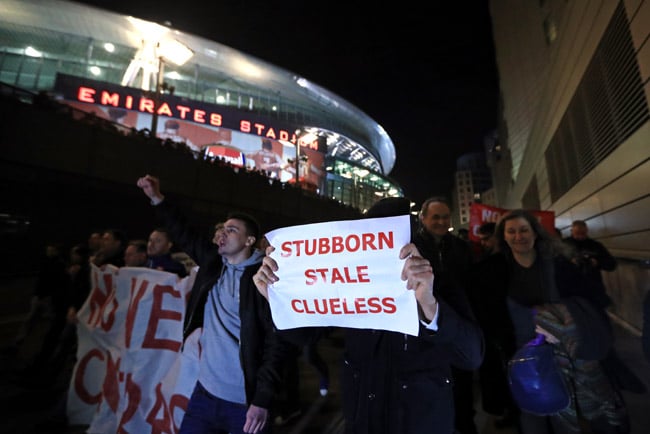 Capitulation to Bayern Munich and a last 16 exit once again must surely be the final straw. Champions League qualification for the Gunners seems to be little more than the footballing equivalent of donning a gimp suit prior to a dungeon's worth of European football clubs taking it in turns to administer ritual and painful humiliation upon the London club.
Even if Arsenal were to finish fourth in the Premier League, yet again, does anybody know what the point is, other than to bring in another wad of cash that they seem loath to use?
As is ever the way in football, it will be the manager who is the fall guy. Wenger will surely leave, albeit by mutual consent in all likelihood, just as the Premier League champion managers of the last two seasons were swiftly ushered away from the scenes of their triumphs, Jose Mourinho and Claudio Ranieri paying for title defences gone awry. That is just the necessary streak of pragmatism that any football is forcibly saddled with. After all, far easier to cancel one man's contract – and a man who is almost certainly some way from the top paid at the club – rather than ripping up a squad of footballers.
Loyalty Test
But what those three case studies have amply demonstrated to us is that there are a lot of footballers playing in the Premier League who really should have trouble sleeping at night or looking in the mirror – perhaps that's why there are so many beards these days? When the flak started flying, what did Eden Hazard do? What about Kasper Schmeichel or Jamie Vardy?
And at what point are Theo Walcott, Aaron Ramsey, Kieran Gibbs, Alex Oxlade-Chamberlain, men who owe their lavish millionaire lifestyles in their entirety to Wenger's faith in them, going to put a hand up and say, "The gaffer's in trouble here, I'm going to get him out of it"? Or are we to assume that the Arsenal players, like the ones at Leicester City and Chelsea before them, have decided that it's far better to let the boss be the scapegoat, let him take the flak and hide themselves behind the disintegrating reputation of the manager who was largely responsible for the success that they've so far enjoyed in their careers.
Spoiled Brats
Small wonder that Neil Lennon, a man with but a fraction of the talent of those players but with cojones of a far greater size, dismissed the current Arsenal players as a "team of spoiled brats" after the latest Bayern debacle. Certainly Wenger has to take his share of the blame for Arsenal's decline, not least in his seeming inability to find footballers with any moral fibre. Even the greatest talents in his team are hugely flawed – Ozil goes missing all too often, Sanchez is a man who recognises no interest except his own.
But Wenger's failure to find a new Patrick Vieira, a Martin Keown or a Manu Petit is not an isolated one, because there are precious few of that kind about, leaders who will refuse to be beaten and refuse to accept second best either from themselves or from their colleagues. Such people are in very short supply and that explains why it is that these days, when the going gets tough, the manager's the one that gets going. I doubt even Sir Alex Ferguson could do much about that any longer.

The great sadness is that Wenger has not only been magnificent for Arsenal Football Club, he helped moved English football forward leaps and bounds, transforming the way teams trained, prepared, the kind of football that we played. He was, never let it be forgotten, the man who piloted "The Invincibles" through that incomprehensible season.
Wenger deserves to go out with head held high as a man who has served his club and his game with everything he has and who leaves both in an infinitely better place. He deserves to have one last day in the sun at Wembley and the FA Cup in his hands as he heads off into the sunset. Life, though, is rarely that just. And as for Arsenal and, in particular, the regulars on their Fan TV, think on. You won't know what you've got til it's gone. Ask the people at Old Trafford who remember Sir Alex.