On Monday, some of Chelsea's followers decided to warm up their voices by calling Jose Mourinho – Judas. Did he deserve the jibes?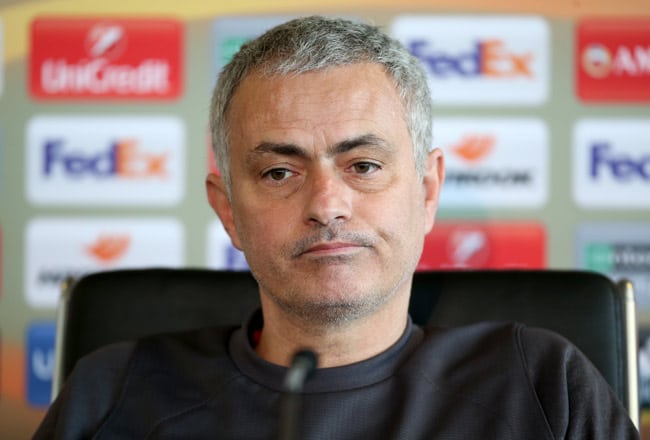 Back in the Victorian days when so many games, including football, were in their comparative infancy, it was the view of the Establishment, notably the public school elite, that organised sport was not only good for the soul, but encouraged a certain type of morality, and moral courage, which they found desirable.
How they must be shaking their heads as they look down on the sorry mess we've got in front of us now.
First, what do we find on the pitch? As discussed in recent weeks, the players at Leicester City, Chelsea and Arsenal have been found desperately wanting in this regard, but it clearly isn't just a disease of the English clubs. However good Barcelona are, however great their vaunted forward line, however dubious some of the refereeing decisions, it takes a certain, special kind of cowardice to capitulate in the way that Paris St Germain did in Camp Nou last week.
All you have to do is get through fewer than ten minutes without conceding three goals. As a professional football team – and not any team but one of the most expensively put together teams in history – to allow yourselves to be so hopelessly engulfed in panic is, frankly, pathetic.
Having conceded one, even if you don't believe in yourselves and your own ability enough to just carry on playing, why didn't it occur to anybody, right from the restart, to do the obvious and play the ball into the far corner, as far from your own goal as possible, and make Barcelona go and fetch it? How can you pick up that salary and not trust yourself to do your job properly? A lack of moral courage, that's how.
Fans Turn On Jose
But that sad lack isn't merely restricted to the field of play. It's always been a part of boardrooms – "if they've turned on the manager, best sack him before they move on to us" – and so it now is in the stands too.
It's part of the footballing spectacle that fans often back their team by attacking the opposition. Sometimes it's funny, often it's crude, generally it's all easy to ignore. But sometimes, supporters can come up with something so spectacularly stupid in their efforts to attack an opponent that it really does stand out.
On Monday, some of Chelsea's followers, the same ones that were queuing up to sing the praises of Hazard and Fabregas and plenty of others who were conspicuous by their absence when things got tough last term, decided to warm up their voices by calling Jose Mourinho – the man who ended up getting the sack when the players who he'd driven to the previous year's title downed tools – Judas.
Mourinho made the perfectly sound point that this particular Judas was actually closer to being Jesus as far as Chelsea were concerned, having delivered three titles, two more than anybody else has ever managed. And it's not even as if he walked out on them to go to United. He was sacked. What's he supposed to do, never work again?
Did those Chelsea supporters not think for one second that, in baiting the opposition, there's still a line you shouldn't cross? That you should have a little respect for what someone has done for you? That you shouldn't succumb to moral cowardice? Clearly they didn't.
Tantrum
And let us return to Arsenal and a section of their support. Yes, we are at the far end of the Wenger era and perhaps it is time for him to stand down now. It is perfectly possible to articulate that sentiment in a rational and, above all, respectful manner. But that's not enough apparently. They have to talk of him as destroying their club. Let that sink in for a minute and, when you've stopped laughing, we'll carry on.
It's the fandom of spoiled children, people who have grasp of neither the meaning of sport nor of history – only one team out of 20 can win the league and what about previous trophyless spells, all of which play a part in the real story of a great club? No, that's too much for the feeble minded to grasp, and so they have to scream, shout and have a tantrum. Impressive.
We can only hope they get what they deserve.