Towering football genius Joey Barton has delivered another of his opinions upon a waiting world, telling us that he is sceptical about just how good N'Golo Kante is. The obvious response would be to be sceptical over whether what Barton does actually constitutes being a professional footballer, but we'll let that pass for the moment.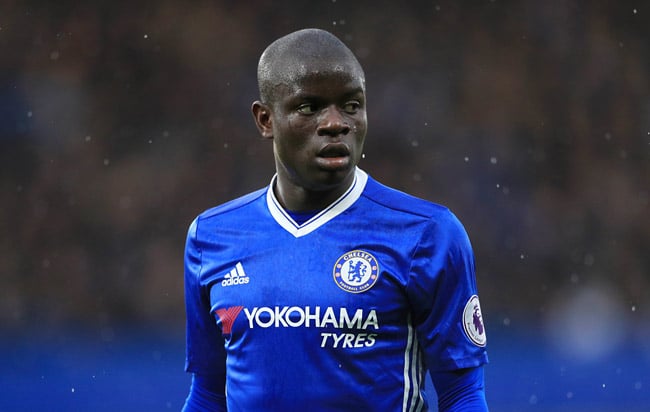 By Dave Bowler
Let's talk, instead, about Kante, who is on the brink of collecting a second consecutive Premier League champion's medal, a remarkable achievement for a player so little heralded two years ago.
Barton's views are, clearly, laughable. Kante has been the embodiment of perpetual midfield motion over these last two seasons, the kind of player who is here, there and everywhere, digging away in the midfield, winning the tackles, closing down the space, prompting the next attack.
Leicester Impact
Look at his impact on Leicester or, more relevantly, the impact his absence has had. Danny Drinkwater looked an international footballer last term when playing alongside him. This term? Run of the mill footballer, top half of the Championship, bottom half of the Premier League.
For not only did Kante make him look a better player with the work he did around him, he drove him to work harder, longer, better. And what of Mahrez or Vardy, both resting on their laurels, nothing like as industrious without Kante to lead them.
And now let's look at Chelsea. Yes, the biggest change there has been the arrival of Conte in the dugout but the shrewd signing of Kante has been critical in their return to the summit, Kante becoming a Makelele plus. He has unleashed the likes of Hazard, Willian, Moses et al to go and do their damage in the opposition half while he patrols his own territory with the restless intensity of an alsatian that hasn't been fed in days.
Beating Heart
He's the man that allows Chelsea the luxury of an extra forward player simply because he covers the ground of two men and, most important of all, does it intelligently. He doesn't waste energy dashing off to the wrong fire, only to find that it's a minor blaze and the real inferno is behind him. Like a  good goalscorer, Kante is in the right place at the right time to do his job and do it well.
That sort of player has long been the beating heart of title winning teams though and is what those scurrying to catch up with Chelsea miss most of all, suggesting that for all that it's the goalscorers who take the accolades, it's that dynamic midfielder who can switch effortlessly between destruction and creation who is the truly key player.
Look down the years. Makelele was key in Chelsea's early successes in the Abramovich era. Sir Alex Ferguson ensured that Manchester United employed the spiky likes of Roy Keane, Paul Ince and Bran Robson while at Arsenal, the one player they have really never replaced, and who they have missed most of all, is Patrick Vieira. In their 'late 70s and '80s prime, Liverpool could call on the likes of Graeme Souness and Jimmy Case as enforcers who went about the pitch setting off bombs as Shankly had one instructed his charges.
Very few sides over the last 30 or 40 years have been able to hit the peaks – and, tougher yet, stay there – without the services of that midfield fulcrum. Kante is just the latest in that long list and, though there is still much to achieve, he is promising to be perhaps the best. Whatever Barton thinks.