I say this with an extremely heavy heart, but I agree with Piers Morgan on this one; it's time for Arsene Wenger to pack his suitcase and get the hell out of Arsenal FC.
Now, let me quantify this: in two weeks time Donald Trump could decide that Wenger is the right man for the job and Morgan will obviously concur. (Everything is always relative in the land of sycophantic, teat suckers). I, though, shall remain fully behind my statement that Wenger should vacate the premises, whatever the orange Toad of Toad Hall suggests. Arsenal's capitulation at the hands of Bayern Munich this week was the final nail in Wenger's coffin. To lose 10-2 on aggregate is nothing short of embarrassing.
The 5-1 defeat, on Tuesday, was Arsenal's biggest home defeat since Chelsea won 5-0 in a League Cup match at Highbury in 1998. At bloody Highbury, for goodness sake; the old ground, before the Emirates was even a twinkle in Arsene Wenger's eye – meaning he could blame everything on the masses amounts of money flooded into the new stadium, leaving him with insufficient funds to compete with the big-hitters for a few seasons.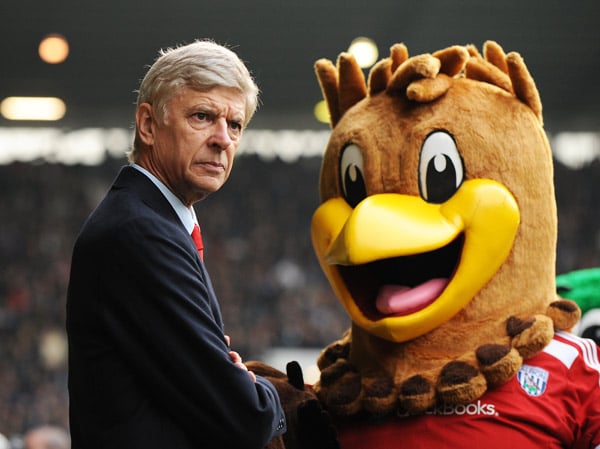 Always An Excuse
Tuesday's defeat was of course the referee's fault for sending off Laurent Koscielny: heaven forbid Arsenal have to play with ten men for 35 minutes. To be honest, they should be used to it, as they have had 18 players sent off in the Champions League. Only Juventus are dirtier and more cynical, having had 22 players sent off. Surely it can't have been the referees fault on all 17 other occasions as well?
Arsenal have now been eliminated from the last 16 stage of the Champions League in each of the last seven seasons. That's real dedication to the cause of being absolutely bog standard competitors in the Champions League. I do realise that it is quite a feat to even progress to the Champions League that many seasons on the trot, but to fall at the same hurdle every time has to say something about the management and coaching staff: they are not learning, not evolving and, unfortunately, replicating the same mistakes season after season.
If you take this disastrous record and analyse it, it doesn't look that bad. In those seven seasons Arsenal have lost at the last 16 stage to Bayern three times, Barcelona twice, and to AC Milan and Monaco one-a-piece. At this complete base level, I guess you could forgive Arsene Wenger and the players he puts out on the pitch.
Fans Turn
But, delve a little further and you realise most of those defeats were brought on themselves by not finishing top of the group stages. Hence, you play the giants of European football, who you have already proven, time and time again, that you are not good enough to beat.
One more for the history books is the fact that Arsenal haven't conceded five at home in Europe since Spartak Moscow tonked five past them in a 5-2 win in 1982. The records they are-a-tumbling and Wenger's excuses they are-a-escalating. Everything is always someone else's fault and Wenger, pretty much never, looks in the mirror and points. This really isn't supposed to be a character assassination, but I believe Wenger's ship has finally come in. Arsene, himself, may not be willing to see this and that is why fans have to carry on protesting and the powers that be have to heed their fans suggestions.
Wenger Out?
At the Emirates on Tuesday night we saw a mixture of 'Wenger Out' placards and choruses of 'Get Out Of This Club,' directed at majority shareholder Stan Kroenke. I feel that Kroenke should get the hell out of dodge unless he can convince the board to remove Wenger. Gary Neville (Sky pundit/failed manager) has gone on record stating that Arsenal fans should show a little more respect to Wenger and remember what he has achieved at the club in the last 20 years. I truly don't see the relevance of the last two decades.
The old football adage is that you are only as good as your last game. Appears to me that Arsenal have been bloody shocking as of late and any manager can only be judged on what he is currently achieving. I couldn't give a f**k if Wenger won the treble fifteen years ago and banged in 40 goals in the season himself: that has absolutely no bearing on the current humiliating circumstances that fans are having to endure.
The Good Old Days
Let's be honest, about 15 years ago I was walking Millwall FC out in the FA Cup final against Manchester United. Last night I toddled down to Pier 40 for a 10pm kick off in the NY Gotham League. My knees hurt, my back hurts and my ego is forever damaged. I assume you get my point that things change over time and the history of a manager and his football club is exactly that: HISTORY.
Everything that has gone before is water under the bridge and if you are an Arsenal fan today, you are humiliated, not confident of the future and not even assured your usual spot of fourth in the English Premier League come the end of the season. Yes, we must respect what Arsene Wenger has achieved at Arsenal FC, but everybody has a shelf-life and Wenger's sell-by date was about May 2016 -. at best.
Whatever it takes, if I was an Arsenal fan, I would be making sure the club that I love has a new manager come the start of the 2017-18 season. So what are you waiting for? get out the sheets and the paint and start making the signs: you know it makes sense.