Can Harry Redknapp save Birmingham City's season? Dave Bowler digs in.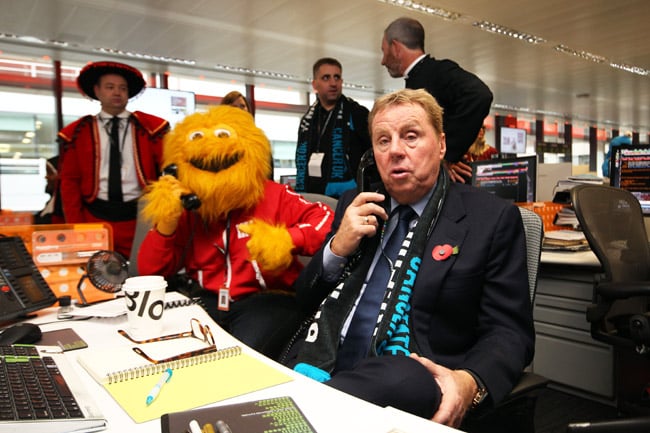 By Dave Bowler
It's the time of the season when for a few, the excitement – or the fear – is building as we reach the climax of the campaign with titles, relegations, cups, promotions all hanging in the balance. 
As a consequence, it's a moment when odd things happen, sometimes for good, more often if not quite for bad, then to no effect at all. Newcastle's late decision to bring in Rafa Benitez last term, for instance, was just that – too late.
Occasionally it works, as it has with Sunderland on a couple of occasions in the past, though you have to wonder if that has done them more long-term harm than good, successive great escapes failing to address the underlying issues that will finally gobble them up this season.
Desperation is generally the wrong mistress to give in to, but many continue to succumb to temptation. How else to explain the appointment by Birmingham City of a 70 year old who hasn't worked as a manager in England for a couple of years?
Hurry Up Harry
Harry Redknapp – for it is he of whom we speak – has been summoned to Birmingham City to salvage a situation of their own making after Gianfranco Zola resigned on Easter Monday having won two games out of 24. This after Zola himself replaced Gary Rowett at a point when Blues were seventh in the division and only out of the play-off places on goal difference.
It should be noted that, while Rowett was doing very nicely at Birmingham, the fact that his team were seventh was perhaps more a reflection of the Championship's quality than that of his team but nonetheless, a solid enough season beckoned.
But Birmingham's new owners wanted more than solidity. They wanted to watch the kind of football that the likes of Arsenal or Liverpool might put out on a good day, 70% possession, you get the drift. Except that the notoriously attritional Championship doesn't work that way and, if it did, this current Birmingham squad wouldn't be the ones doing it. There are decent, solid players there, but nothing special, nothing that could deliver that kind of football and so the experiment was forever doomed to fail.
'Arry's Game
Redknapp, who has probably barely seen Blues play this season, did recognise at least that much on accepting the job, making it very clear "I cant turn them into Real Madrid". If only Zola had realised that.
For all that Redknapp is a choice from out of nowhere given that we'd all assumed he was retired now, the immediate requirements are relatively thin. Win one out of the last three and, in all likelihood, Blues are safe. With Redknapp's first game coming at Villa Park on Sunday, it's not going to be that easy, but having him breezing into the Birmingham dressing room might be the antidote to the gloom that has settled over them these last few months as defeat has followed defeat.
From Birmingham's point of view, it's a no-risk strategy. Something simply had to be done because otherwise they were sleepwalking to relegation, just as they had from the Premier League after winning the League Cup six years ago. Redknapp will give them three games and if they get the points they need, great. If he doesn't, well they wouldn't have got them anyway.
But what happens then is the interesting thing. It's hard to imagine Harry being keen on working in League One at his age, but a crack at promotion and a final return to the Premier League might appeal, one last chance of vindication, of removing the QPR stain from his record.
On the other hand, if I was Birmingham, depending on the financial resources that new ownership has at its disposal, I'd be taking a careful look at just how keen Harry is at getting into the transfer market and at what cost. Looking at what he left behind at Portsmouth, West Ham, Spurs and QPR might well be instructive.