The art of defending is alive and kicking and currently hunkered down in Turin.
By Matty Lawrence
In this column I usually throw my jingoistic hat into the ring and talk all things EPL – but not today; not after witnessing the defensive master class that Juventus performed at Camp Nou earlier in the week.
Yes, they are aging, yes their squad is currently wafer thin, but we all saw the stunning comeback that Barca produced mere weeks ago against PSG. While many expected Juventus to hold out and win, no one thought they would pull down Barca's shorts in their own backyard and gave them a thorough spanking.
I think every spectator the world over expected more spark and less whimper from the hosts, but Juve shackled every single Barca player: not one was allowed to have even an above average performance. As the game drew to a close and the "ole, ole's" began ringing around Camp Nou from the away end you knew that you were witnessing something special from Juve, and the end of an era from Barca's point of view.
The defensive performance from Juve had sucked the life out of Barca, allowing Juve to keep the ball for large swathes of time as the clock ticked ever closer to the 90 minutes mark. They huffed and they puffed, but Barca couldn't blow down Juve's wall. You turn on many football games around the world nowadays and it's as if defending is just a thing of the past; a figment of the imagination.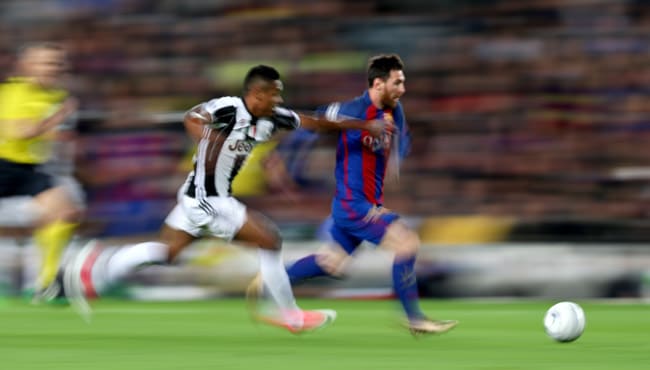 When John Stones was bought for 50 million quid and touted as the best young defender in England I sat up and took notice. It didn't take too long to realise that however comfortable he may be on the ball, he can't actually defend: not properly, not to the level required to win Champions League trophies, or tournaments with his country.
I sincerely hope that players of his ilk sat down with a pen and paper and thoroughly studied the Juventus backline.
Let's be honest here, the majority of the Juventus back five should be drawing their football pension. Buffon is 39 and looking as sprightly as ever; Bonucci turns 30 in a few days; Chiellini is 32; Dani Alves is 34 in a fortnight and that leaves Alex Sandro a virtual foetus at left-back at 26 years of age.
Although Monaco buck the trend of youngsters coming to the fore in the Champions League, you sometimes can't beat a bit of experience. Along with that experience, their strong desire to defend and protect their goal at all costs seeps from every pore of the Juve back line. They were able to pinch incredibly narrow against a Barca side lacking any adept width. Add to the fact that the whole Juventus side works for each other and at times you had a back six with Cuadrado and Mandzukic often filling in as full-backs allowing Juve to play with four centre-backs.
Additionally, Pjanic and Khedira screened the back four/six in exemplary fashion and Barca simply had no space to attack. I hate statistics with a passion, and not just because I'm not very good at mathematics, but Barca had 19 attempts on goal and only one hit the target….no wonder Buffon pulled on his flat cap and lounged on his deckchair for large portions of the game: no post match shower required.
Frustration
For all their possession (65% if you must know) Barca had literally nothing to show for it. As the game progressed Messi, Neymar and Suarez became more and more frustrated, with the latter frequently left to flap around on the floor at every Juve touch. Luis Enrique said before the game that Barcelona aimed to score five against the mighty Italians. He had every right to have more than a modicum of confidence with a 100% record in the Champions League at home (15 out of 15). Unfortunately for him, his confident words came back to haunt him as Barca couldn't even muster five shots to sting the hands of Gigi Buffon.
The writing was already on the wall for Barca with the prior record of Juventus' desire for clean sheets in the Champions League: Juventus hadn't conceded a single goal from open play going into the Barca match and still haven't (a stunning 900 minutes). Allay this with the eight out of 10 clean sheets in the Champions League this season and surely Juve are the team to beat in Cardiff this May.
Enough of my pontificating about the mighty Juventus and let me turn very briefly to my day job working for Sporting Kansas City of MLS fame.
Whilst we are on the topic of defending let me tip my cap towards the SKC backline who themselves have only conceded two goals in six games this season: both of those coming in additional time and proving nothing more than consolation goals for San Jose Earthquakes and Colorado Rapids respectively.
Now, I am making no comparisons between the two teams as a whole, but I'm definitely comparing the defensive strengths of both Juventus and SKC. The similarities are blatantly apparent: both teams defend from the front. Dom Dwyer for SKC works tirelessly up front to prevent any quality service from opposition backlines.
The ethos of both sides is to grind down the opposition before letting the skills of the attacking players come to the fore and prove decisive. SKC have kept four clean sheets from six games so far and move towards a top of the table clash this weekend with FC Dallas. FCD themselves have a formidable defense, having conceded only three goals this season.
What I really like above all else is that four American centre-backs who all know how to defend will be on show: Opara and Besler (right) for SKC and Zimmerman and Hedges for FCD. A couple of the guys in control of USMNT positions and a couple fighting tooth and nail for spots in the squad. The future certainly looks bright in that position, before we even look at the European based American defenders.
Cast a glance towards the game if you are lucky enough to get the chance.
I guess, in conclusion, I'm saying that defending still matters. Give me a lion-hearted John Terry over a ball playing, non-defending John Stones any day of the week.