And so it ends. In a weekend that showcased both the best and worst of Italian football, Juventus have all but secured their seventh successive Serie A title, as they lead Napoli by four points with only three games remaining.  There is still the outside chance of an epic Juventus collapse, but in all likelihood Napoli fans will have to settle for knowing they are the team that ran Juve the closest in this seven year run.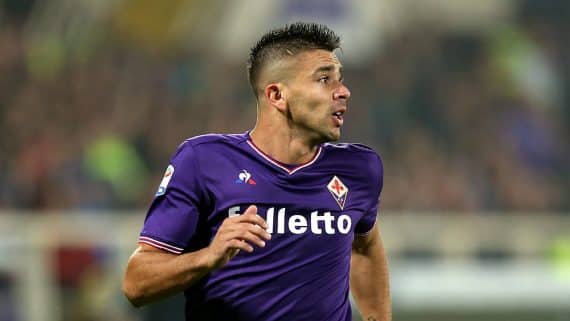 By Michael Ottolenghi
Let's start with the positives. Serie A and Italian football are often accused of low blows, corruption and conspiracies, sometimes with good reason. But Napoli's 3-0 loss to Fiorentina last Sunday was testament to the existence of true sportsmanship in Serie A (and some great goals).
Some Juve fans were worried that Fiorentina would have buckled more or less voluntarily and allowed Napoli to win, such is their dislike of Juventus. But instead la viola put on a bravura performance with a first hat-trick from Giovanni Simeone, which the fans applauded. It may seem odd to celebrate a team not willingly losing a game, but for those who know the history of late season Serie A games and the Fiorentina-Juventus rivalry, it is certainly an improvement.
The negatives were on display in Juve's come from behind 3-2 win against Inter at San Siro.  Inter were already 1-0 down when they were reduced to 10 men for a foul by Matias Vecino on Mario Mandzukic after 18 minutes. Inter nonetheless came back with a Mauro Icardi header and an own goal by Andrea Barzagli to lead 2-1 with 5 minutes to go.
But then manager Luciano Spalletti substituted Icardi and put on defender Davide Santon. It was a negative substitution and Juve took full advantage of it, with first Juan Cuadrado and then Gonzalo Higuain scoring to give Juve the win.
Controversy
So where was the negative? The comeback was noteworthy, but as usual with Juventus, the win was marred by a strong whiff of refereeing controversy. The Vecino red card was probably justified, but the referee had in the first instance brandished a yellow before changing his mind after consulting the video assistant – which seemed to go beyond the criteria for which the technology is meant to be used.
But of more significance was the referee's shocking refusal to give Miralem Pjanic a second yellow card for what can only be described as an assault on Rafinha a mere 5 metres in front of his eyes. Juve may have gone on to win the game anyway, but those decisions marred both Juve's comeback and their inevitable title triumph.
What is left of the title race will see Juventus host Bologna on Saturday while Napoli face Torino at the San Paolo. For Napoli, the loss of the title is even more heartfelt because their team is going to be significantly broken up over the summer, with Pepe Reina joining Milan, the future of Dries Mertens uncertain and manager Maurizio Sarri linked to clubs in England.  But on the positive side the partenopei will have given Serie A, and European football, some of the most adventurous attacking football for a while.
Ultras
And one final negative that may hopefully turn into a positive. We have often touched on the recurring violence that blights Italian football in these pages, and highlighted the links between clubs and their "ultra" supporter groups. In the aftermath of the disgraceful scenes outside Anfield before the Liverpool-Roma semi-final last week, when a Liverpool fan was gravely injured by a group of Roma ultras, Roma president James Pallotta has come out with the strongest denunciation of ultras ever seen by an Italian club president.
It may be because he is American, but whatever the reason, Pallotta's challenge to Italian football was to change and confront violence in and around stadiums, including by ultra groups, or to be left behind. Reactions have been muted so far, but while on-field shenanigans continue to cloud Juventus ten years after they were relegated for sporting fraud, hopefully off the pitch this could be the start of a change for the better.