This Saturday, for the first time in the 2018 Major League Soccer season, it is the Hudson River Derby the Derby Della Gotham, the Bridge and Tunnel Tussle or whatever else you'd like to get creative and call it, as the New York Red Bulls play host to New York City FC.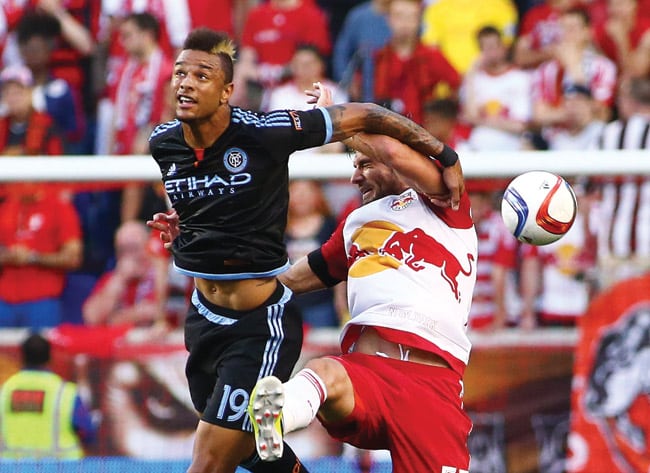 Tim Hall's View From 101
There are some people that would really like us to go above and beyond the usual game preview stuff to amp up the energy and get everybody hyped. Perhaps you would consider throwing out the record books when these two teams square off, because by golly it just comes down to who wants it more. Should you or someone you know be named Katy, may we suggest you bar the door? And we would be remiss if we did not mention that while your ticket does entitle you to the entirety of your seat, in reality, you will only require the edge.
But, truth be told, this is getting a little bit tiresome, a little bit played out, and a bit too run of the mill.
The NY Derby or whatever it's called (part of MLS Rivalry Week!) started out as a really new and exciting thing, which the powers-that-be got behind and hyped up to the moon and back. The problem is that once you make these grand ovations and promises of the biggest game of the year featuring two teams that can't wait to bite each other's faces off, then, you have to deliver that. Exactly that. At least that. Forever. And of course you can't, nobody can, it's an unrealistic goal to try to reach.
Hype
This is not to say that these two teams or that MLS can't live up to some hype; they've got the propensity to put out some genuinely enthralling games, from time to time. In fact, roughly as often as any major rivalry or league in the world. Think about all the major rip-roaring slobberknockers across Europe that have been plugged and promoted only to become snoozers. (We're looking at you, Mr. Mourinho.)
Nor is this to say that one team is so much better than the other, or one isn't on the other's level, or one has beaten the other from pillar to post so often that it just isn't fun anymore. Not at all; these are two good teams and it's a game that could go either way easily. There are a number of good players on both sides – some household names, some waiting to be – that are going to try their hardest and give it 100%.
And there is legitimately a chance that these two teams will be looking at each other when the MLS games count the most, in the playoffs at the end of the season. But in May? If you're playing the team cross town or the team cross country, they mean about the same.
But..
Maybe it's because all the insults that get thrown back and forth have all been used over and over again, mined for every last bit of use and then left to just be a hole in the ground. You know how these go: there's the location thing, the Red Bulls play in New Jersey. City play in a baseball stadium. Red Bull is an energy drink. But NYCFC's ownership isn't exactly squeaky clean in their own right. Oh, but attendance, but the trophy cabinet, but this but that. The fans can basically have these arguments in their sleep, and watching some of these lame insults be lobbed back and forth, it is completely feasible that is the case.
It's getting so bad that the players are starting to get involved, and with professional athletes, there is nothing more staid, more flaccid and more to-your-face fraudulent than players trying to advance a narrative of rivalry for promotional purposes. To wit, this week NYCFC's Jo Inge Berget said "It's the derby of New York. I don't know if they (RBNY) are really a New York team, but they want to be one." Now, for a Norwegian, that's incredibly demonstrative and very nearly reflective of a real human emotion, but for the rest of us, it's hard to imagine blood being spilled on the field for the city's honor based on that statement.
Soccer For All?
But maybe there's more to the meh. Maybe this has more to do with the fact that this was always going to feel like a down year for the sport in the United States, what with everybody else going to the party this summer and us grounded. We can try to put on a brave face and convince everyone that we're having a grand old time here at home watching New England and Minnesota duke it out, but in reality, they know, and we know, and they know we know, there's somewhere else we'd rather be.
And maybe there's so much else going on with the sport here that doesn't exactly make us feel great about where the game is headed. An entire league – the NASL – basically evaporated over the last two years. One of the cornerstone teams of this league is threatening to move across the country, and the owner of said team appears to be doing all he can to make sure that the fans in his current home of Columbus have no reason to come out and support the team he wants to steal away from them.
MLS preaches "Soccer for All" and yet the champion this year will get the Philip Anschutz trophy, named for a guy that gives generously to anti-LGBT causes. MLS and its teams regularly use pictures of people standing on railings to express how raucous the atmosphere at games can be, without telling you that a security guard came and rectified that situation a second after the promotional photo was taken.
Stale
Or maybe the MLS season is just too long and too repetitive to get all worked up into a froth about a match a third of the way in. Maybe the Sandwich Board Showdown needs a new lick of paint, an infusion of new talent and new big name stars to freshen it up a bit.
Or maybe the league can just stop shoving the idea of a rivalry down everyone's throats for once and let something grow – or not! – organically. It's neat having teams in this close proximity and something will eventually come out of that, but there's nothing more desperate and needy for attention than attempting to show the world something that is not even there.