The Kicking & Screaming soccer film festival will return to NYC this winter. the event will take place at Crossbar soccer cafe in uptown Manhattan during the World Cup on December 1st and 2nd.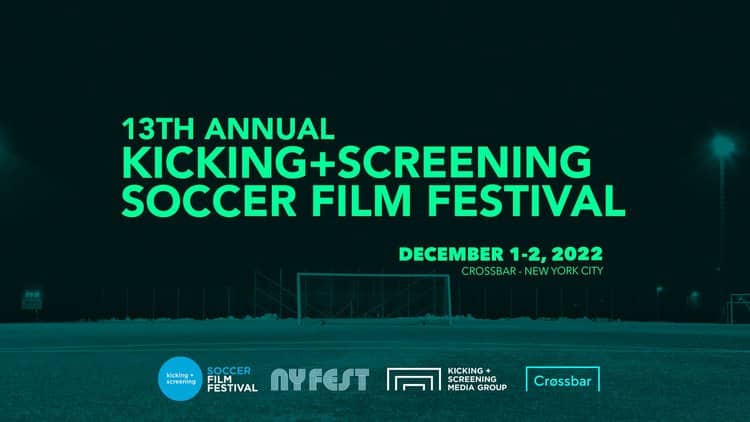 "We are thrilled to host this year's festival right in the middle of the biggest soccer event on the planet," said cofounder Rachel Markus. "We have had an amazing array of great features and shorts submitted this year, and we look forward to once again showcasing some of the best soccer films in the world. These films deserve an audience and a spotlight. That's what K+S is all about. "
The film lineup and tickets will be released in the coming weeks.
13 Festivals
The 2022 edition of KSSFF New York will be the 13th festival in the Big Apple.
The festival was founded in 2009, and other than a pandemic-related cancelation in 2020, has consistently taken place in New York City.

K+S has also organized festivals in London, Liverpool, Amsterdam, Rio de Janeiro, and Abu Dhabi, among other cities.
A new location
After more than five years in midtown Manhattan, KSSFF New York 2022 will see the festival move to a new venue, Crossbar, a recently opened soccer-themed concept space. The venue is located at 250 West 86th Street.
The multi-purpose space includes an intimate screening venue, a bar and restaurant, a small-sided indoor playing field, and an Upper 90 soccer shop.

"We are very excited about the new experience we will create at Crossbar, the coolest new spot on the New York soccer scene," K+S cofounder Greg Lalas said. "It's going to be an intimate and personal experience reminiscent of the early K+S festivals."

K+S's partnership with Crossbar will extend beyond this year's festival to launch a monthly soccer film series, starting in the first quarter of 2023.
Enhancing the World Cup
The calendar for KSSFF New York 2022 has been carefully chosen to take place while the FIFA World Cup is in full swing.
"Our goal is to provide fans with the opportunity to keep the World Cup party going day and night," Markus said. "We are concentrating on World Cup-related programming, and with all the World Cup games taking place during the day, we hope KSSFF will give fans in the NYC soccer community the chance to extend their passion to an evening experience."