Smithfield Hall is considered by many to be New York's best soccer bar. Smithfield Hall is second to none for atmosphere and presentation. This midtown Manhattan soccer bar attracts fans from around the world, and a few celebrities too. Rising like the Phoenix from the ashes of Nevada Smiths It is also home to the Penya FCB NYC, American Outlaws Manhattan, Bayern Munich NYC, NYC Hammers, Lupi Di New York (Roma), Nerazzurri New York (Inter Milan) and OM Nation New York (Marseille) and New York Reds Manchester United supporters group. 
Smithfield Hall – Midtown Manhattan Soccer Bar
---
Penya FCB NYC at Smithfield Hall
The Barcelona supporters club is one of the original Smithfield Hall supporter groups having migrated from Nevada Smiths in 2011. The New York club currently has over 500 paying members and is one of the largest Barcelona supporters clubs in the world.
"Firstly, what makes it special is that we are watching the team that we love. Secondly, we come here with the expectation that we're going to watch a great game with the people that we know from every weekend. Third, we get recognized and treated very nicely by the staff, so we really truly appreciate what they do for us." explains Club President Jordi Getman-Eraso. You can read more about the Penya FCB NYC here
---
---
Don't miss any soccer games at Smithfield Hall.
Check our amazing guide to soccer games on TV and Streaming
---
Bayern Munich NYC Supporters Club at Smithfield Hall
The Bayern Munich supporters club (FCB NYC) was formed in 2012 as a way to connect all the Bayern Munich fans in the tri-state area. Their President Matthias Schmitt chose Smithfield NYC as the pub to watch Bayern games and he has witnessed the club grow from attracting a handful of fans to having sold out finals. Read more about the Bayern New York fans here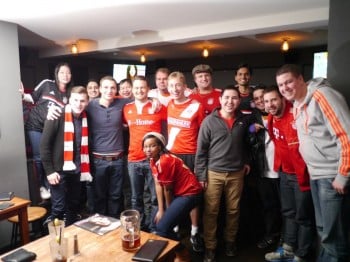 ---
NYC Hammers at Smithfield Hall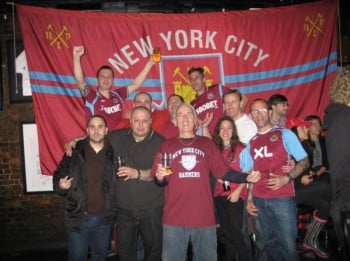 "Smithfield has a special atmosphere that will really make you feel that you are at the game," enthuses Sean Fewell, head of NYC Hammers, the New York West Ham United Supporters Club. "There is no better New York experience than to wake up in the morning, and watch your team while having a couple of laffs. It also creates feeling of pride, community and shared respect," says Sean. You can read more about the NYC Hammers here.
---
You can also download our app for soccer bars. It's free and available for iPhone and Android..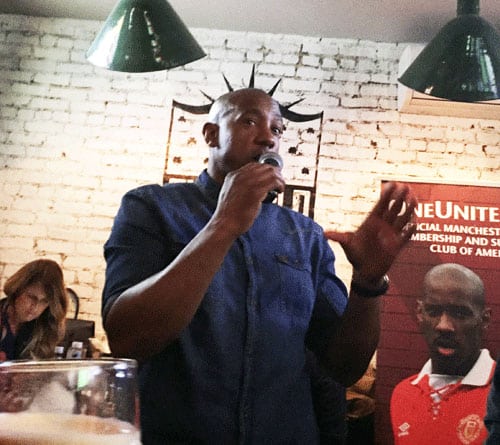 ---
Smithfield Hall
138 West 25th St.  212 929 9677