Dion Dublin was in town recently for a weekend break from a busy schedule. During his visit, the ex-EPL star and next presenter of BBC's 'Homes under the Hammer' went to Smithfield Hall to watch his beloved Manchester United demolish Spurs. He then stuck around to chat with delighted Man Utd fans.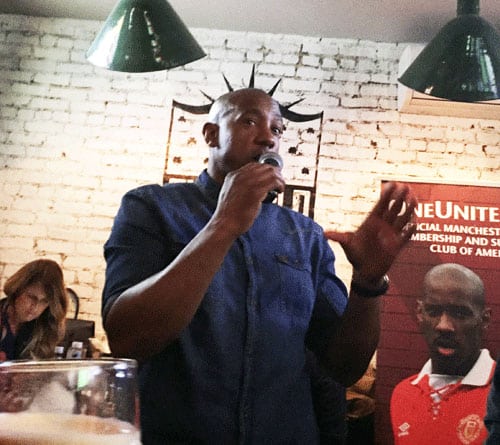 First Touch reporter Matthew Nelson sat down with the ex-Cambridge, Celtic, Coventry, Leicester, Norwich, Aston Villa, Man Utd and England striker for a chat about Keano, Sir Alex, racial equality, and the Dube.
So Dion, What brings you to New York City?
I've been a few times now, made some good friends, I'm just on a four day break so as always I thought I'd pop in and see Tommy in Smithfield Hall.
Dion, Soccer In The US Continues To grow with NYCFC launching at Yankee Stadium, what do you make of that progress?
I think a lot of it's down to, obviously Mr. Beckham, the man that's turned it around, I feel. It just goes to show that the standard of football is getting better here. My friend Darren Huckerby has been here (with San Jose), Becks has been here, Robbie Keane's been here. There's been a few that have come, of a good standard, so it just goes to show that the draw is there for the MLS. You've got Frank (Lampard) coming over soon and Stevie Gerrard coming as well, so you're not getting the worst players, you're getting the cream of the crop and they're coming for a reason.
Yes it's a great standard of living, but they wouldn't come if the football wasn't up to their standard either. So, I think the progression has been unbelievable, and I think it will just get better.
Is it something that you ever considered, perhaps toward the tail end of your career? Were you ever tempted to make the jump across the pond?
Ha ha. Actually the only time I ever played here I played in Giants Stadium for Aston Villa against Sampdoria. It was absolutely rammed out, even though it was only a pre season game. It was absolutely roasting hot. There were about 60,000 people in the stadium and they were mad for their football..sorry, soccer (laughs). Even back in 2003 when I was at Aston VIlla you could feel the progression, the warmth towards us. I would have loved to have had a year or two here, but towards the end of my career I went to centre-half, legs had gone, ha ha.
You started as a centre-half, didn't you?
Well you know I started as a centre forward when I very first started out,  and then had a couple of games at centre half. Unfortunately I did well at centre half and so people said, 'listen, he can play centre half as well'. I did enjoy my time at centre half but I'll always be a centre forward. I like scoring goals and winning games. And I like leading from the front you know.
So What do you make of the problems Manchester United have had since Sir Alex Ferguson, your former gaffer, left the club?
It's difficult to follow Sir Alex. Difficult to follow the gaffer's progression, his leadership, his will to win, his pure passion and the respect that he rightly deserves and gets from everybody around the world of football. You can't follow it. You're going to have to take a new path. Draw a line under the Gaffer, it didn't work for Mr. Moyes either. I believe he should have had a bit more time if I'm honest.
But now Van Gaal's in charge. It's a new era. I think they believe that this is the man to try and bring some glory days back to Manchester United. On the pitch, for me, Michael Carrick is the catalyst for Man Utd – after Wayne Rooney. But Carrick's the one who's got the footballing brains, starts things off, gets the ball off the back four.
What was your relationship with Fergie like? I imagine it must have been frustrating for you because you were signed but then you didn't actually play that much.
No I didn't. I signed from Cambridge United and scored on my debut against Southampton. That was one of the first Monday night live games on television. Then I broke my leg on my Old Trafford debut, which sort of set me back slightly. What set me back even more was that they decided to sign Eric Cantona through my absence, which didn't help me at all. So I do consider myself the catalyst to Man Utd's success. I break my leg, they bring in King Eric and, you know, their fortunes changed. But Sir Alex and I had a great relationship.
How Is the Relationship Now?
We've probably got an even better relationship now. I work for Man Utd on Matchdays on the odd occasion, maybe ten or fifteen games a season. The gaffer always sees me and gives me a clip across the back of the head if I don't see him and he sees me. It's just purely a respect thing for the way he treated me.
I was in a cast from my groin to my toes when I broke my leg, and he would always say to me 'do you want to come to the European games. I'll get you two seats on the plane, no problem at all'. If you work for him in the way he wants you to then he'll give you the upmost respect. All he asked for was blood, sweat, and tears – and he got it from me.
I suppose that he can be a little bit prickly though and he's fallen out with some of his former players, Roy Keane in particular. What did you make of that spat?
Two very strong characters. Two people that are not going to back down. They'll fight their corner, and they'll go for it. I think below the surface Roy has the upmost respect for the gaffer. I know that without a doubt, and I'm pretty sure it's reciprocated by the manager as well. So, you know, stuff like that happens. It's just pure passion. Sometimes passion can take over. Those two are possibly the most passionate people I've ever been in the game with. They do not want to draw – let alone lose.
They don't want to give the ball away. Roy Keane's standards were so high and the gaffer is just a perfectionist. Even me, signing from Cambridge United, he expected so much of me. Which is what I wanted. I want the pressure. You put the Man Utd shirt on and you're under pressure, so you have to deliver. And that's what he expected from his players.
Another one of your former clubs, Aston Villa, have been struggling in general. What do you think is going wrong there, and is Tim Sherwood the right man to turn it around?
I don't think the players that you would expect to stand up and be counted have actually stood up and said 'right, here we go, this is what we've got to do to turn it around'. But now Tim's gone in and he's obviously spoke to the players in the correct way. He's set some boundaries, set some standards. I know what Tim's like.
I played against Tim several times. He's a proper winner. He won't take any messing about.There are no gray areas. Do it my way or I'm happy for you to leave, that kind of attitude. And in Villa terms, he's got the two most important people back on side again with Benteke and Agbonlahor. If those two players are flying, then I think Villa will be OK. The rest of it will look after itself. Tim's the man for the job and Villa will stay up without a doubt.
Have you ever considered coaching yourself?
Erm, there's  been moments when I've dropped my guard a little bit and I've thought to myself, well maybe I'll nip in and have a little go and dip my toe in. But I never actually got a post in managing or coaching. So at present I'm going to stay this side of the microphone and just keep doing the interviews and the chatting and presenting. I do a bit of media as well for the BBC, Premier League, Man Utd TV, which I'm enjoying.
There is a real lack of black managers in the game. Is that something that you've thought about? Pundits have speculated that English football should consider introducing the Rooney Rule. Would you like to see the league go that way, and what's your take on the situation?
I can't believe we actually still see in color, to be fair. It frustrates me that we're still segregating black and white in conversation in Britain which annoys me anyway. We shouldn't really be talking like that. I think maybe it's a little bit stagnant at the top of the tree. Maybe people at the top should drop their guard a little bit and come into this century and start to see what's going on.
Maybe they're stuck in their ways a little bit. If you want a job in football, regardless of wether you're a player or manager, you've got to work incredibly hard. So if it means that it makes it more equal to have the Rooney rule then lets do it. But you've got to question how many black people are going for managers jobs anyway. It's just equality for gods sake. You know, black and white, who cares.
Considering the number of black players active in English football, the lack of black coaches does seem wrong …
It's only wrong if they're not getting the same chances. They could be going for the same jobs but might not be good enough. They might not have the CV for it. There might not be enough black people going for those jobs. I'm not going to side either way on this one. Look at the CV, have the interview with the individual, disregard the color. If this individual comes along with passion and he sounds like the person you want for the job then give it him. Chinese, black, white, orange, I don't really care. If you're good enough, then you should get the job, as simple as that.


One of your post football ventures is quite interesting, you invented a musical instrument. Tell me about that. Where did it come from? Why did you do that?
Well I invented something called the Dube. You can go to thedube.com and you can find out all you need to find out about it. I invented it nine years ago when I was at Norwich City. I've always been tapping, I've always tapped the table. You've probably seen me at the table tap tapping away while the game's going on. I've always tried to make rhythms, always had a musical family, and I decided to make the Dube. It's in the shape of a cube. It's a hollow wooden box with nothing inside it apart from a microphone.
Tell us more!
Each side that you hit of the cube gives you a different tone. So it's all very different. Yes it's a square box but it sounds incredible. Put a microphone inside so you can use it on stage. It's used by Robbie Williams drummer and Ollie Murs' drummer. Courtney Pine loves it. So I'm getting it into the right areas. One of the biggest drummers in the world, a guy called Thomas Lang, loves it. He's got his own signature Dube. Go to thedube.com and have a look, see what you think. It's good fun.
And you dabble with music is well don't you? You played your Dube with Ocean Colour Scene right?
I have yeah. I played Dube with them and Toploader. So yeah, it's really good fun. I also manage a couple of bands – a gospel choir and a classical singer. I've got a couple of DJ's too, so yeah it's all fun. Music is really my passion now, even though I'm working on the football side of things on the TV, but music is where I want to be. The Dube is where I want to be. I want to make it successful, I really do. I think once you guys get it here in the US then I'll be OK.