The passing of Dave Mackay leaves football shorn of another of its true greats, a footballer of monumental gifts, of drive, intelligence, of an unquenchable desire to win, of physical prowess that saw opposition players simply bouncing off him and possessed of a left foot that had surely been brought down from heaven on the wings of angels.
Dave Mackay 1934 -2015
By Dave Bowler
That was possibly the only connection with the angels that Dave had during a playing career in which that barrel-chested physique and utterly committed attitude went before him, creating an impression of an intimidating character who would stop at nothing to win. Sure, he was the archetypal player who would knock his granny out of the way if she was foolish enough to go into a tackle with him, but that disguised a rare talent and vision that made him one of the finest talents of his generation.
Dave Mackay – From Hearts To Spurs
He established his reputation at Hearts, quickly becoming a Scottish international, forming part of the side that went to the World Cup in 1958. But it was at Tottenham that he came into his prime, becoming a driving force in one of the most extraordinary teams the English game has ever seen.
In March of 1959, manager Bill Nicholson told his skipper, Danny Blanchflower, that Mackay might be available for a move. "Then why the bloody hell are you still here?" came the response from Blanchflower, the ringing endorsement required for Nicholson to get on his way to Edinburgh and secure the move.
When he reached London, Mackay was the proverbial final piece in the jigsaw, playing in the half-back line with Blanchflower, the yin and yang of a Spurs side of all the talents, pulling the strings, pressing the levers, letting nothing pass, the wellsprings from which an extraordinary team drew its life.
FA Cup Triumph For Spurs
Spurs played football of flowing majesty, of pace, power, and intelligence. They decimated the rest of the First Division, such that by Christmas 1960, the league was all but won. Attention turned to the FA Cup, which was duly delivered too, the 20th century's first double, a seemingly impossible mission, now accomplished.
In a frenzy of achievement, Spurs defended the FA Cup the following year, then became the first British team to carry off a European trophy when they lifted the Cup Winners' Cup in 1963. The beating heart of it all was Mackay, ball winner, ball user, goalscorer on occasion, leader, and guiding light. There was a further FA Cup win to come in 1967 before, a year later, came the final act in his already stellar playing career.
Brian Clough Signs Dave Mackay For Derby County
Brian Clough, a youthful manager making his name, attracted the 33-year-old to Derby County of the Second Division. The shrewd Clough could see that Mackay's legs might no longer be up to the rigors of the midfield melee, but that the Scot's brain was razor sharp and so he installed him at sweeper where his vision and still magnificent range of passes transformed the Rams overnight, creating a team that could turn defense into attack in the blink of an eye.
Promotion followed almost immediately, Mackay named joint Footballer of the Year with Tony Book of top-flight Manchester City, and Mackay was then pivotal in establishing Derby as a real power in the First Division over the next two seasons before finally, the boots were hung up and he moved into management at Swindon.
But there was to be a second act to his Derby odyssey. In October 1973, football was stunned as Brian Clough resigned from the club after an increasingly scabrous relationship with this chairman, Sam Longson finally reached breaking point. Longson might have been an idiot to let things go so far and to lose the brightest young manager in the country.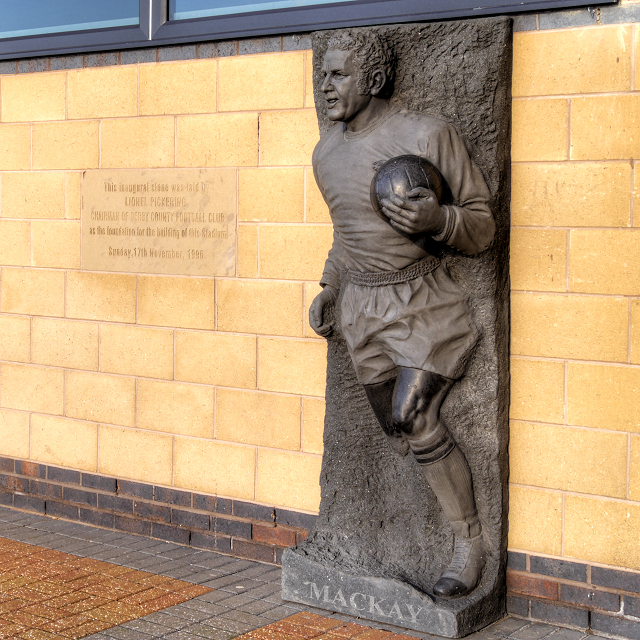 Mackay Becomes Derby Manager
But Longson was nobody's fool and, as supporters threatened boycotts and the players threatened to strike if Cloughie wasn't reinstated, he played a masterstroke. He appointed the only man whose stock was anywhere near as high as Clough's. Dave Mackay was the new Derby manager and better yet, he left Nottingham Forest to go there.
A club that could have spiraled out of control following the loss of Clough and Taylor was swiftly steadied in Mackay's hands, so much so that they finished third that season. A year on, Mackay's side were lifting the First Division championship for the second time in four seasons, an extraordinary feat for both team and manager. They almost eclipsed it the following year, in the hunt for the league until late on, finishing fourth as well as beaten FA Cup semi-finalists in 1976.
Derby Slide
Not even Mackay was indestructible though and as the team aged, as injuries to crucial players like Roy McFarland and Colin Todd, a sublime defensive pairing took their toll, as good players went elsewhere, Derby County suffered the inevitable consequences and began to slip away from the peak. A sluggish start to the season saw him sacked in November 1976, just over three years since he'd taken over as manager, a decision as scandalous in its way as the one to allow Clough to go in the first place. Some people never learn.
Mackay's career never touched those heights again, but he will forever remain a consummate footballing man, one of its finest exponents, and a true all-time great.
Rest easy Dave.