Seattle Sounders FC won the second championship in the club's Major League Soccer history, defeating Toronto FC 3-1 in 2019 MLS Cup at CenturyLink Field on Sunday afternoon.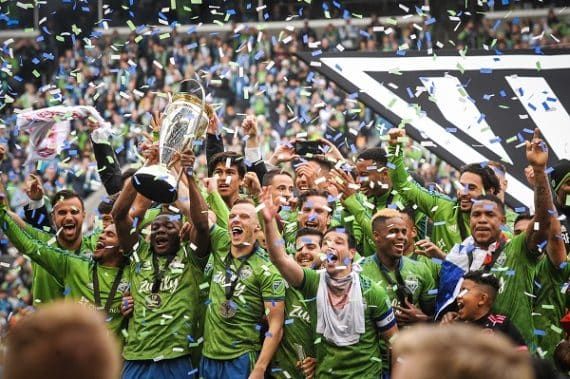 Victor Rodríguez was named MLS Cup MVP after netting the second Sounders FC goal, after coming into the match as a substitute. Kelvin Leerdam and Raúl Ruidíaz also scored goals for Sounders FC.
"I think the first half was hard for us because Toronto played very well," said Rodriguez after the match. "I think in the second half, we tried a little more of our soccer, our football. We kept a little more of the possession. This was, for me, key for the game. I am proud of my teammates. I think we deserve that. I'm very happy."
The game drew a crowd of 69,274, the largest crowd for a sporting event in the history of CenturyLink Field. The crowd was the second-largest ever in MLS Cup history.
"I think this is why our fans are so important to us," said goalkeeper Stefan Frei.
DNA
"They are part of our DNA. You work hard, you put in that sweat, effort, tears, the money, and everything the fans put in home and away, it is part of the DNA we have as players too. We try our best until the very, very end. Sometimes things don't look pretty. Sometimes things don't go our way. But we never give up.
Today was a day we didn't play our best game, but we fought and we kept going. Yes, maybe we didn't have a season like LAFC, but honestly in the end, I could care less how pretty we play. [Forget] possession and all those other stats. In the end we got another star and that's what matters."
Jozy Altidore scored the Toronto FC goal, his second MLS Cup goal (in three appearances in the final). Altidore's two goals in MLS Cup Finals are tied for second-most all-time (with six other players; Landon Donovan has five). Altidore now has six shots on goal in MLS Cup Finals, tied for third-most all-time.
"It is difficult especially because I think in the first 15 minutes we have the game," said Altidore.
"You know we outplay them, we have most of the ball, we are creating good chances. I think we were just not able to put one away. The longer the game goes 0-0, they remain 50/50, any team can take advantage. They get an incredibly lucky goal, this is what happens. This is another learning experience. All we can now is get ourselves going again and get ourselves ready for next year."