New York City Football Club (NYCFC) today announced that the Club has acquired defender Thiago Martins as a Designated Player from Yokohama F. Marinos on a contract through the 2025 MLS season with an option for 2026.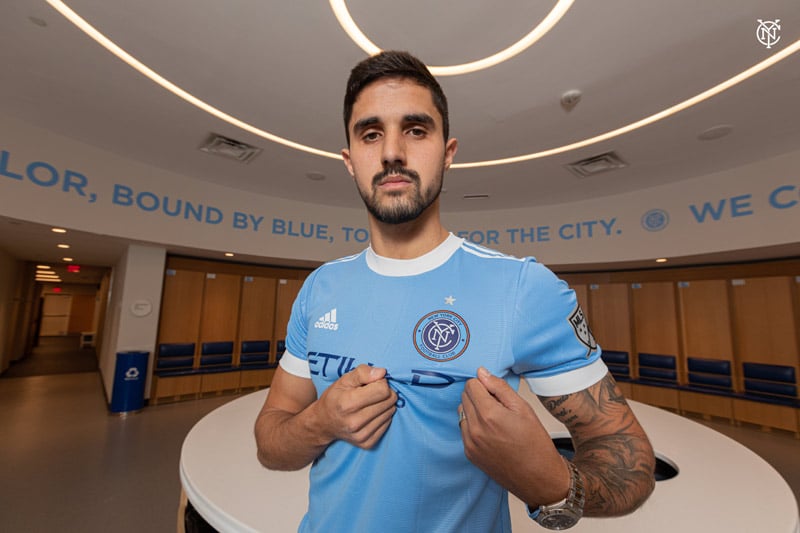 The 26-year-old Brazilian defender has joined the team in Cancun, Mexico for preseason and is hopeful to be available for our first leg of the 2022 Scotiabank CONCACAF Champions League pending receipt of ITC and P-1 Visa.
Martins said: "I am very excited to be here. It's a great pleasure to be part of this big Club. I will do my best to settle in quickly and get to know my new teammates now that I have joined the team in pre-season.
"I am a warrior. I'm going to do my best at all times, in training and in matches. I'm a fast defender. I am going to do my best, attacking from the back, with my positioning. I will try to understand the way we play and learn English even better, so that everything is easier here."
Attraction
"Everything conspired perfectly to make this great move to New York, I also watched a lot of matches from last season. I saw we are a team that likes to play attractive and attacking football, have many players that are great on the ball, but at the same time work hard and are fighters.
It's no wonder why they were champions, I can tell they have done a lot of work and have an amazing structure here. I know I am joining an amazing group of defenders and am looking forward to training and playing with them all.''
''I would like to thank everyone at Yokohama and particularly the fans for all their support and an amazing experience in Japan both on-and-of the pitch. It is a fantastic Club and I was very proud to play for the team. I will follow the games and wish everyone well in the future.''
Palmeiras
The Brazilian native began his career at Palmeiras, where he made 50 appearances from 2013-2016. Martins played a part in helping the Club achieve promotion to the first division in 2013, subsequently winning the league in the first division in 2016.
The defender was loaned to Japanese side Yokohama F. Marinos in 2018, a year later he was a defensive cornerstone for the Club as they marched to the 2019 league championship, making 33 appearances while earning a spot on the Team of the Year.
In 2020, Martin made his transfer permanent to Japan, eventually captaining the team and playing in the AFC Champions League. This past season Martins made 32 appearances, playing 2,880 minutes for the Marinos.