The Hammers are back! The 2012/13 Premier League welcomes back West Ham United into the mix. And no one is more excited about that than Sean Fewell, AKA 'West Ham Sean' – leader of the NYC Hammers.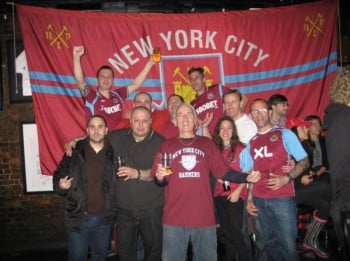 By Lorna Evio
Sean heads up the NYC Hammers (West Ham Supporters Club in NYC) and is often found on his phone tweeting away to his 6000+ followers. He also uses this social media vehicle to pester the owner of West Ham, David Gold, to take notice of the fans in the Big Apple Which Gold did when he re-tweeted a photo of them watching last season's Wembley play-off final at Smithfield's NYC.
Sean's persistence (ten years of sending emails to the club) has achieved some other long overdue results. The NYC Hammers were featured in the final West Ham matchday programme last season. This official recognition gives NYC supporters benefits when they visit their spiritual East London home. Also, it has also opened the door for NYC Hammers to connect to other supporters around the world, and to let them know where they can watch games when they are visiting NYC.
"There is no better New York experience than to wake up in the morning, and watch your team while having a couple of laffs. It also creates feeling of pride, community and shared respect," says Sean.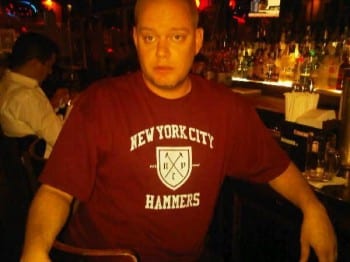 NYC Hammers Find a New York Welcome at Smithfield Hall
"Smithfield has a special atmosphere that will really make you feel that you are at the game," enthused Sean. The bar shows all the Hammers' games live and is also home to other supporter clubs that the lads enjoy some friendly banter with.
Last May's play off final at Wembley Stadium was one of the most memorable games for Sean. Not only did it bring West Ham back to the Premier League but it was also a chance for him to do some more public relations work and let other fans know that there is a serious fan base in NYC. He also managed to hang the NYC Hammers supporters flag at Wembley on the second tier of their end.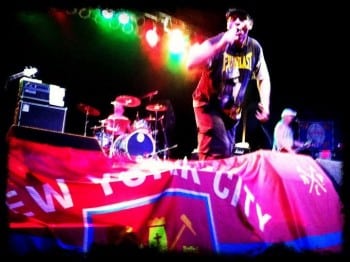 Despite their rich history, West Ham is not one of the so called  'big' clubs. Indeed there are some who question if they can survive in the Premier League. However, they've shown the same drive and perseverance as the NYC Hammers have over the years. Subsequently they should have no problem in proving the doubters wrong.
One thing we can be sure of is that West Ham Sean will continue to be on his phone pestering David Gold until he becomes ones his followers. Something tells me he will not have to wait another ten years for that to happen.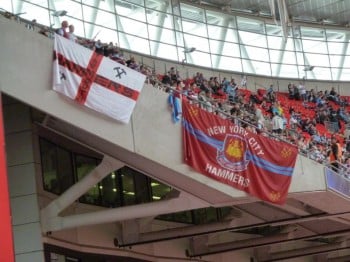 Twitter: @nychammer (not a plural as someone already took that handle)